In the world of self-publishing, medium content books have emerged as a popular and potentially profitable option for authors.
Medium content books sit between low-content books and high-content books and offer a balance between production time, content volume, and profitability.
But the question remains: are medium content books profitable?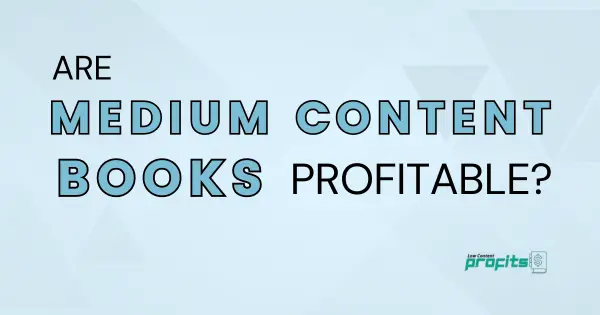 After publishing over 1200 books on amazon kdp including a handful of medium content books, I think I am qualified enough to answer this question for you! 
In my experience, medium-content books are equally profitable as high content books and way more profitable than low content books. You can make a fairly good ROI with a handful of well-researched and well-created medium content books!
My Results with Medium Content Books
One of my best-selling medium content books has made me well over 10k in royalties and I literally spend zero for creating that book. I used free tools to create most of my relatively easy-to-create books, that's why I only spent my time and effort to create them.
In a more recent example, I published 6 math workbooks between August 2022 and October 2023 and made well over $2,700 in royalties in 9 months. Below are my numbers from those 6 math workbooks.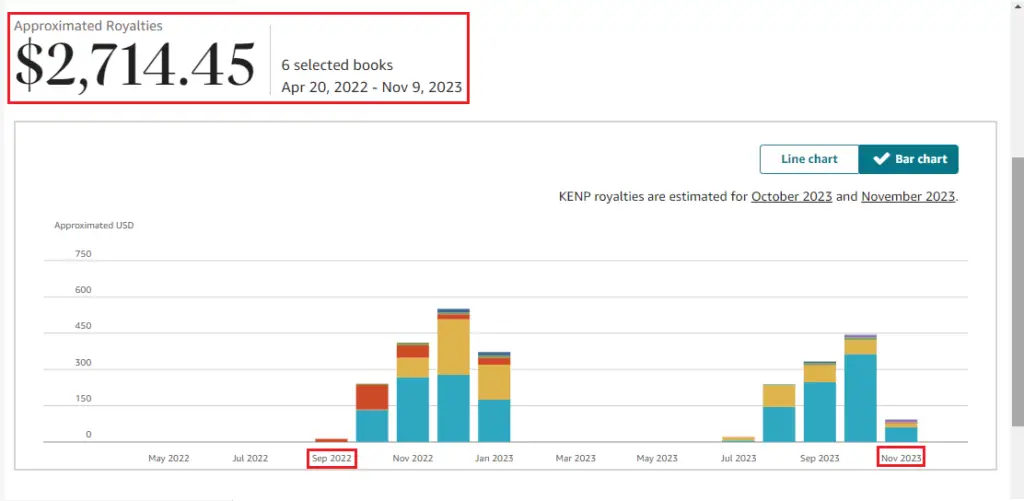 | | | | | |
| --- | --- | --- | --- | --- |
| No Of Books | Royalties Earned | Ad Spend | Initial Investment (USD) | Net Profit (USD) |
| 6 | $2,714 | $1,301 | $115 | $1,528 |
Understanding Medium Content Books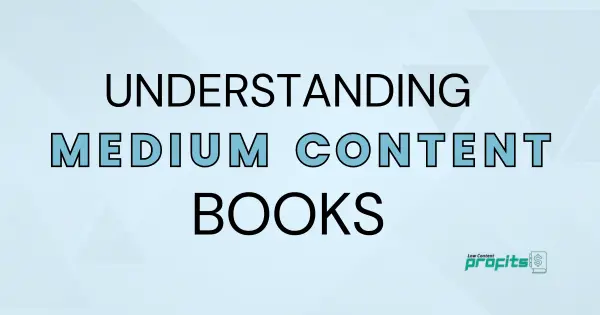 Medium content books typically come with 24 to 100 unique pages. Unlike low-content books, these books offer a mix of text, illustrations, and interactive elements. Most popular medium content books include coloring books, puzzle books, activity books, story books, prompts journals, and educational workbooks.
Medium-content books are a bit harder to create when compared to low-content books. Also, you will need to spend some money to create these types of books. For example, to create word search puzzle books you purchase an app like Instant Puzzle Generator. 
And if you want to create puzzle and activity books for kids you can consider investing in Puzzle Book Tools by self-publishing titans. Most of the medium content bookmaker tools come with lifetime access which further increases the profitability of these books over time.
Benefits of Medium Content Books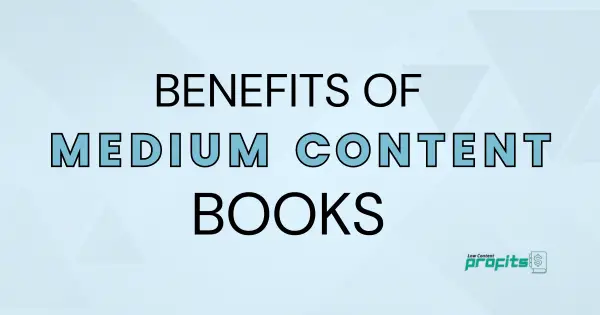 There are many advantages of publishing medium content books on Amazon. I have listed a few of them below;
Lower Book Creation Costs
When it comes to creating Medium content books you don't have to spend a ton of money and time on it. These types of books require less design and formatting compared to high-content books, resulting in lower production expenses.
You can even get started for free by creating straightforward and easy-to-create books like writing prompts journals. You can create them for free tools like Chatgpt, Microsoft Word, and Canva. And you start earning some money, you can start investing it back into your publishing business. 
You Can Create More Books In Less Time
As medium-content books require less content volume, you can create more of them in less time. So, you can quickly build an inventory of books in comparatively less amount of time and earn money on Amazon.
Take my example, I typically create a math workbook in 3 days, at this rate of book creation I will end up creating 10 books in 30 days and 120 books in a year. But, if I were to create a high-content book with thousands of words, it could take me weeks and months to create a single book.
The book creation process becomes even faster if you have a tool like a coloring book maker or instant puzzle generator. 
Check Out the KDP Tools & Resources I Use!
Diverse Niche Appeal
Medium content books cater to a wide range of niches, including activity books, coloring books, puzzle books, early education books, story books, and much more.
This enables publishers like you and me to create more books and earn passive income from the Amazon KDP business. 
Exploring Profitabligity Potential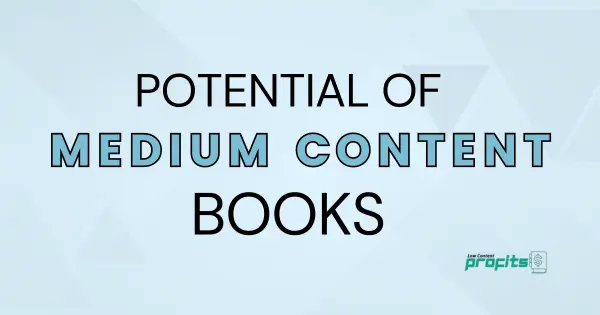 The profitability of medium-content books depends on several factors, I have listed the most important ones below;
Niche Selection
To make money on Amazon, you should spend a good time finding the right book niches. As a beginner, you can start with 10-20 low-competition niches with decent demand. 
Identifying a niche with high demand and low competition can significantly increase the odds of your becoming a success.  Niche selection is perhaps the most important factor that determines the profitability of a medium-content book.
If you have Titans Pro, then niche selection and finding profitable kdp keywords will become much quicker and easier for you.
✨I have written a detailed post about Titans Pro, a brand-new kdp tool that makes finding kdp niches and keywords fast and easy. You can read the blog post here.
Quality of Your Books
Your success with medium content books heavily depends upon the overall quality of your books. If you put in work and effort and create books that add value to your target audience, you can expect to keep making sales for a longer time period.
The quality of your book is determined by both your book cover and the book interior. You can't have just one right and make money on amazon kdp. 
Effective Book Marketing Strategies
Another really crucial factor that determines the profitability of your books. If you have a really good book and promote it by running Amazon ads you will make more money in the long run. 
You can also try other marketing strategies like Facebook ads, google ads, and Pinterest ads, however, they are not really cost-effective.
Successful Medium Content Publishers
During the last 6 years of self-publishing on Amazon KDP, I saw a lot of successful KDP publishers who mainly publish medium-content books. A few are listed below;
Sujahta is one of the most successful medium content publishers on Amazon. She mainly publishes educational books including handwriting practice books, math workbooks, letter tracing books, and more. 
Most of Sujatha's books are very successful on Amazon and she makes multiple 6 figures just by publishing educational books on Amazon.
Charles Timmerman is a bestselling author of over 100 books. Most of his successful books are puzzle books including word search puzzles, sudoku puzzles, and crossword puzzles. 
So far, Charles Timmerman has sold more than two million copies. His books have earned thousands of five-star Amazon customer reviews.
This couple also makes most of their money with medium-content books such as puzzle books, activity books, and coloring books. They are the founders of a famous self-publishing platform known as Self Publishing Titans.
Corvin & Cleo have also created many useful tools for kdp publishers (both free & paid). One of the latest tools is Titans Pro which allows you to find profitable niches and keywords really fast.
Misconception About Medium Content Books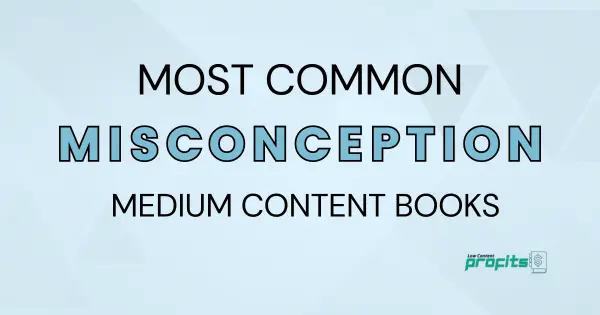 A common misconception is that medium content books are less profitable than high-content books. Though high-content books can generate higher individual sales, however, the overall profitability depends on volume and consistency.
Medium content books, with their lower production costs and faster creation time, can result in a more consistent and scalable income stream.
Assessing Your Potential for Success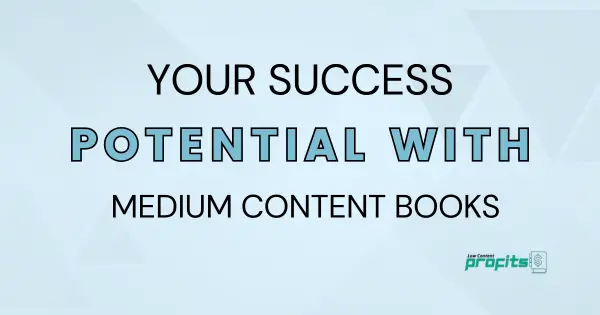 Before you start publishing medium content books on Amazon Kindle, it is crucial to assess your potential for success:
Skills and Resources
to make passive income online with Amazon Kindle Direct Publishing you need to have or learn some skills and have access to tools and resources. You need to hone your research, creation, and marketing skills. 
You should have a good understanding of a low-competition niche with fairly high demand. Also, you will need to learn to find these niches. You will also need some basic design skills to design attractive book interiors and covers. 
Also, you will need to learn to run kdp ads to promote your books to give them an initial boost. Luckily, there are a lot of tools and resources teaching these skills you can those on YouTube or enroll in a paid course.
👉 I have also reviewed 5 Best KDP Courses to start and scale low content and medium content publishing business, you can read the blog post here.
Dedication and Patience
Running a successful medium content book business requires dedication, patience, and a willingness to learn and adapt. You can't expect to make money after publishing a couple of books on Amazon. You can think of this as a marathon where you need to keep running. 
You may not make any money during your first month on amazon kdp and it's true for many publishers. Start Amazon KDP with the right mindset and stick with it for at least a year. 
Strategies for Maximizing Profitability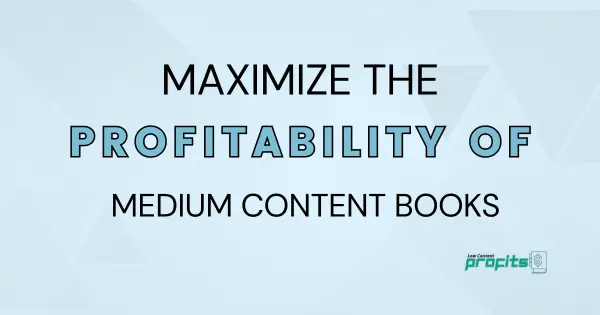 Below are some strategies for maximizing your profits with medium-content books.
Create Compelling Books
Focus on creating high-quality books that provide value and resonate with your target audience. While creating books think about your customers first and give them what they need. In this way, your book will receive positive feedback which will make you more money over time.
Design Eye-catching Covers
The book cover is the first thing that your ideal customers look at and decide whether to click or not. If create covers that appeal to your target audience and convey the content of the books, your chances of making sales would be higher.
Craft Engaging Book Descriptions
Your book description is just like a sales copy. To make more book sales, you should write clear and concise book descriptions that highlight the key benefits and entice customers to make a purchase.
Utilize Amazon KDP Effectively
 Amazon KDP (Kindle Direct Publishing) offers a range of features to help publishers maximize the visibility of their books. To make the most of these features, you should focus on optimizing keywords, categories, and advertising campaigns.
Choose relevant and specific keywords that will help readers find your book. Think about what words or phrases someone might use when searching for a book like yours.
 Use these keywords in your book title, subtitle, and description to improve search visibility.
Experiment with different keywords and monitor their performance to see which ones are driving the most traffic and sales.
Select the most relevant categories for your book to ensure it appears in the right sections of Amazon's website.
Consider the competition in each category, and choose ones that are less competitive but still relevant to your book.
Utilize Amazon's advertising platform to create targeted campaigns that will help boost your book's visibility.
Set up Sponsored Product ads, which appear in search results and on product pages, to increase visibility and drive more traffic to your book's page.
Monitor your campaign performance and adjust your ad strategy based on the data you collect. Test different ad creatives, keywords, and targeting options to find the most effective approach.
Conclusion!
Medium content books can be a profitable passive income idea for authors who are willing to invest their time, effort, and creativity. By choosing profitable niches, creating high-quality content, and implementing effective marketing strategies, you can establish a sustainable monthly income.