I have recently started using Titans Pro and I am blown away by the key benefits of using this kdp tool. This is by far the best kdp keyword and niche research tool that I ever used.!!
This is a recently released kdp tool by Self Publishing Titans which makes finding kdp niches and keywords a lot quicker and easier. 
This is a Chrome extension which is an upgraded version of The Huge Search Suggestion Expander by self-publishing titans. 
One of the key benefits of this tool is it saves a lot of your time and effort. 
It shows you a long list of Amazon suggestions for a given niche/keyword along with very useful data. For the very first time, you can see the estimated Amazon search volume, amazon search results, niche demand, and opportunity for Amazon suggestions in one place.
Why I'm so excited about Titan Pro?
I was able to find 5 profitable kdp niches using the Titans Pro Chrome extension in under 15 minutes. This got me interested, therefore, I am sharing this tool with you. 
I can use this kdp tool in three ways;
I can find profitable kdp niches in minutes
I can find lwo competition keywords for 7 backed kdp slots.
I can find low-competition keywords for kdp ads
Seeing the usefulness and speed of Titans Pro, I am going to share a detailed review of this tool highlighting it's key features and benefits.
Titans Pro: Find Profitable KDP Niches & Keywords Fast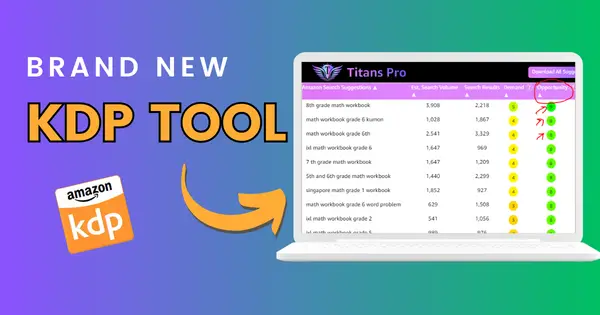 Below I have shared the main features of Titans Pro, and the step-by-step process to use this tool to your advantage. Also, you will learn about both the free and paid versions of the Chrome extension.
How To Get Titans Pro
As mentioned before, Titans Pro is a chrome extension that you can install by going to this link. Or you can Google Titans Pro Chrome extension.

To use this tool, you can create a free account at selfpublishingtitans.com and use the username and password to log in. 
Titans Pro Free Vs. Paid Version
Titans Pro comes with both free and paid plans. With the free version, you can download a list of Amazon search suggestions only. 
With the pro version, you will have access to a lot of helpful data like Amazon search volume, amazon search results, demand, and opportunity score. This data saves you a lot of time to find profitable keywords and kdp niches.
Titans Pro Pricing Structure
As mentioned before, it comes with a free subscription and a paid plan. The free subscription gives you access to Amazon search suggestions but no other data.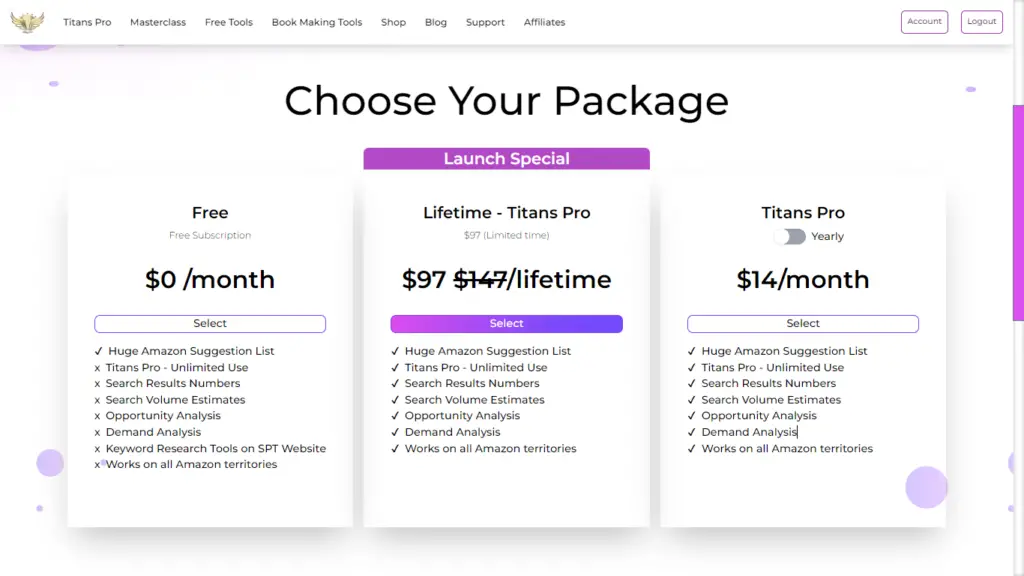 Lifetime – Titans Pro ($97 During Launch, 147 After Launch)
Titans Pro lifetime plan gives you lifetime access to the tool for $97 limited time only. In my opinion, this is a bargain, keeping in view the pricing of similar kdp tools like helium10 which costs you $99/month.
By the way, the tool was launched at $147/lifetime access but Corvin (the founder) has lowered the price for a limited time to $97 so that maximum publishers take advantage of this.
Features of Titans Pro Lifetime
✔Huge Amazon Suggestion List
✔Titans Pro – Unlimited Use
✔Search Results Numbers
✔Search Volume Estimates
✔Opportunity Analysis
✔Demand Analysis
✔Works on all Amazon territories
Titans Pro Monthly Subscription ($14/Mon or $79/Year)
If you don't want to purchase lifetime access, you can subscribe to their monthly plan for $14/month or $79 if billed annually. This will give you the same features the lifetime plan access does.
Features of Titans Pro Monthly
✔Huge Amazon Suggestion List
✔Titans Pro – Unlimited Use
✔Search Results Numbers
✔Search Volume Estimates
✔Opportunity Analysis
✔Demand Analysis
✔Works on all Amazon territories
In my opinion, this will cost you more money when compared to a lifetime subscription. So, if you have enough budget, you can purchase it once and use it for the rest of your kdp journey.
Check Out the KDP Tools & Resources I Use!
Anyways, now just move on to the actual process of using the chrome extension to find profitable amazon kdp niches and keywords.
How It Works
Once installed and logged in, you see a little icon in the amazon search bar as shown below. 
When you type a keyword or surface-level kdp niche, it automatically starts loading and shows you a huge list of amazon search suggestions.
Based on your plan, you will either see only a list of suggestions (if on a free plan) or a list of keyword suggestions along with other data.
How to Find Profitable KDP Niches with Titans Pro
To find profitable niches with titans pro, you can start entering the main niche/keyword phrase into the amazon search bar and wait for the extensions to load suggestions and other data.
It usually loads almost instantly, if it doesn't you can click on the Titans Pro icon in the search bar. 
For example, I wanted to find math workbook niches so I typed "math workbook" in the search bar and the Titans Pro is showing me a huge list of Amazon suggestions.
As you can see, it not only shows me the suggestions but I can also see the other useful data like estimated search volume, search results, demand, and opportunity. 
These metrics are really important to consider when it comes to finding profitable keywords and niches for kdp low-content and medium-content books.
Amazon Search Suggestions
These are the actual search terms that customers are typing into the amazon search bar. This is real data from Amazon not estimates. 
Estimated Search Volume
The represents the estimated number of people searching for that exact search term on amazon. Do keep in mind these numbers are not exact but estimates. This basically gives you an idea of the demand for a given keyword or niche.
Search Results
This number represents the number of product listings for a given Amazon search suggestion. In other words, this is a number of competing books for that keyword phrase. This comes very handy to know the amount of competition you will be facing to rank on the first page of Amazon.
Demand Score
This number shows how many people are looking for this type of book on Amazon. This number ranges from 1 to 9. The higher the number, the higher the demand for the given keyword, and vice versa.
To give you a visual understanding, Titans Pro uses various colors a bright green is for very high demand and red color represents a very low or no demand.
Opportunity Score
Opportunity score is the best metric you can look for to decide whether to go for a given keyword or not. 
This score summarizes the various data and gives you a number to know how good or bad a keyword is. Just like demand, this number ranges from 1 to 9 where 1 being the worst and 9 being the best. 
Ideally, you look for a high demand and opportunity score.
The Best Thing About Titans Pro
What I love about Titans Pro is it allows me to sort these Amazon suggestions in terms of search results, search volume, demand, and opportunity score. To do that you can click on the little arrow button just below each metric.
So, I just sorted the suggestions by opportunity score. Right off the bat, I can see two profitable math workbook niche ideas;
8th grade math workbook
7th grade math workbook

Both of these kdp niches have an opportunity score of 9 and a demand score of 5. These numbers tell me that the demand for these kdp niches is fairly good and the competition is still very low. 
Validating Niche Ideas with Titans Quick View
Now, I can click on one of these niche ideas to investigate it even further. To do that I have installed another Chrome extension from the same creator which is Titans Quick View. 
Just like Titans Pro, you can install the Titans Quick View Chrome extension and log in using your self-publishing titans username and password. 

As you can see, 8th grade math workbook has 2,172 Amazon search results, 6 individually published books on the first page, an average bsr of just over 207K, average reviews are 956 and the average price is $11.01.
Moreover, I analyze the books listed on the first page to have an idea of the competition. So far this niche looks promising to me and I can create a mathwork in this niche. 
Using Titans Pro for 7 Backend Keywords
This is another way you can use Titans Pro to ease your self-publishing life. You can easily find profitable long-tail keywords to fill out 7 backed slots for your books. 
To do that you can type a very surface-level keyword in the amazon search bar and wait for titans pro to load. In a few seconds, you will have a long list of Amazon suggestions and download them as an Excel sheet.

Next, I can refine the list by removing unrelated keywords and then use the remaining keywords with a good opportunity score to fill out the 7 backend kdp keywords.
Using Titans Pro for KDP Ads
I can also use Titans Pro to find keyword opportunities for running kdp ads. Like I can find keywords with a bit low demand and a good opportunity score and use them to create manual keyword ad campaigns.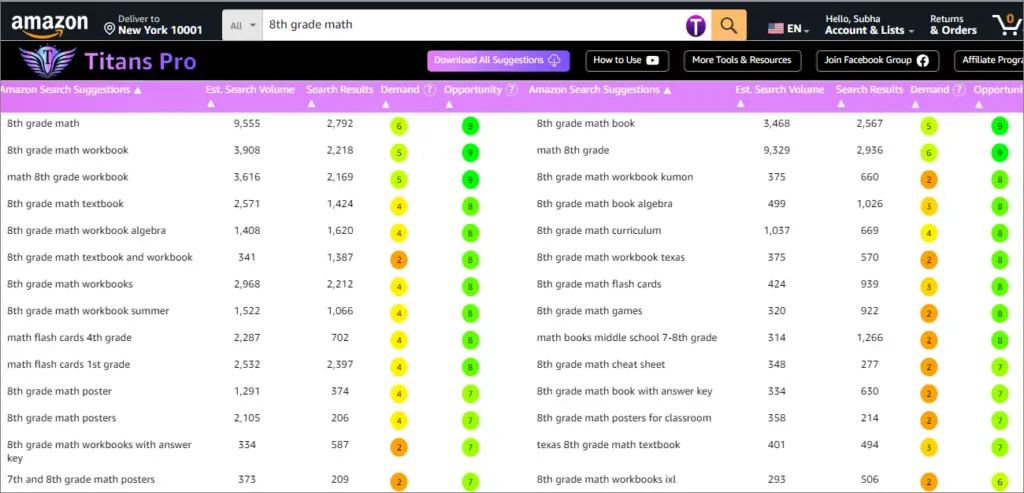 As you can see, I typed 8th grade math, and Titans Pro is showing a list of very related keywords that I can use to create manual ad campaigns.
Final Verdict About Titans Pro
I think Titans Pro is the best kdp niche research and keyword research tool so far. If you really want to speed up the process of finding potential kdp niches and keywords you should be using Titans Pro.
To get the most out of this extension, subscribing to the lifetime plan would be a great move. As it can save you a lot over time. If you find one or two good niches with this extension and create really good books around, you can quickly earn back the money you spend on Titans Pro.