I have spent well over $677 on more than 10 kdp courses!!
I still remember the very first ebook I bought in early 2017. I got it for $10 and started implementing the ideas. 
But I didn't stop there…I continued investing in kdp courses to learn more about low-content book publishing! 
In June 2019 I came across Stakingprofit and invested in two of his kdp courses. The first course was StackinProfits and the second one was The LCB Vault.
After implementing the information shared in these kdp courses, I started to get more book sales!
YESSS. That's the power of investing in yourself!
Long story short, I kept earning more royalties and kept investing in every newly released low-content publishing course.
By the way, you don't need to invest in every KDP course; all you require is the best one, and I'm here to assist you in choosing it. You will learn a lot of things from yourself down the line!
So, what is the BIGGEST advantage of investing in a course or masterclass?
Well…You learn new things and learn them faster! On top of that, you can get all the information in one single place!
That's why I invested in more than 10 kdp courses. I got valuable and practical information from the people who have been publishing low-content and medium-content books on Amazon KDP!
In this blog post, I am going to share the top 5 kdp courses out of those 10 that I enrolled in.
If you're looking to start low-content and medium-content book publishing on Amazon KDP Or if you're already a KDP publisher and want to take your business to the next level, then you need to check out these 5 best Amazon KDP courses.
These courses will teach you everything you need to know about creating and selling successful books on Amazon.
I've learned so much about the Amazon KDP platform, and I've been able to use what I've learned to increase my book sales and grow my business.
So if you're serious about making money on Amazon KDP, then be sure to check out these courses. They could be the key to your success!
5 Best Amazon KDP Courses That I Personally Took!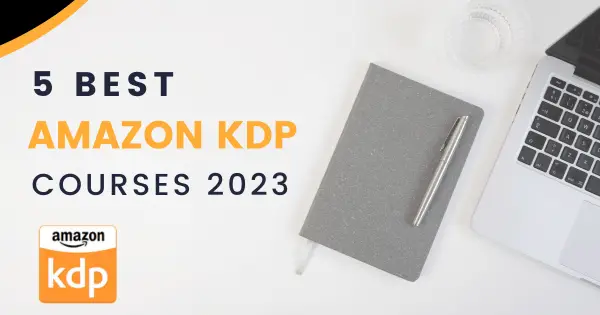 Here are the top Amazon KDP courses that I recommend:
These courses are all excellent, and they will teach you everything you need to know about creating and selling successful books on Amazon. So if you're serious about making money on Amazon KDP, then be sure to check them out!

This is the most recent kdp course that I took and found it extremely useful. The creators of this kdp masterclass (Corvin & Cleo) are both kdp publishers and they achieved really awesome results during the last few years. 
About the Creators of The Masterclass?
If you don't know already, Self-publishing Titans is founded by a couple, Corvin & Cleo, both are kdp publishers. They have been publishing kdp low content and medium-content books since April 2019.
Check Out the KDP Tools & Resources I Use!
To date they have managed to earn well over $300k from amazon kdp, that's a lot of money, isn't it?
During their publishing journey, they have learned a lot of things about the kdp business and they have also created a handful of free kdp tools. These free tools have helped many kdp publishers find profitable kdp niches and keywords.
What is Included in The SPT KDP Masterclass?
The info inside is to the point and covers every aspect of low & medium-book publishing except how to use the design software. Below is an overview of what you will be getting if you choose to enroll in this kdp course.
They are 80+ video lectures full of practical and actionable knowledge
About 10 hours of content
100+ resources to download
Private Facebook group
I love this kdp masterclass by self-publishing titans and in my opinion, this is by far the best course to learn low content and medium content book publishing.
After going through this kdp masterclass, I published 5 medium-content books and made well over $1980 in book royalties. Two of those books have been selling really well!
Good News: For the next few days, you can get $50 Off on KDP Masterclass by Self-Publishing Titans! The discount coupon code is happybirthday.
If you want to learn more about this kdp masterclass then you can check out my full review post here.

This is another very helpful kdp course that I took myself in 2019. This is one of the first kdp courses I enrolled in to learn more about kdp low-content book publishing. In this course, Paddy (the creator of the course) has covered a ton of useful information.
This kdp course is from the famous Youtube channel StakinProfit which has been sharing a ton of free KDP-related content since 2018.
The LCB Vault is basically a 5-in-1 course bundle, which gives you access to five different kdp courses at the price of one. So, you can learn tips, tricks, and strategies to take your low-content book business to the next level.
Courses Inside:
The LCBvault
Kids LCB
Q4 Profits
Simple Coloring Books
Low Content Case Study
What you can learn from the LCB Vault?
Kdp keyword research
Kdp niche research
Cover design
Uploading books: Creating Titles, Subtitles, Description, Pen Names & Backend Keywords.
How to create coloring books from scratch
How to create scalable patterns
Amazon advertising
Creating kids' activity books (Separate Course)
Simple coloring books (Separate Course)
Q4 Profits (Separate Course)
& Lot of tips and tricks
Want to learn more about the LCB Vault? Check out my full review of the kdp course here. In this blog post, I have shared my own experience with the course and a lot more information including an overview of different modules.
By the way, if you want to enroll in the LCB Vault, I have great news for you! You can use my discount code to get 50% off, isn't that cool? All you need is to enter my first name "Subha" as a coupon code. 

The course is an advanced level course for kdp publishers who know the basics of this kdp publishing thing and now want to create children's books. I have taken this kdp course myself and actually created and published a children's book on Amazon, more on that later.
The creator of this course is Lady Nouria Korbi and she has a Youtube channel with the name of The Home Boss. She has been publishing children's books herself and has been making a very decent income with those books. 
So, based on her experience and knowledge she has created a wonderful kdp course for people who want to create kids' storybooks. I must say the course is very actionable and comes with everything you need to know about creating children's books for amazon kdp.
What You Will Learn From the Home Boss KDP Course?
Write and self-publish your amazing children's book by following my step-by-step instructions.
At the end of the course, you will have created an amazing and colorful children's picture book and published it on Amazon. 
You will be a published children's book author!
There are 9 modules in this course with a lot of actionable information from book idea generation to finally getting your first children's picture book published on amazon kdp. Here is an overview of the course modules.
Module 1 : The Concept – What you need to know before you start creating your book
The following lessons will teach you how your kids' book should be structured and what you need to know before you create your book. Take notes or download the pdfs provided with some lessons and re-watch the lessons if needed. Knowing these steps will help you when it comes to creating your book so that it has the best chance of success.
Module 2 : Book structure
This module covers things you need to know about the structure and printing process of your books. You will learn about your book layout, research, story boards, and book sizes.
Module 3 : The Topic and Building the Story
The lessons in this module will help you choose a topic for your story and how to structure your plot. 
Module 4 : How I Make My Book Interior
This part of the course is the practical part and you're now going to start making your book. I walk you through the process of making my Monty book, and you can use the same process and adapt it for your own books. This is the exciting part!
Module 5 : Your Book Title
This module is all about choosing the title of your book, research, and keywords. Your choice of title, subtitle, and keywords can mean the difference between your book being found on Amazon or your book disappearing among thousands of other books. This module is therefore very useful.
Module 6: Your Book Description
Your description of your book is very important! Your cover is the first thing a buyer sees, but if they want more information, they will look at the book description. The description is your sales pitch for your book, so they will often base their buying intention on the details you provide.
Module 7: Create The Cover
This module is all about our cover creation and design. You will about kdp cover template, upload your template to Canva, cover design basics, and finally create your children's picture book.
Module 8: Publish your Book
This module is all about how to upload your finished book to Amazon KDP. You will learn the whole process of creating your kdp account and uploading your very first book. Could be very useful, if you haven't gone through this process already.
Module 9: Promoting Your Book
This is a very important part of your book-writing journey. Promoting your book can really help with the amount of sales for your book.
Bonus: Companion eBook For Children's Book Creator
This eBook contains most of the lessons of the course so that you can refer back to the lessons when you need to revise. Hope you find it helpful.
# 4 – Low Content Profits Academy

Low Content Profits Academy is another very helpful and popular kdp low content publishing course. The creator of the course is a famous YouTuber and kdp publisher, Rachel Harrison Sund. 
I enrolled in this low-content book publishing course during the early launch and have gone through it twice. The course includes very actionable and helpful info starting from coming up with the book idea to actually publishing your book on Amazon. 
The course modules include;
Research 
Design
Publish
Optimize
Promote
Celebrate
Over the shoulder series
Design software tutorials
So, there is a lot to learn from this amazon kdp course. The creator is a successful kdp publisher and she has shared a sort of system to create and publish low-content and medium-content books on amazon kdp. 
# 5 – No Content & Low Content Publishing Blueprint

The kdp course is created by Shashwat Ashyia a fellow YouTuber and kdp publisher. He is one of the most successful low-content book publishers who started kdp publishing in early 2019 and was making well over $2K/mo during his first three months.
Within one year or so, as Shashwat was making well over 10k/mo from kdp low content books, he released his kdp course with the name of No Content & Low Content Publishing Blueprint. I enrolled in this kdp course as well and found it really helpful. 
Especially the info about kdp niche research, keyword research, and running ads for low and no-content books is extremely helpful. The creator seems to have shared everything he knows about the publishing business and wants his students to achieve the same type of success as he did.
The only downside of this kdp course is the creator is no longer active and the course is not updated after the launch. He is also not active in his Facebook community, he may have left this publishing thing and may be doing something else right now. 
Let's Recap It (My Recommendations for You)
If you're looking to start low-content and medium-content book publishing on Amazon KDP or take your existing KDP business to the next level, it's crucial to invest in one of the best Amazon KDP courses available.
Having personally taken several of these courses, I can confidently say they have been incredibly helpful in expanding my knowledge and boosting my book sales.
In this blog post, I've shared my top recommendations for Amazon KDP courses based on my personal experience. These courses cover various aspects of KDP publishing, from niche research and keyword optimization to book creation, publishing, and marketing strategies.
They provide actionable and practical knowledge that will empower you to create and sell successful books on Amazon.
At the very top of the list is the KDP Masterclass by Self-Publishing Titans. Created by Corvin and Cleo, successful KDP publishers themselves, this course offers comprehensive insights and proven strategies to achieve remarkable results.
With over 80 video lectures, downloadable resources, and access to a private Facebook group, the KDP Masterclass is an excellent choice for anyone serious about making money on Amazon KDP.
The LCB Vault by StakinProfit is another highly recommended course. This 5-in-1 bundle provides access to multiple courses that cover niche and keyword research, cover design, book creation, and Amazon advertising. With the discount code "Subha," you can avail of a 50% discount on this valuable resource.
For those interested in creating children's books, the Children's Book Creator course by The Home Boss, created by Lady Nouria Korbi, is a fantastic choice.
This course guides you through the process of writing, self-publishing, and marketing captivating children's picture books on Amazon KDP. With nine modules packed with actionable information, you'll be well-equipped to become a published children's book author.
Low Content Profits Academy, created by Rachel Harrison Sund, and the No Content & Low Content Publishing Blueprint by Shashwat Ashyia are two more excellent courses worth exploring. Both offer invaluable insights, step-by-step guidance, and industry-tested strategies to succeed in the low-content book publishing niche.
Remember, investing in a reputable Amazon KDP course is an investment in your success as a publisher. These courses provide the knowledge and tools to navigate the KDP platform effectively, stand out from the competition, and maximize your earning potential.
So, if you're serious about making money on Amazon KDP, don't hesitate to enroll in these courses. They might just be the key to unlocking your publishing dreams and financial success!