Welcome to my blog, my name is Subha Malik. I am a kdp low content publisher and YouTuber and here on my blog, I love to share what I learn about amazon kdp.
Today in this blog post, I am going to talk about Self Publishing Titans Masterclass which is basically an amazon kdp course that will help you start and scale your kdp low-content business. 
The specialty of this kdp masterclass is that it is created by a couple who had great success with this kdp low content thing. 
Who are they?
If you don't know already, Self-publishing Titans is founded by a couple, Corvin & Cleo, both are kdp publishers. They have been publishing kdp low content and medium content books since April 2019. To date they have managed to earn just around $300k from amazon kdp, that's a lot of money, isn't it?
During their publishing journey, they have learned a lot of things about the kdp business and they have also created a handful of free kdp tools. These free tools have helped many kdp publishers find profitable kdp niches and keywords.
Now they have launched a kdp masterclass to share their knowledge with people like you and me. In this kdp masterclass, they have over 100 resources including 80 videos and 20 downloadable resources. 
Note: There are only 48 hours left on the launch special price. Currently, the price is $97 and in the next 48 hours (until August 17, 2022), the price will go up to $297. Keep in mind right now you are also getting 2 tools included with the Masterclass. Those tools will be sold for about $80 between both of them once those tools are released publicly in the next couple of weeks. So if you like the tools and find those of value, that might be worth getting now with the Masterclass included.
An Overview of The Self Publishing Titans Masterclass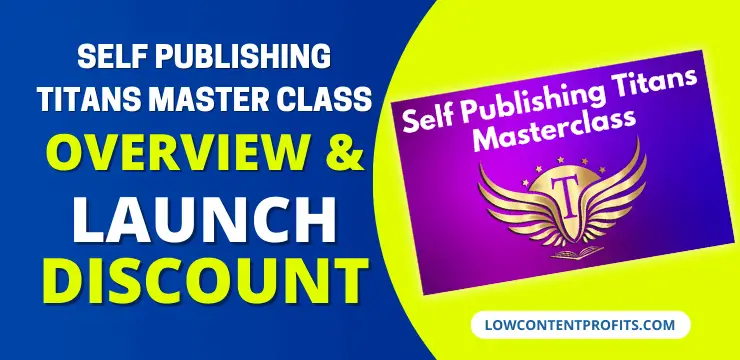 Below I will be sharing with you an overview of the kdp masterclass by self-publishing titans. The masterclass is very structured and you are going to have lifetime access, there is no need to rush through it. 
Section # 1 – Overview of Self Publishing Titans Masterclass
This section is all about who this masterclass is for and what to expect from it. If you ask me, this masterclass is for anyone who wants to create passive income amazon kdp and is willing to put in time and effort. 
This is not a Get Rich Quick scheme and you can't expect immediate results from it. Therefore, you have to have the right expectations for this course and the overall self-publishing business.
Section # 2 & 3 – Beginner Stuff (Getting Familiar with KDP)
This section is all about getting familiar with amazon kdp and knowing things like how to create a kdp account, and how to add bank info to get paid from kdp. 
The lessons are;
Walkthrough of the entire KDP Platform
Sign up with KDP
Adding Banking Details
Creating a Payoneer account for foreigners
Section # 4 – KDP Mindset & Expectations
This section is one of the most important sections in the masterclass. It can give you the right mindset and perspective for self-publishing books on amazon kdp.
This section includes tutorials on;
First Six Months On KDP
How Much Can You Make With KDP
Frequently Asked Question about KDP
Section # 5 – Making Your First or Next $1,000
In this section Corvin shares the KDP plan for earning your $1,000 with amazon kdp. It includes what types of books you should publish, and how many books you should publish in a given niche. 
Note, this kdp plan is exactly the same that the creator of the masterclass did himself along with his wife to earn their very first 1,000 with kdp. And they kept repeating this to eventually make just below $300k since April 2019.
The lessons inside this section include;
Kdp Plan To Reach Your First $1,000 (Or Next $1,000)
Quality Vs Quality
The Game Plan
30 Steps You Need To Take With Kdp
Honestly, I haven't seen this type of plan in any other kdp course, this stuff is real. If you get it right you can easily make your first $1,000 with amazon kdp.
Section # 6 – Types of KDP Books You Can Make
In this section, Corvin will walk you through 60 different types kdp books you can create to earn passive income online. This section is especially helpful for beginners and people who are looking for what to sell on amazon kdp.
Struggling to find profitable niches for kdp? Check out the blog post where I showed How I Found 7 Profitable Kdp Niches Under 12 Minutes!
Section # 7 – Free KDP Book Making Tools
This section includes info about using self-publishing titan free book creating tools that you can use to make interiors for your kdp low-content books. 
The lesson in this section include:
How to Use All My Free Tools
How to Create Low Content Books Fast and Easy
Section # 8 – Free KDP Keyword / Niche Tools
In this section, Corvin shares their way of finding profitable keywords and niches using their free chrome extensions. 
Keyword Research Extension – Part 1
Keyword Research Extension – Part 2
Using Amazon Search Suggestion Expander Free Tool
Also, check out my blog post about Kdp Niche Research Extension For Low Content Books
Section # 9 – How to Find Great KDP Niches
Next is a very detailed section about finding great KDP Niches. In this section, Corvin shows you live niche research using free chrome extensions. You will also learn how to find trends with the help of Google Trends and Ticktock.
The lessons inside this section include:
How to Find Hot Niches
How to Find Trends
Finding Good Niches – Live (Part 1)
Finding Good Niches – Live (Part 2)
Finding Good Niches – Live (Part 3)
Top 10,000 Amazon Searches (Currently)
3,000 Possible Niches
Ideas for Niches, Themes & Covers
Section # 10 – Creating Good Titles to Rank on Amazon
This section is extremely helpful as you will learn a lot about creating very good titles for your kdp books that actually get clicks and sales. You will find some really good examples of creating titles. 
The lessons are;
How to Create a Great Title
Creating Good Book Titles – Live (Part 1)
Creating Good Book Titles – Live (Part 2)
Creating Good Book Titles – Live (Part 3)
Section # 11 – The Basics for a Great Cover that Sells
This is another really helpful section in which Corvin shows his own successful strategy of researching and coming up with best-selling book cover ideas. 
Note you won't find any info about how to design a cover in Photoshop or Canva, as this isn't a design class. Rather you will learn about the fundamental of researching and finding competitive covers that can successfully compete with the existing book covers.
The lessons are;
Planning 5 Good Cover Designs – Live (Part 1)
Planning 5 Good Cover Designs – Live (Part 2)
Creating a Winning Cover
Back of Book Cover Tips
Biggest Cover Mistakes
Section # 12 – 7 Backend Keywords the Correct & Easy Way
This section includes one detailed guide about how to fill 7 backend keywords correctly and easily. As most kdp publishers tend to overthink about what to add in the 7 keyword slots, this section provides a really helpful way to do that correctly.
By the time of writing this blog post, I haven't yet gone through the rest of the masterclass. So I will only provide you with an overview of the lessons under each section.
Section # 13 – Easily Check for Trademarks
The section is all about easily checking your keywords and niches again possible trademarks. This is important because a trademark infringement can lead you to kdp ban.
There are two lessons inside this section about Trademarks:
Best & Easiest Way to Check Trademarks
Keywords and Trademarks to Avoid
Read more about how to check your keywords for trademarks – KDP Trademark Checker: Guide to Safeguard Your KDP Account
Section # 14 – Hiring & Resources for Making Books / Covers
This section is for advanced publishers or people who don't have time but have the budget to start and scale their kdp business. Inside this section you will learn about;
How to Hire a Freelancer on Upwork
How to Hire a Freelancer on Fiverr
Stock Images and Templates for Books & Covers
Freelancer Template
Section # 15 – Writing Good Book Descriptions
The book descriptions play a major role in converting a click into a sale. If you have a very good book cover and title but a bad book description then most probably the customer won't buy it.
So, this section is extremely important too. The lessons in this section include;
Writing a Book Description that Sells
Book Description Template
Section # 16 – Finding Best Book Categories
Listing your book under the right categories can book your sales that's why you need to find the best and most relevant book categories for your kdp low-content books.
There is one lesson in this section that is;
How to Find the Best Book Categories to Boost Sales
Section # 17 – Pricing Your Book Correctly
The price of your kpd book is also a factor that determines the success of the book. You need to learn this art of correctly pricing your book so that can get a decent ROI even after running ads.
There is one lesson in this section;
How to Price Your Book Correctly
Section # 18 – Reviews for Books
Reviews are one of the factors that decide the success of a book over a period of time. The book reviews provide social proof to the customer about the quality and usefulness of the book. 
However, most newbie publishers get this wrong and they try different shady tactics to get some reviews, which is not recommended.
Keeping in mind the importance of book reviews, you can learn a lot in this section. The lessons are;
Asking for Reviews in your Book
Don't Pay for Reviews
Page to Get Reviews and Giveaways
Last Page of Book
Section # 19 – Basics of Launching a Book
Successful kdp publishers like Corvin & Cleo have a book launch strategy in place that works well for them almost every time. 
And this section is all about the basics of launching a book. The lessons are;
How to Rank a Book Organically
How to Launch a Book
Section # 20 – Uploading Your First Book
If you are an experienced kdp publisher and have uploaded many books already, then you may want to skip this section. But I personally won't skip this as there might be some little details I might be missing. So, do watch this section as well.
The lesson inside this section include;
Your First Book
How to Upload a Book to KDP
Link Your Book to Another One
Are planning to publish a coloring book on Amazon? Do check out How To Publish a Coloring Book on Amazon KDP Step By Step!
Section # 21 – A+ Content for Your Books
A+ can help you make more sales, as it lets you showcase your book's interiors. In this customers will have more information about the book and they can buy with confidence. 
This section has the following lessons;
Basics of A+ Content
Basics of Creating Good A+ Content
Section # 22 – Next Steps – After Your Book is Live
When you have launched your book, you need to take some steps to make your book generate initial sales. These after-launch strategies build a foundation for a long terms success for your book.
The lessons include;
Adding an Author Page on Amazon
Basics of Building a Brand with Your Books
How to Create Facebook Group
Section # 22 – Pro Tips for KDP
Be ready for some Pro tips that help you earn more from your kdp low content and medium content books. In this section, Corvin will be sharing his insider tips for kdp success.
The lessons are;
Awesome KDP Tips
When to Launch a Book for the Holidays
What to Do When a Book is Not Selling
Section # 23 – Basics of Amazon Ads
Amazon ads really helpful and often make an integral part of the launch strategy. The good thing is you don't need a pile of money to run amazon ads, you can start with $10, $20, or $100. 
This section is about the basics of amazon ads for low-content books. The lessons are;
Complete Amazon Ads Platform Walkthrough
Amazon Ads Types & Structure
Truth about Ads
Purpose for Ads
When to Pause or Adjust a Campaign
KDP Glossary
Section # 24 – Budget for Amazon Ads
You need to set aside some money for running amazon ads, however, I won't recommend you to use your credit cards to run ads. You should have some additional money to run ads. 
The lessons inside this section are;
Budget for Ad Campaign
If on a Lower Ads Budget
Section # 25 – Automatic Ad Campaigns
Automatic amazon ads are the easiest ads for kdp low-content books. You don't need a list of keywords to run auto ads as amazon uses AI technology to show your ads for relevant keywords.
The lessons inside this section include;
Auto Campaign Overview
How to Create an Auto Campaign
Scaling Your Auto Campaign
Automatic Ads – Step-by-Step Screenshots
Section 26 – Manual Keyword Campaigns
The second ads campaigns are the manual keyword campaigns, they include the manual keywords ads, manual product ads, and manual categories ads. 
The things you learn about manual amazon ads include;
How to Create Keyword Campaign
What Kind of Keywords to Use
Keyword Targeting Ads – Step-by-Step Screenshots
Keyword Ad Templates
Section 27 – Manual Product & Category Campaigns
In this section, you will learn about manual product ads and manual category ads. There are the following lessons under this section;
What Product Targets and Categories Are
How to Create a Product Campaign
How to Create Category Campaign
Product Targeting Ads – Step-by-Step Screenshots
Category Ads – Step-by-Step Screenshots
Section 28 – Our Launch Strategy
As mentioned earlier, you need to have a book launch strategy in place to generate sales over a period of time. Self publishing titans have their own successful book launch strategy, and in this section, you will learn the same.
The lessons are;
When to Launch Ads for Books
Book Launch with Ads
Amazon Ads During Q4
Section 29 – Scaling & Optimizing Ads
In this section, you will learn about how to scale your successful ad campaigns and also how to optimize your ads to boost your ROI. This is super important because in this way you will have efficient use of your ad budget.
The lessons are;
How to Correctly Optimize Your Ads
When to Increase Your Bids and Scale
How to Manage Ads with Zero Sales
Biggest Ads Mistakes Costing You Money
Section 30 – End of Course Feedback
This is the last section, here you can share your comments or feedback about this kdp masterclass by self publishing titans.
That's it. You can revisit the course which is highly recommended as we tend to skip things and miss some important details. So, the course a second round would be extremely useful.
My Final Verdict
I have enrolled in this kdp masterclass by self publishing titans, and I must say I am really enjoying it even though I have decent experience in kdp low content books. Still, I am learning a lot. 
I think self publishing titans masterclass is the best kdp course so far, keeping in mind that I have enrolled in almost 7 other kdp courses. However, I have found this thorough and more practical than other kdp courses.
Thank you for reading this course to the very end, if you've found this helpful then do share this with your friends.
Thanks for sharing it❤