Self Publishing Titans is an amazing platform for kdp low-content book publishers that provides them with many useful tools and resources. The cool thing is that most of their kdp tools are free and you can use them to start or scale your kdp publishing business.
I have been using self-publishing titan's chrome extensions for more than two years to find both low-competition niches and keywords. Their most useful chrome extension include;
Ultimate Amazon Search Suggestion Expander: This gives a lot of amazon search suggestions that you can use as potential keywords. So, in a nutshell, it's a kdp keyword research tool.
KDP / Amazon BSR & Keyword Research SEO Tool: This chrome extension is also known as KDP Niche Research Extension as it helps you find low-competition kdp niches. If you want to know if a given keyword is profitable or not you can use this extension and it will show you a Keyword Niche Score based on a preset algorithm.
In addition to these too free chrome extensions, self publishing titans have also released a handful of other free kdp tools including a pen name generator, QR code generator, kdp book category finder, and kdp sales calculator. 
On top of these free kdp tools, they also have a free low-content book maker tool that allows you to create a wide range of low-content books for free. 
Self Publishing Titans Paid Tools:
After launching a bunch of free kdp tools, self publishing titans have released a couple of paid tools as well. These tools include;
Amazon Market Research
Best Seller Categories
Activity Book Maker (Activity & Puzzle Tools)
Out of these paid tools, the first two were released along with the kdp masterclass (self publishing titans kdp course). I got these tools as I have purchased their kdp masterclass as well. By the way, their kdp masterclass is by far the most practical kdp course, it teaches you all the practical steps that you can take to generate passive income online.
👍 I have written a whole post about the self-publishing titans masterclass, you can read it here: Self Publishing Titans Masterclass KDP – Overview and Special Launch Discount!
How To Get the Most Out of Self Publishing Titans KDP Tools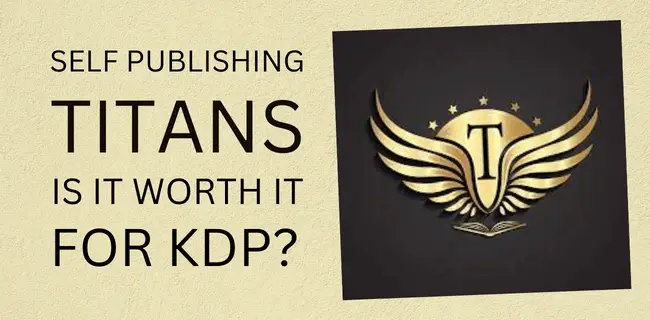 Below I will give you a step-by-step process you can follow to actually take advantage of the free kdp tools by self-publishing titans. So, do read this post till the very end…
First of all download and install their chrome extensions;
👍 Download Ultimate Amazon Search Suggestion Expander
👍 Download KDP / Amazon BSR & Keyword Research SEO Tool
Once you have installed and enabled both chrome extensions, you can move toward the next step, which is finding low competition kdp niches and keywords. 
#1 – Finding Low Competition KDP Keywords
In this first, I will be using the first chrome extension only while keeping the 2nd extension disabled. To find low-competition keywords, you need to have a list of keywords or amazon search suggestions. With help of the Ultimate amazon search suggestion expander, you can download a long list of relevant keywords. 
Just go to amazon.com and type any seed keywords, like I want to find keywords for the math workbook therefore I have entered "math workbook" into the amazon search bar.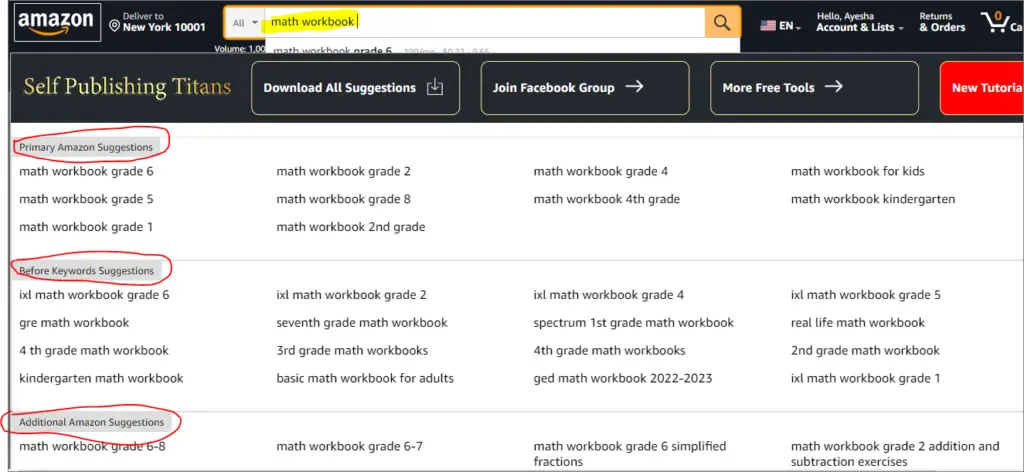 As you can see in the screenshot above, I typed a broad keyword entered space, and waited for the chrome extension to pull up all the relevant amazon search suggestions. 
This kdp keyword research extension, categories the keywords into three different sections;
Primary Amazon Suggestions
Before Keywords Suggestions
Additional Amazon Suggestions
The cool thing you can download all these amazon search suggestions in one click. Simply click on the Download All Suggestions button toward the top of the suggestions.

Similarly, I can repeat the process by entering a different keyword into the amazon search bar. For instance, I can type "addition & subtraction" and wait for the extension to load all the search suggestions.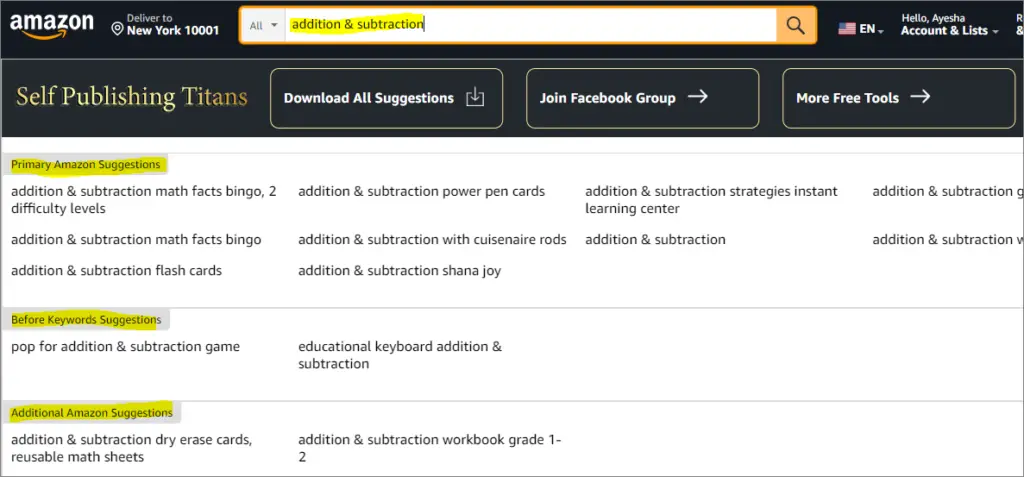 As you can see in the screenshot, the self-publishing titans suggestion expander is showing a handful of amazon suggestions and I can download them all as an excel sheet. In this way, you can keep changing the seed keyword and soon you will have a long list of keywords.
Check Out the KDP Tools & Resources I Use!
👍 Also, read my blog post about why you should be publishing medium content books on amazon kdp. I have discussed the top 5 reasons why I have switched toward medium content and also share what type of books I am currently creating.
#2 – Validating The KDP Keywords
In the first step, you have compiled a list of long tail keywords (amazon suggestions), now in this step two you can check those keywords to establish demand and competition. Here, we are looking for a decent demand but low competition. 
To validate your keywords, you can use the 2nd chrome extension by self-publishing tians which is KDP / Amazon BSR & Keyword Research SEO Tool. Just turn this extension ON and turn off the first extension so that it won't interfere with your keyword validation process.
Like I have selected a keyword from my keyword list "basic math workbook for adults" and entered it into the amazon search bar. Then I pressed the search button and waited for the kdp niche research extension to load the results.

The keyword "basic math workbook for adults" has a keyword niche score of 60 which is awesome as I always aim for a keyword niche score of 50 or higher. Amazon search results are just over 2k which means the competition is still not huge and the average best-seller rank is 170K which is a bit higher than my preferred range of 150k. 
The other factors that I put into consideration include while analyzing a kdp keyword include;
Ind. Published Books (in this case there are 6)
Average Reviews (should be less than 2000)
Average price (should be at least $6.99)
So, based on these factors I can say the keyword "basic math workbook for adults" is a good keyword to publish a math workbook on kdp. I may use this exact keyword as my book title and use a different keyword in the subtitle of my book. 
#3 – Repeat
Step 3 is basically repeating the above two steps for each niche. Make a list of keywords and validate the using the method shared in step two. In this way, you will have a new list of low-competition keywords with good profitability. 
This is how I use self-publishing titans for my kdp low-content and medium-content book publishing. Currently, I am focusing on medium-content books as these are hard to create and tend to sell well over a long period of time. 
👍 Check out my kdp earnings from 4 medium content books here: Amazon KDP Earnings From 4 Medium Content Books (It's Motivating)!
Is Self Publishing Titans Free?
Most self publishing titans tools are absolutely free including the two chrome extensions I use to find low-competition kdp keywords and niches. They also have a free low-content book creator tool that you can use to make a wide range of books to publish on amazon kdp. 
In addition to these free tools, they also have released a couple of paid tools and a kdp masterclass, you can get these paid tools and the masterclass if you have a budget.
What Is A Good Keyword Niche Score?
Ideally, you should look for a keyword niche score of 62 and above if you have a keyword that has the least competition and has a good demand. I personally look for a keyword niche score of 50 and above and leave keywords that have KN score of less than 50. 
Final Thoughts About Self-Publishing Titans
The tools and resources provided by self-publishing titans are simply amazing and the best thing is most of them are free! Basically, they are helping beginner kdp publishers to get started with no upfront investment. If you are a beginner and can't invest in paid tools like bookbolt, helium10, and tangent templates, you can start for free with self-publishing titans kdp tools.