Hello and welcome to my blog! My name is Subha and in this post, I will be sharing some valuable information regarding KDP Cover Templates. As you may know, KDP offers a variety of resources to help you create professional-looking covers for your books. One of these resources is KDP Cover Templates. In this post, we will explore what KDP Cover Templates are, how to generate and download them, and how to use them to create a stunning paperback cover.
What are KDP Cover Templates?
KDP Cover Templates are pre-designed cover templates that you can use as a starting point for creating your low content book cover. These templates are available for both paperback and hardcover books, and are designed to meet KDP's cover design requirements.
Using KDP Cover Templates can save you time and effort by providing you the right dimensions including book front cover, back cover, book spine and bleed. 
👉 Are your low content books not selling? You may be making one of these biggest kdp mistakes. You can check the detailed blog post here.
KDP Cover Template Generator (KDP Cover Calculator)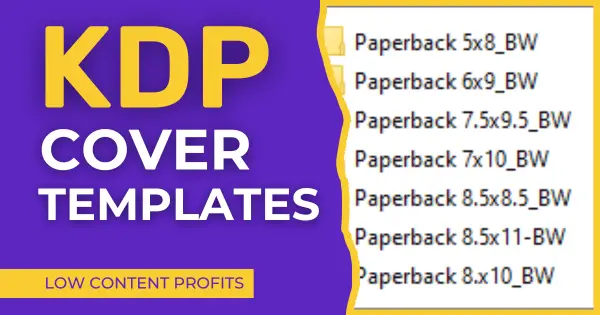 KDP Cover Template Generator is a tool that allows you to create a KDP Cover Template tailored to your book's specific trim size and page count. To use this tool, you need to visit this paget: https://kdp.amazon.com/cover-calculator
The kdp cover calculator helps you create cover templates for both paperback and hardcover books. To do that you need to fill in the the details about your book including;
Binding Type: Paperback/Hardcover
Interior Type: Premium Color/Standard Color
Paper Type: Cream Paper/White Paper
Page Turn Direction: Left To Right/Right To Left
Measurement Units: Inches/Millimeter
Interior Trim Size: Your Books Interior Size (5×8, 6×9 or 8.5×11)
Page Count: Number of Pages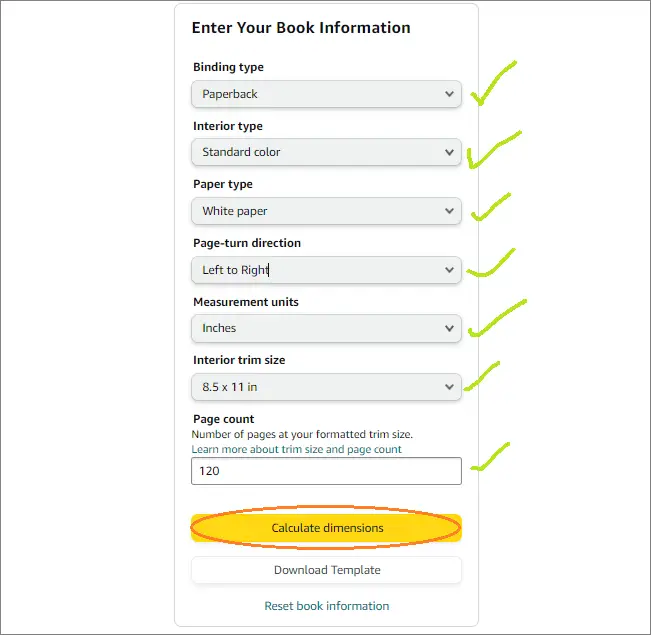 Once you have entered all the book specifications, you can click on the Calculate Dimensions button. This will take you to the download page, where you can see various information about the kdp cover template including Full cover height and width, Front cover, Safe Area for placing text and images, Bleed, and Margins.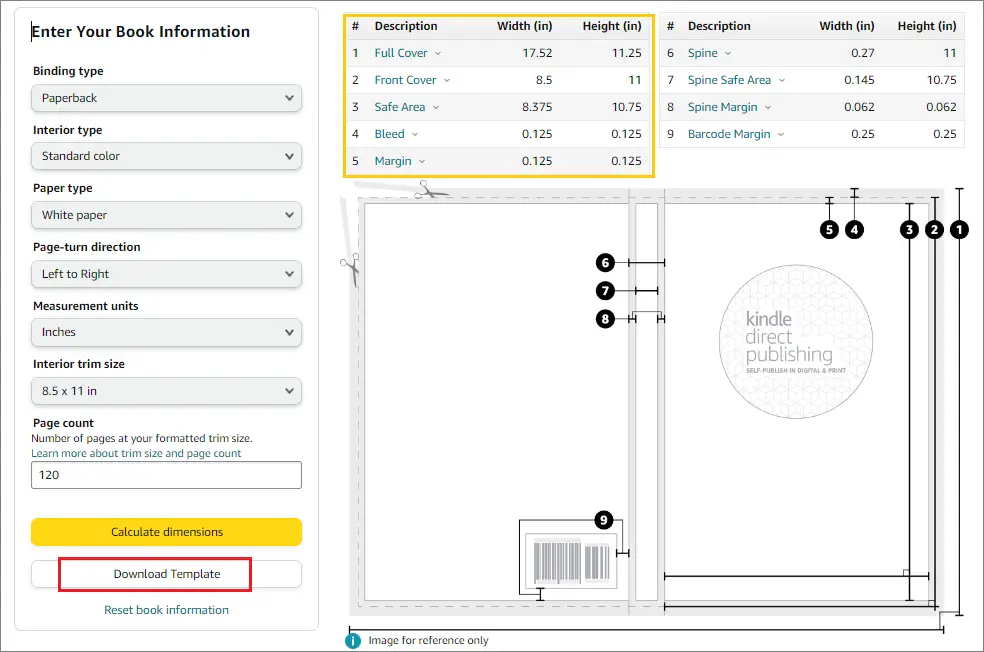 👉 Want to create word search puzzle books fast for amazon kdp? I have written a whole blog post reviewing instant puzzle generator you can read it here.
KDP Cover Template Download
If you prefer to create the cover design for your kdp book using an external program such as Canva, Photoshop or Affinity Designer, KDP allows you to download cover templates in two different file formats PDF and PNG.
To download a KDP Cover Template, just input your book's information in the KDP Cover Calculator, as mentioned above, calculate the dimensions and then click on the download template button as shown below.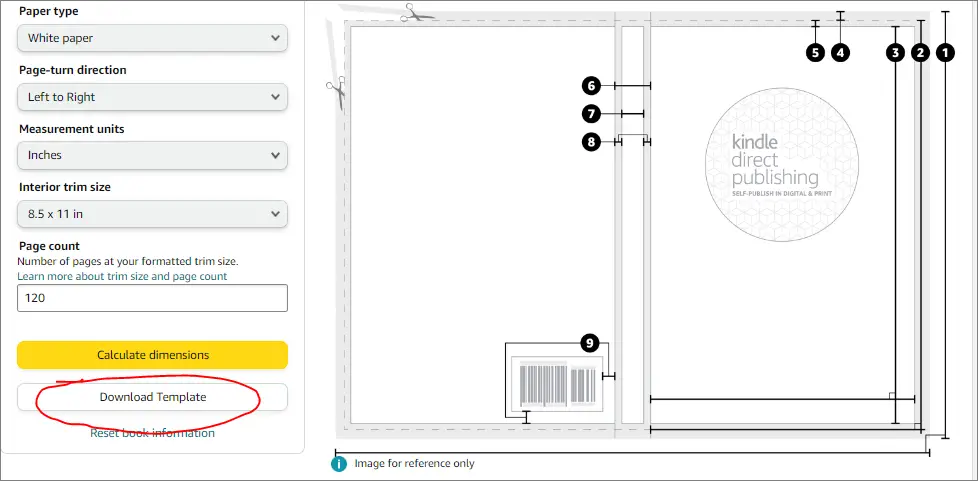 Once you click on the download button, your desired kdp cover template will start downloading as a .Zip folder that you can extract using a free software like WinRAR.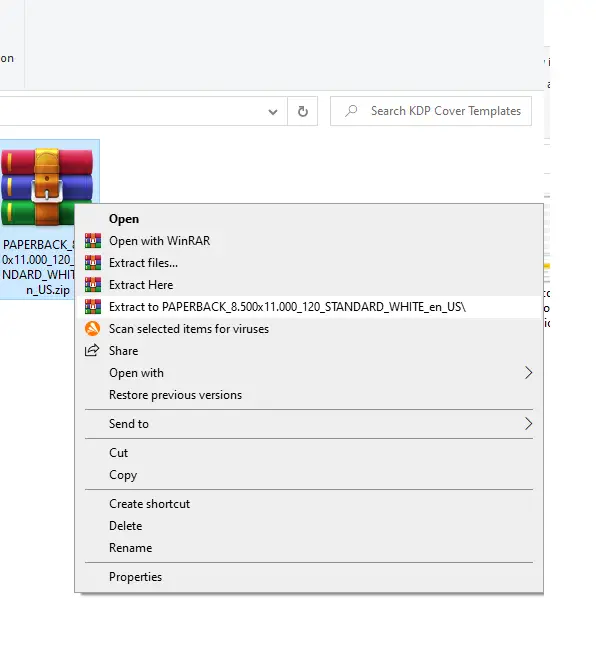 Now you can view the content inside the folder that basically comes with three files, two cover templates (PDF & PNG) and a text file including instructions about how to use these templates for cover creation.

Your PNG cover template looks at the below given image that includes a full cover dimensions, book spine, margins for both cover and spine, and cover bleed.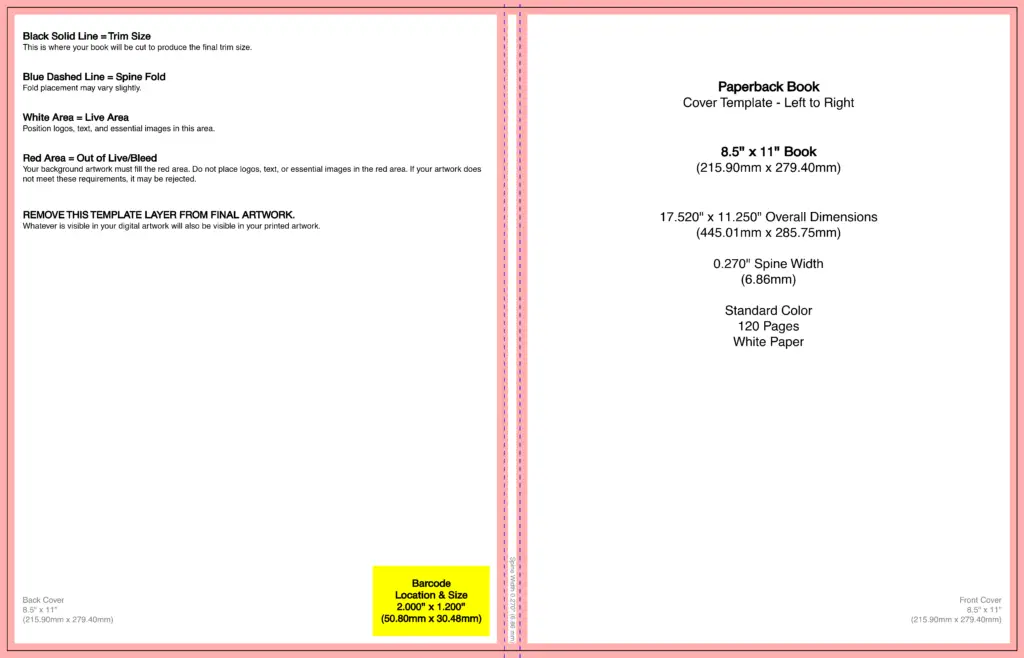 You can import this template into your favorite design tool and start creating a book cover for your book. Don't stop there, as I have something really cool for you!
KDP Cover Templates Bundle (Paperback & Hardcover)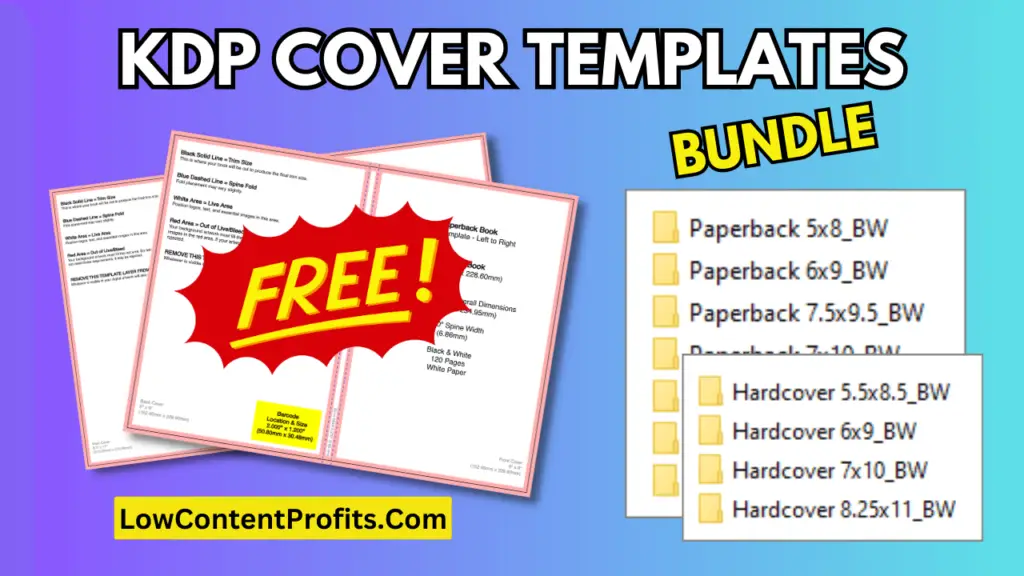 For your ease, I have downloaded 11 most popular templates for both paperback and hardcover books in three different page counts i.e. 100 pages, 110 pages and 120 pages. Next I just bundled these kdp templates and uploaded them to Gumroad, that you can download for Free right now!
It took me around 2 hours to download, arrange, and upload to Gumbroad for you guys! So, you can pay any price starting from $0. Anyways, just have a look at what is included in this kdp cover templates bundle.
This bundle includes kdp cover templates for most popular book sizes with three page counts to create a cover for your paperback or hardcover books. Not only do you get templates for different page lengths, but you also get a variety of sizes to choose from to ensure that your book looks its best.
What's included:
KDP Cover Templates Paperback: 3 Templates For 100, 110, and 120 Page Book
KDP Cover Templates Hardcover: 3 Templates For 100, 110, and 120 Page Book
Here are all the templates included in the bundle:
Kdp Paperback Templates:
5×8 inches
6×9 inches
7.5×9.5 inches
7×10 inches
8.5×8.5 inches
8×10 inches
8.5×11 inches
Kdp Hardcover Templates:
5.5×8.5 inches
6×9 inches
7×10 inches
8.25×11 inches
Using these templates couldn't be easier. Simply download the template that matches your book's trim size and start customizing. The templates are available in both PNG and PDF file formats, so you can use them with your preferred graphics software.
👉 I have written a detailed blog post mentioning the top reasons why you should switch from low-content books to medium-content books you can read it here.
KDP Cover Template Canva
If you're looking for a Free design software to create your KDP cover, Canva is a great option as it offers a variety of pre-designed templates, including KDP-specific templates. Butttt these pre-made Canva templates are not suitable for designing a Full Paperback or Hardback Cover!
As per my findings, Canva has templates for kdp eBooks only. That's why, to create a kdp cover template inside Canva, you need to first download a template from the kdp cover calculator. And then use the stated dimensions to create a blank template inside Canva.
By the way, I have a step by step on my Youtube channel where I have shared a Super EASY Way to Create a KDP Composition Notebook Cover In Canva for Free! You can watch this video here:
In Conclusion
To conclude, KDP Cover Templates are a valuable resource for any self-publisher on Amazon's KDP platform. By using these pre-designed cover templates, you can save time and effort while ensuring that your cover meets the design requirements. To create these templates, you can use the KDP Cover Calculator to generate a custom KDP Cover Template. You can download this template in PDF or PNG format, and customize it using your preferred graphics software. 
Additionally, I have included free templates in different sizes, page counts, and types (paperback/hardcover) for your convenience. These templates will give you a starting point to create your unique book cover. Overall, the KDP Cover Templates are an excellent resource to create a professional-looking book cover that will grab the reader's attention.
Thanks for reading this blog post. If you have enjoyed it, please do share it with others!
Talk to you soon,
Subha.