I first started selling journals on Amazon back in 2017 via Createspace. It all started when I came across an ebook on ways to make money on Amazon without writing!
I bought that ebook for $10 and started creating prompts journals to sell on Amazon. At that time, amazon had a separate platform for paperback books aka CreateSpace.
So, after publishing a couple of writing prompts journals, I saw some sales coming which motivated me to create more of them. After that, I published a wide range of paperback books on Amazon and most of them were journals.
Can you make money selling journals on Amazon in 2023?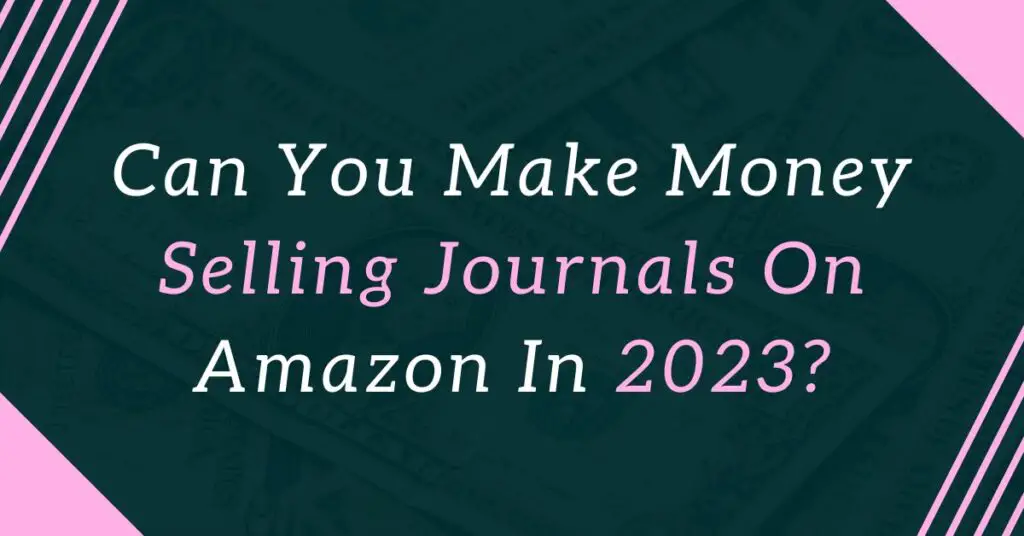 You can make money selling journals on Amazon in 2023 and beyond provided you manage to put together a really nice cover that targets a really focused audience.
Put it in other words, If you want to sell journals on Amazon in order to make money in 2023 and beyond then you should create journals or notebooks around what people are searching for!
This is because the journals or notebooks niche has become overly saturated in 2023.
And you can't expect to make money unless your journal or notebook really stands out among thousands and thousands of other journals. I just searched for "Journal" on Amazon and it shows 80,000 search results, which speaks of the huge amount of competition.

During the year 2019, I have published over 500 journals or notebooks on kdp and less than 5% of them sell only. This is because over 95% of journals are not laser-focused and they also have really basic covers.
So, after publishing that sheer amount of journals, I can say, that journals with basic covers will no longer sell on Amazon unless you have an audience of your own.
👉 Want to create kdp low content books fast? I have shared a step-by-step process of creating and publishing a kdp journal in under 60 minutes, you can read it here.
What is a Journal?
A journal is a type of low-content book, which normally has little to no text but mostly design elements like lines. People use journals in their day-to-day lives to write down ideas, thoughts, memories, and more. They are good for students to take notes.
Journals can have lined or blank pages, catering to various niches such as gratitude, meditation, cooking, exercise, business, and more.
The cool thing about journals is they are easy to create and most of the time they consist of repetitive pages. You can create one page and repeat it 100 times to create a 100-page journal. So, creating journals is pretty straightforward and effortless as compared to writing a 10,000-word book.
If you are just starting out with Amazon KDP, creating journals would be a great move as these are very easy to create and the demand is enormous for this type of low-content books.
Top 5 Benefits of Selling Journal on Amazon
Amazon, being one of the largest online marketplaces globally, offers numerous advantages for sellers looking to distribute journals and stationery products. Here are five key benefits:
1. Journals are Easy To Create
Journals are effortless to create using tools like Book Bolt, allowing you to design a journal within 60 minutes, streamlining the production process.
2. Low Barrier Entry and No Upfront Costs
Amazon's KDP platform enables selling journals without any initial investment, minimizing financial risk, and KDP charges nothing for the service, making it accessible to all.
3. Source of Passive Income
Selling journals on Amazon can generate a sustainable passive income for years, providing a steady revenue stream and allowing for business scalability.
4. No Inventory Needed
KDP's print-on-demand eliminates the need for inventory, reducing storage costs and risks. Journals are printed only when ordered, ensuring efficient inventory management.
5. Effortless Customer Support Handling
Amazon takes care of customer support tasks, including returns and after-sale assistance, relieving sellers of these responsibilities and allowing them to focus on growing their business.
Check Out the KDP Tools & Resources I Use!
Selling journals on Amazon through KDP offers a convenient and cost-effective opportunity for aspiring sellers. With easy journal creation tools like Book Bolt, low entry barriers, potential for passive income, no inventory maintenance, and hassle-free customer support handling by Amazon, it's a win-win platform for journal creators looking to succeed in the market.
What Type of Journals Sell on Amazon?
Journals that have a quote or message on the cover that is either funny or relates to a specific group of people do still sell. I have some journals with funny quotes and they sell a couple of copies every month. On the other hand, I have a lot of journals that don't sell at all.
So, What Makes a Good Journal to Make Money?
If you want to make money selling journals on Amazon, then you need to spend some time finding low-competition keywords.
This will help you make a journal around what people are searching for. Once you are done with the research process, then you need to create a really eye-catching cover that stands out!
For instance, I just searched for "teacher appreciation gift notebook" and on the first page below notebooks really caught my attention!

This teacher appreciation journal has a really nice quote, "The World Needs More Teachers Like You" and it has a really eye-catching cover. The selection of colors and font is really amazing, which makes this cover stand out!
Let's have a look at another journal in the same niche (Teacher Appreciation Gifts);

This teacher appreciation journal has a best-seller rank of below 57k which means it is selling roughly 3-5 copies every single day. And it follows the same principle, it is really targeted and it has a really nice cover!
How to Create Journals That Sell?
As we saw in the examples above, journals with really awesome covers still sell on Amazon. People buy journals on Amazon to gift them to a friend, family member, or co-worker.
So, keeping all this in mind you need to target professions, hobbies, and relationships to make a journal around these niches!
Let's do this step by step…
Step # 1 – Finding a Niche
Finding a niche is not hard, you just need to focus on one thing and that is, who will buy this journal and why? We all know people buy things on Amazon and we also know;
People are in relationships – Parents, Couples, and Individuals (men, women, husband, wife)
People are professionals – Engineers, Doctors, Nurses, Teachers, Social Workers, and so on
People have hobbies – Fishing, Cooking, Gardening, Writing, Knitting, Hiking, etc.
People love Things – Food, Coffee, Fruits, Vegetables, Flowers, Animals, Shopping, Home decor, etc.
So, niches are all around us! Just pick one of these niches or topics to start with the next step of keyword research!
I have many videos on kdp niche research on my YouTube Channel. One of those videos is pasted below;
Related posts;
Step # 2 – Keyword Research
Once you are done with the niche selection your second step should be finding as many low-competition keywords as many as you can!
These keywords are usually long-tail keywords and you can find these keywords by using a free Chrome extension called AMZ Suggestion Expander or Ultimate Amazon Search Suggestion Expander.
I am using Ultimate Amazon Search Suggestion Expander as it lets me download keywords as an Excel sheet. Actually, I have a video on that as well, you can have a little watch of it below!
Step # 3 – Create An Eye-Catching Cover
Lastly, you can create a really nice cover that appeals to your target audience. To do that you can add a quote or message on the cover!
For example, if you would like to create a journal for teachers, then you can find/write a quote that relates to the target person who will receive that journal as a gift from someone!
You can find quotes online but make sure the quote is in the public domain and is not copyrighted otherwise you will be at risk of losing your kdp account.
You can use sites like Pinterest, Etsy, Redbubble, and Teepublic to find best-selling designs, and then you can model those designs to create your own version!
👉 I have also reviewed 5 Best KDP Courses to start and scale low content and medium content publishing business, you can read the blog post here.
Lets Summarise
Today in this post, I have answered a really common question about Kindle direct publishing: "Can You Make Money Selling Journals On Amazon In 2023".
The short answer is Yes, you can still make money selling journals on Amazon if you manage to niche down and create a really appealing cover.
People buy journals from Amazon as gift items and most of the time they look for a really amazing cover only. So, as a self-publisher, you can provide people with what they are looking for and make money by doing so!
❤ Subscribe To My YouTube Channel To Learn More About Low Content Books:
https://www.youtube.com/channel/UCHTJzdE7bzvL8cU0ES6X7mw?sub_confirmation=1
❤ Check out my resource page for tools and resources I personally use to scale my Low Content Publishing Business.
❤ Share this post on your favorite social media site. Thanks!
Subha Malik