Welcome to my blog, I am happy you are here! As you already saw in the title, I am going to share my kdp earnings from my 4 medium content books that I published during the 2 and a half months.
Below I will share with you what kind of books I published, what earned from each book, what my ad spent was, and how much I earned after netting ad expenses. Before moving forward, let me share that starting from Sep 2022 I have stopped publishing journals, notebooks, and sketchbooks as I am focusing more on medium content books.
If you are not sure about medium content books, then you can check out my previous blog post where I shared 5 Reasons You Should Publish Medium Content Books on amazon kdp. Do check this out!
So, let us just dive into our main topic of amazon kdp income report from 4 books! 
My Amazon KDP Earnings From 4 Educational Workbooks!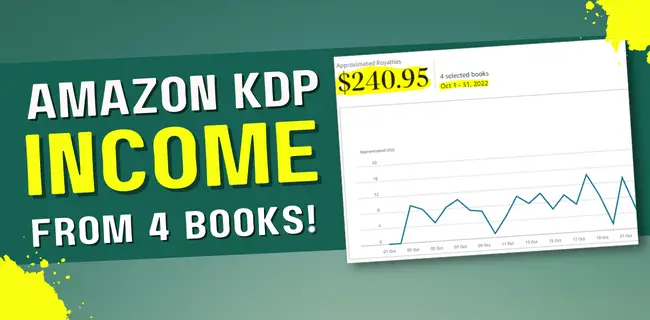 As is said before, the books I published are medium content books and all of the 4 books are math workbooks. Yes, I am currently working on creating high-quality math workbooks using a recently released software called Math Worksheets Generator. 
I have written a detailed blog post about the math worksheets generator, you can check it out here.
Anyways, below I will be sharing my total kdp income from those four math workbooks, then I will share my ads spent, and finally the net royalties I earned during the month of October 2022. 
My KDP Income
During the month of October 2022, I sold a total of 148 units of my four math workbooks. Most of these sales came through the amazon US marketplace. You can see the number of sales in the screenshot below.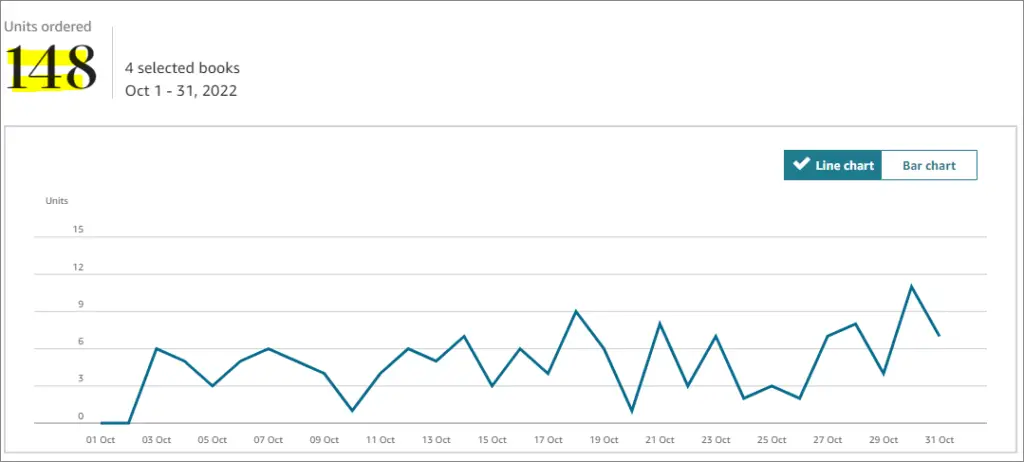 We can also see the number of paperback units sold by each individual math workbook. As you can see in the screenshot below my best-selling math workbook generated 74 sales, the second-best book made 70 sales and the other two books made 4 sales combined.
Now comes the most exciting part, and that is the total kdp earnings that resulted from these 148 sales. To have a better idea just have a look at the screenshot straight from my kdp reports dashboard.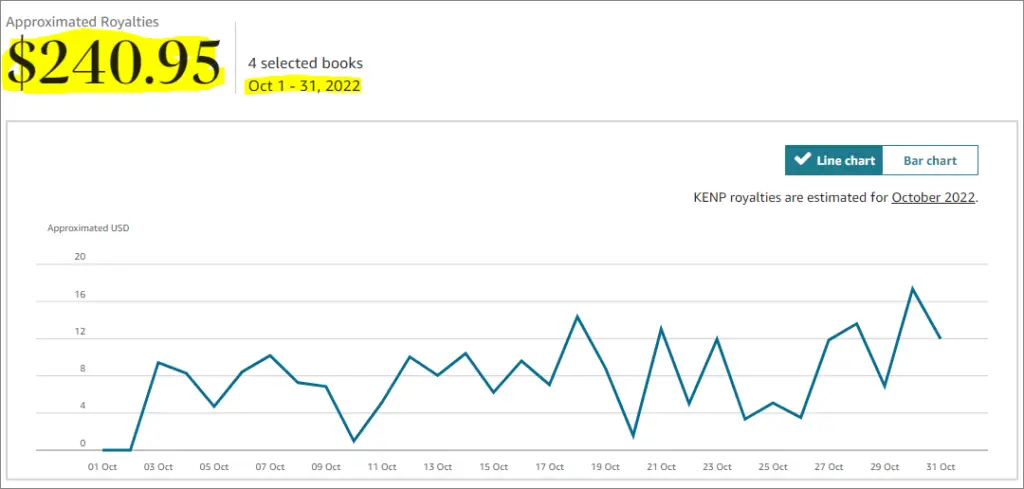 As you can see I have made $240.92 in total from my 4 educational medium content books during the month of October 2022. It is important to mention that the last two books were published during the month of October, so these were getting ranked in the amazon search results.
Below you can also see the earnings by the individual book.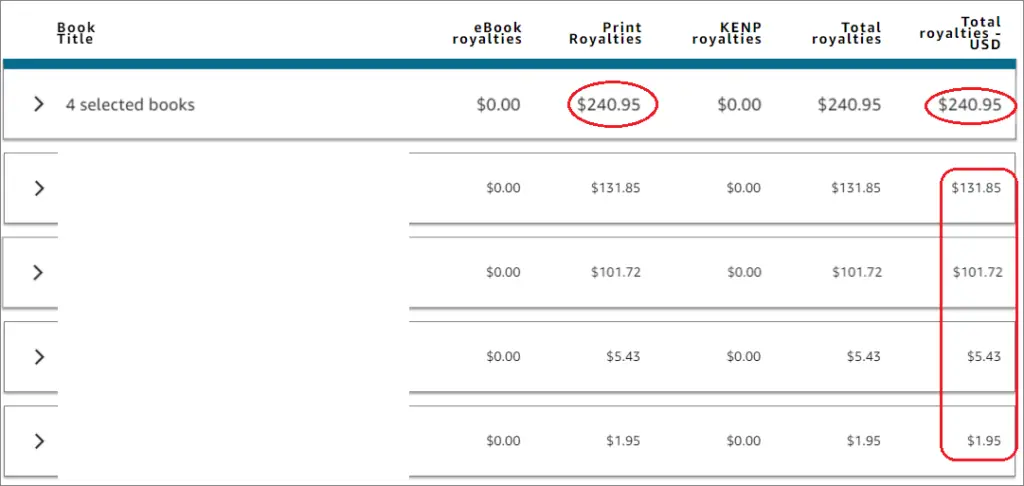 As you can see in the screenshot above, the best-selling book made $131.85 and the second book made $101.72, and the other two newly published books made $5.43 and $1.95 respectively.
So, these were my kdp earings from four math workbooks that fall under the umbrella of kdp medium content books. These books have fairly good demand and tend to sell for a longer period of time as compared to simple lined journals.
My KDP Ads Cost
Here I want to mention my kdp book launch strategy and which is running ads for every newly published book starting from the day it goes live. By doing so, I am more concerned about generating sales and less worried about making a profit. 
I am doing this because sales are one of the biggest ranking factors that amazon uses to rank books. To help the amazon algorithm rank my books quickly, I ran auto ads for all 4 math workbooks. Below is the ad expense for two marketplaces i.e amazon USA and Amazon Canada.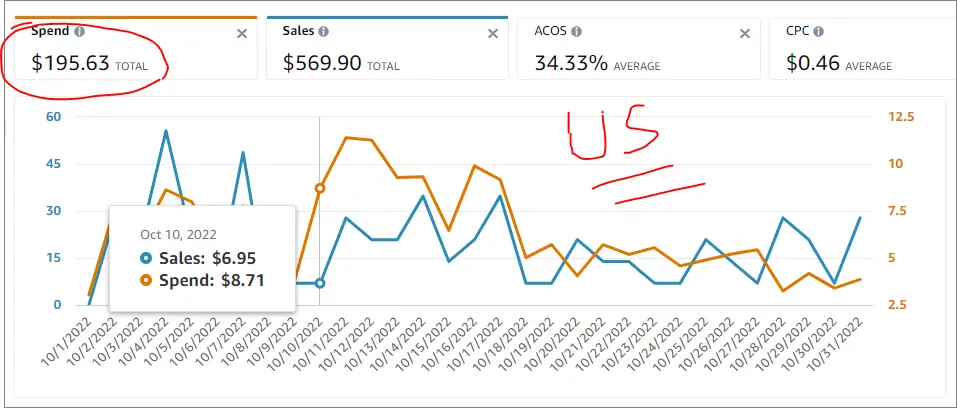 As you can see in the screenshot, I spend just over $195 in ads which brought me total sales of $569.90 with an acost of 34.33% which is higher than the break-even point. What that means is I was losing money on ads but that is not the case, because I was getting organic sales as well.
Next just have a look at my ad spend in the Canadian marketplace.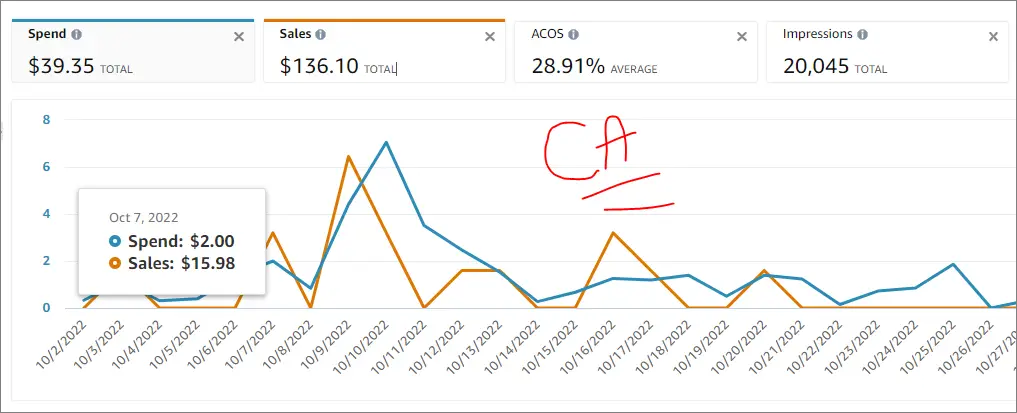 In the Canadian marketplace, I spend way less than I did in the US marketplace. In Canada, I spent a total of $39.35 (Cad) and got $136.10 in sales with an acost of 28.91% which is around the break-even point.
Check Out the KDP Tools & Resources I Use!
M Net KDP Earnings
Now we have the total income and the ad expense, let's have a look at the net kdp income during the month of October 2022. 
| | | | |
| --- | --- | --- | --- |
| | Kdp Income (USD) | Ad Spend (USD) | Net Income (USD) |
| Math Workbook 1 | 131.85 | 79.62 | 80.24 |
| Math Workbook 2 | 101.72 | 133.45 | -31.73 |
| Math Workbook 3 | 5.43 | 1.52 | 3.91 |
| Math Workbook 3 | 1.95 | 10.9 | -8.95 |
| Total | 240.95 | 225.79 | 43.47 |
My KDP Income From 4 Math Workbooks!
As you can see in the table above, my total kdp income was $240.95, my total ad spend was $225.79 and after netting ad spend, my net kdp income was $43.47. Although the net income is very little, it is pretty satisfactory for me as a ma seeing very good results during the current month (November).
Final Thoughts About KDP Earnings
I am pretty pleased with my kdp earnings from these 4 math workbooks as I am already in profit during my 2nd month of publishing these books. Secondly, as these books got a decent amount of sales, amazon has started ranking them organically, hence, I am getting more organic sales now.
Thanks for reading this post till the very end! If you like it, do share it with your friends. Just click on one of the social sharing buttons below, thanks!
See you soon,
Subha