In my last blog post, I shared a detailed review of the math worksheets generator, the software you can use to create stunning math workbooks quickly. 
However, your success with these math workbooks comes down to your ability to find some underserved niches. As this math niche is a huge one, therefore, you can easily find low competition niches and sub-niches.
To help you get started with your niche research process, I set aside time and found some profitable math workbook niches. All these niches have fairly good demand and the supply is yet low. 
So, let's just dive in…
You may also want to check some more profitable kdp niches! Have a little read of this blog post: 9 Best KDP Niches 2022 To Make Passive Income With Amazon KDP!
5 Profitable Math Workbook Niches With Low Competition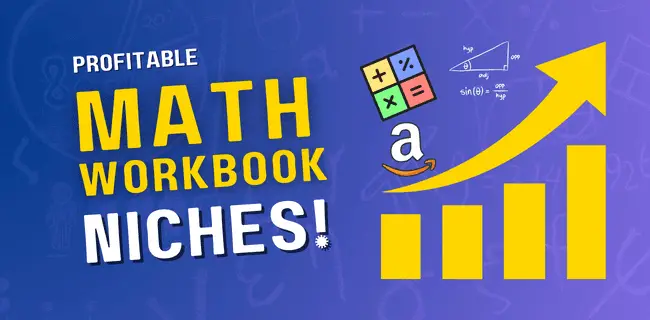 I have used two free chrome extensions by self-publishing titans to find these math workbook niches. These extensions are;
Huge Amazon Search Suggestion Expander: This extension helps you find long tail amazon search suggestions.
KDP / Amazon BSR & Keyword Research SEO Tool: This second chrome extension helps you determine the overall profitability of any given amazon search term/niche.
By using these chrome extensions, I was able to find the following low-competition math workbook niches. 
The criteria for niche research are as follows;
Amazon Search Results < 3000
Average Best Seller Rank < 150K
# 1 – First Grade Math Workbook Division Multiplication
This first math workbook niche is all about division and multiplication for 1st-grade kids. You can use the math worksheets generator and easily make this workbook and publish it on amazon kdp.

As you can see in the screenshot above, the Keyword Niche Score for this niche is 56 which is really good. You can consider publishing in a niche with a keyword niche score of 50 or above. 
When we look at other metrics for our niche research, the search results are 761 and the average BSR (Best Seller Rank) is just over 108k which is an indication of decent demand. The average review count is over 1500 and the average price is $8.66 that's a good sign too.
There are 22 books on the first page and 5 are independently published. Seeing independently published books is another good sign that your book can rank on the first page too.
Overall, this is a good niche and you can expect good sales if you create a better book interior and cover than the already listed ones.
👉 You may like to check out my blog post about the Powerpoint Puzzle Generator, that an extremely helpful tool for creating puzzles within Powerpoint within minutes!
# 2 – 3rd Grade Math Workbook Multiplication
This is the second profitable kdp niche for math workbooks. It is focused on multiplication problems for third-grade kids. In my opinion, this math workbook can be easy to create as you have to focus on multiplication only. 
By using the multiplication component inside the math worksheets generator you can easily create this math workbook for 3rd-grade kids. Let's check out the profitability of this math workbook niche.

As you can see, the keyword niche score is 56 which is a good sign. If we look at this nice in detail, then you can find that the search results are over 2300 which is still considered to be on the lower side. 
Now we know that the competition is not that high, let's have a look at profitability for this niche. Average bsr is just below 78k which is great, it means there is very good demand for 3rd-grade multiplication books. 
The average price is just over $8 which means you can run ads for this niche and get a good return on investment (ROT). Average reviews are just over 1084 and there is at least one book ranking on the 1st page with zero reviews. 
So, this niche is a good one too and you start publishing math workbooks in this niche as well. 
Are you new to amazon kdp and struggling to make your first $100? Check out How I Made My First $100 With Low Content Books!
# 3 – 5th Grade Advanced Math Workbook
This is another great math workbook niche and it is about advanced math problems for 5th-grade kids. However, creating a good workbook for this niche can be tricky. You will have to do some research and find out what math problems to include in this math workbook. 
Let's have a look and our niche analysis for this kdp math niche.

The keyword niche score is great for this niche and it is 61. It gives you an indication of low competition, high demand, and good ROI. If you look at the parameters behind this niche score, you can see that the search results are 753 which means that the supply is very low.
And when you look at the average bsr, it's over 214k which is slightly higher and can be an indication of a bit lower demand. However, you can see the lowest bsr is 826 which means the best-selling book is ranking at number 826 in the book department on amazon.
Average reviews are just over 1300 and the average price is pretty awesome ($11.64). A higher average price indicates that you can run profitable ad campaigns and rank your workbooks on the first page.
Check Out the KDP Tools & Resources I Use!
On the whole, this math workbook niche can be highly profitable, all you need is to spend more time on creating a better book interior and cover to stand out on the first page.
# 4 – 2nd Grade Addition and Subtraction Book
The next profitable math workbook niche is "2nd Grade Addition and Subtraction Book". The ideal customers who may be interested in this type of math workbook may include parents, teachers, and homeschoolers. 
With the math worksheet generator, you can quickly create this addition plus subtraction math workbook for grade 2 kids. Okay, now let's just have a look at the niche details.

As shown in the screenshot above, the keyword niche score is 56 which is indicative of a good niche in terms of demand and competition. The search results are just below 1000, which speaks of low competition while the average bsr is just over 117k which is reasonable as well. 
Average reviews are over 1400 with an average price of $8.04. Both of these factors also fall within our criteria of a profitable kdp niche. The lowest review count is zero which means there is at least one book on the first page with zero reviews. 
So, that is another profitable math workbook niche that you can publish books in and earn passive income online. 
# 5 – Addition and Subtraction Workbook 4th Grade
This is another addition and subtraction workbook niche, the only difference is this is for the 4th-grade kids. As I mentioned earlier, you need to do proper research and create a better workbook than the already published ones. 
Let's talk about the niche analysis…

The keyword niches score for the exact niche keywords "Addition and Subtraction Workbook 4th Grade" is 52 which is a decent one. I personally follow niche with a niche score of 50 or above, therefore, this is another good niche in my opinion.
The search results are 555 which means the competition is very very low. The average bsr is 167k which is slightly over our criteria of profitable niches. However, nothing is set in stone, therefore, you can go with this niche as well. 
Average reviews are 578 while the lowest review count is zero. When it comes to the average price, is $7.86 which is a bit lower. 
On the whole, Addition and Subtraction Workbook 4th Grade can be a very good niche as well. However, your success with this niche really depends upon the quality of your book interiors, book cover, and book description. 
My Verdict About Math Workbook Niches
As I mentioned in my previous blog post, early education is a huge area on amazon, and math workbooks are a great section of it. The math workbooks niche is really huge one and includes a lot of sub-niches. 
With a little effort, you can find a lot of profitable math workbook niches using free chrome extensions as mentioned in this blog post. 
Though the math workbooks niche is a big niche with a ton of sub-niches it doesn't mean that you can earn money by publishing low-quality books. Rather you would have to put in the time and effort to create really good math workbooks that actually help the end users.
To create math workbooks in a short period of time you can take advantage of the math worksheets generator which is one-off payment software. 
That's all from me today! 
Thanks for reading this blog post till the very end and if you've found it helpful then do share it with your friends. Just click on one of the social icons below, Thanks for sharing it!
Want to level up your kdp knowledge and income? Check out Self Publishing Titans Masterclass KDP – Overview and Special Launch Discount!