Publishing paperback books via kdp publishing is one of the easiest and cost-effective ways to make money online. With kdp publishing, you don't need to hold an inventory of books and ship them to Amazon, as kdp only prints your books when there is a demand for them. All you need is to create an interior manuscript and a cover and upload it to amazon kdp. 
KDP publishing is a print on demand service for books by Amazon, that only prints your paperback and hardcover books whenever a customer places an order for them. It works exactly like other print-on-demand services like Printful, Redbubble, Teepublic, etc., and fulfills the customer's order on demand.
As I mentioned earlier, you don't need to hold an inventory of books to make money with amazon kdp, this is one of the reasons I prefer publishing low-content books via amazon kdp. You can get started with kdp publishing with zero upfront cost, as kdp prints your books and deducts the printing cost from your royalties. 
If you know me for any length of time, you may already know that I have been doing kdp publishing since early 2017, therefore, I do a fairly good idea of how kdp publishing works. So, keep reading…
Related post;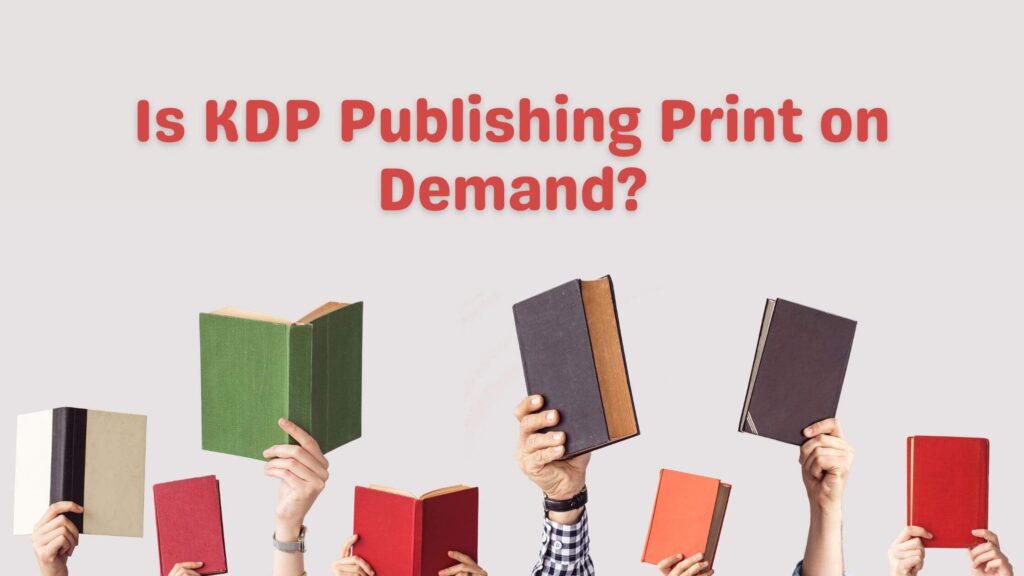 Can You Do Print-On-Demand Books With Amazon?
Amazon has a service named Kindle Direct Publishing aka KDP that allows individual authors and publishers to publish their ebooks and paperback books from all around the globe. And I am one of those self-publish authors, who directly publish their books and ebooks on Amazon via KDP.
All paperback books that kdp prints are print-on-demand, as kdp doesn't hold an inventory of books. They only print a book when a customer orders it, so the great news is, you can also do print-on-demand books with Amazon.
At the time of writing this blog post, I have published 1,240 books on kdp, and the majority of them are paperback books (print-on-demand books). In the very beginning, I also published some ebooks too, but they didn't work for me, so I switched to paperback books.
Is Publishing on KDP Worth It?
Everybody has a different experience with KDP and that is mainly because everyone is different in their approach, talent, and skillset. So, they end up creating different types of books, and kdp works differently for them.
One of the amazing things about amazon kdp is you don't need any upfront money to get started with this low content and no content books business. All you need to invest your time and effort. If you can spare a few hours daily or even on weekends then you can start publishing low and no content books via amazon kdp.
I did this along with my 9 to 5 job and used to work in the evenings for 2 to 4 hours on this kdp stuff. In the beginning, I made very little amazon but with the passage of time and after publishing more books my earnings kept growing.
How Much Does It Cost to Publish a Kdp Book on Amazon?
The beauty of kdp is, you don't need any initial investment to get started with it. You can create your book interiors and covers using free cloud-based software called Canva. Though Canva has a pro-version with more advanced features, however, for most newbie kdp publishers, Canva's free version is all you need.
You can publish a KDP book on Amazon for free, as you can create kdp interior and book cover yourself in Canva. On top of that, there are no charges associated with uploading and getting your book live on Amazon.
And when you start earning royalties from your kdp books, you can invest a portion of it to outsource either your book interiors or book covers from sites like Upwork and Fiverr. At this point, you can employ your money to make more money for yourself!
However, outsourcing kdp publishing isn't necessary as long as you have time to manage every aspect of this business. For the first 3 years or so I did almost 99% of my kdp business myself. If started with zero investment and keep doing it for the next 3 years or so. 
Now, as I am earning a decent income from my kdp business, therefore, I outsource a portion of it from Upwork and Fiverr. 
Is Print on Demand Good for Books?
There are several benefits associated with using a print-on-demand service like KDP Publishing for your books. The biggest upside of using print on demand for books is, you don't need to print a pile of books upfront which may cost you a huge amount of money. 
Print on demand is an amazing option for book publishers and self-published authors as they don't need to make a huge inventory investment. Also, with print on demand model, you don't need to find a place to store your books, as much as, books are only printed when there is a demand for them.
And If you prefer using Amazon kdp, then you can save a lot of time and money that you will spend on finding and working with a good publisher. Therefore, using print on demand for your books can be a great option for many self-published authors as it can save them a lot of money and effort.
My Verdict! 
Kdp publishing is an amazing print-on-demand service for publishing paperback books and hardcovers. Moreover, it puts your books in front of a huge audience on amazon which increases the odds of making money with your books. I have been using amazon kdp since last almost 5 years and I am quite satisfied with it. 
I hope, you've enjoyed reading this blog post! If yes, then do share this with your friend on your favorite social media platform. Just click one of the social icons below this post. Thanks!
❤ Subscribe To My YouTube Channel To Learn More About Low Content Books:
https://www.youtube.com/channel/UCHTJzdE7bzvL8cU0ES6X7mw?sub_confirmation=1
Check Out the KDP Tools & Resources I Use!
❤ Check out my resource page for tools and resources I personally use to scale my Low Content Publishing Business.
❤ Share this post on your favorite social media site. Thanks!
Subha Malik