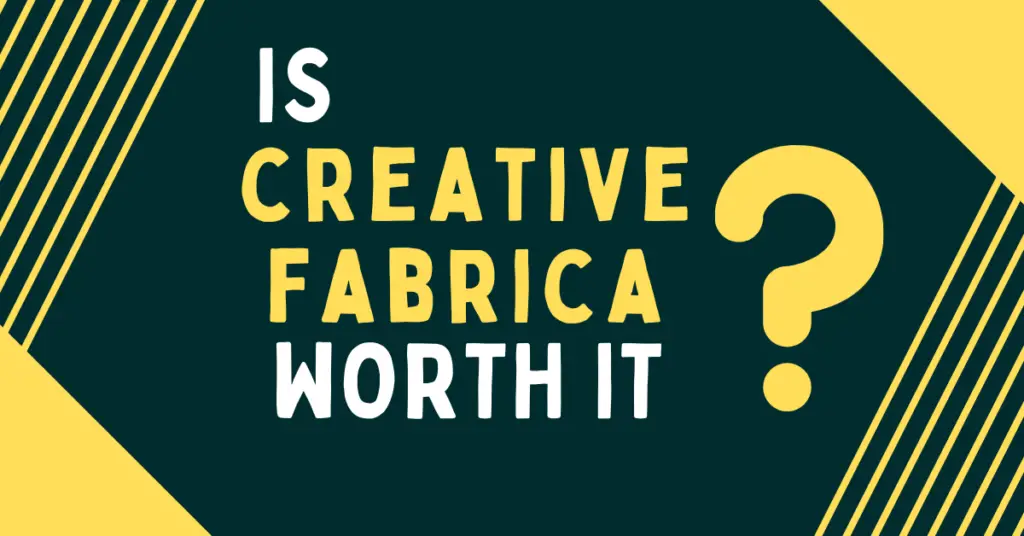 I have been using creative fabrica since Nov 2019 and personally found it really helpful for my low content book publishing business.
If you are new to creative fabrica, it is a great place to obtain a wide range of fonts, graphics, crafts, low content book interiors, and more. At the moment there are 2.211 Million products and 5.182 K designers at creative fabrica.
I get most of my fonts and graphics from creative fabrica for my low and no content books. I am using their all-access subscription which normally costs $29/month but luckily I got on last black Friday for $9/m only.
Actually, I have video review creative fabrica, have a little watch below;
By the way, you can get a 25% discount if get it from my referral link.
1. Firstly visit this link: http://bit.ly/CreativeFab
2. Select your desired subscription and at checkout enter coupon "SUB25" without commas.
So, I Creative Fabrica Worth It?
Based on my own experience, I would say YES it do worth the money! Because it lets you create multiple digital and physical products to make passive income online. It is specifically an awesome choice for Print On Demand business including low content books and no content books.
As a matter of fact, there is a dedicated section at Creative Fabrica for kdp interiors. If you opt for their all-access subscription, you will have unlimited access to all fonts, graphics, kdp interior, coloring books, kids activity books, and much more.
As a side note, please do check out their license agreement, as they have a different license for a single purchase and a different license agreement for subscription users.
Related posts;
How to Pick Categories for Low Content Books
Low Content Book Templates Free Plus Paid
How Does Creative Fabrica Work?
Creative fabrica is a monthly subscription-based service and their subscription include;
Crafts ($12/3 Months)
Fonts ($19/Month)
Graphics ($19/Moth)
All Access Subscription ($29/Month)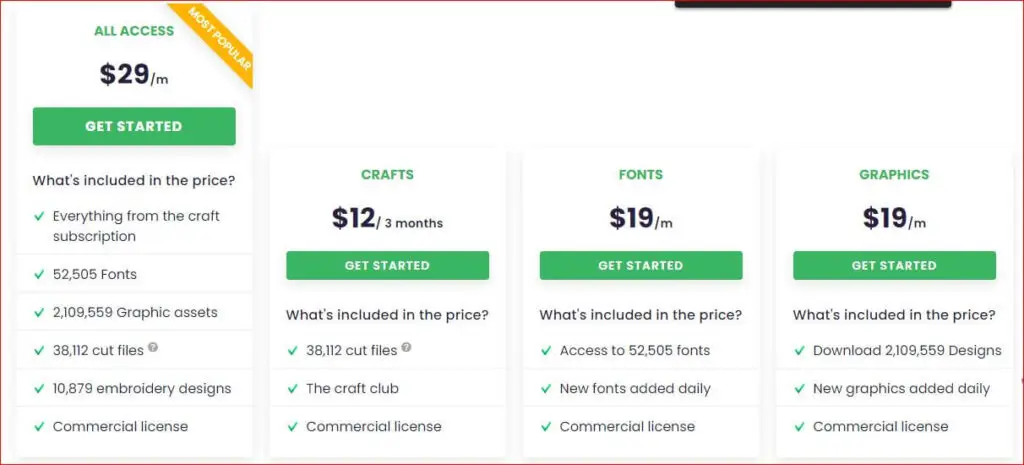 So, you can choose any subscription based on your personal needs. However, going for an all-access subscription is the best option, as it gives you unlimited access to all crafts, fonts, and graphics. It's usually $29/Month but if you purchase through my link you will get a 25% off (Just use coupon code "SUB25).
You can use their fonts, crafts, and graphics for commercial purposes as long as you have an active subscription.
You can think of creative fabrica as a buy and sell marketplace where designers and creators sell their art which creative fabrica makes available to everyone at a fixed monthly price. They charge a recurring monthly fee to their users and then distribute that income among the creators after keeping their cut.
So, if you are an artist or designer and planning to sell your art online then creative fabrica can be a great choice too. Where you will be earning money from the same user every single month.
I Creative Fabrica Legit?
If you ask me, I didn't find any issue with creative fabrica and I have been using their subscription for the last 15 months. So, I would say they are legit. But, it wouldn't be fair if I don't show you what others are saying about them!!
I was reading some reviews on the creative fabrica Facebook page, found some mixed reviews about them. Some people are not happy with them and call them a bunch of liars most because of refund issues. However, there are some very good reviews about them too!
You can read below two recent reviews about creative fabrica;
Fb Feedback 1 – "Worst customer service ever. Website has a lot of issues and they don't help with refunds even though you show them errors you constantly get from the website. They are a fraud."
Fb Feedback 2 – This service is a completely fraud. They are a bunch of liars. Don't give them your card information, they will steal money from you.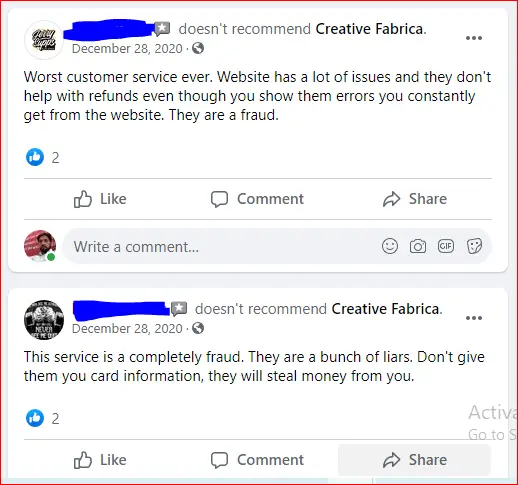 There are also some awesome reviews about them too!
FB Feedback 3- I've been a paid subscriber/user of Creative Fabrica for a few months and the quality of most designs are very good. My subscription is for everything – crafts, graphics, and fonts and I do not have a discounted membership, I pay full price and do feel it's worth it. There is a however though – I would like to know what your process is for quality control because in the last month or so I've noticed a lot of low-quality designs (these are usually text-based) with a lot of grammatical and spelling errors.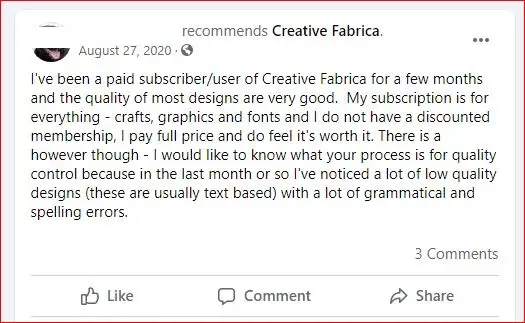 Below are some more positive reviews about them;
Fb Feedback 4 – Such a wide variety! User friendly! If you are looking for something.. anything, chances are they have it!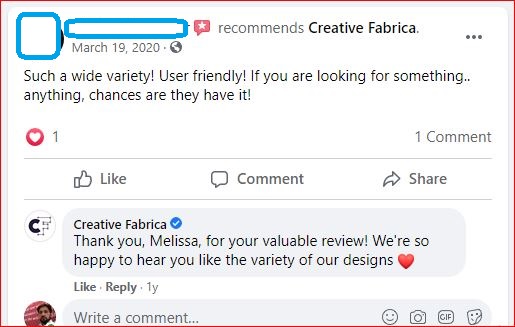 Fb Feedback 5 – The ease of downloading content it's unsurpassable. I love the variety and constant influx of new content.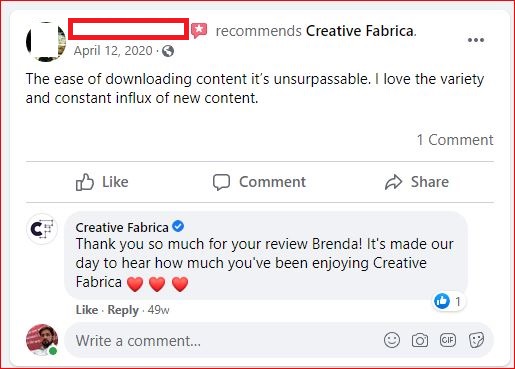 Moreover, they have a rating of 3.6 on Trustpilot with 3 reviews at the moment. You can see it here :
https://www.trustpilot.com/review/www.creativefabrica.com
Is Creative Fabrica Free?
The simple answer is NO, but at creative fabrica, there is a special freebies section where you can find some free stuff as well.
On this page creative fabrica premium items are offered for free for a limited time period. What this means is, every time you will find different crafts, graphics, and fonts being offered for free.
Every freebie comes with their commercial license as well and you can use it in your commercial projects. However, you need to sign up for a free account to get access to these freebies.
Check Out the KDP Tools & Resources I Use!
Get a Free Creative Fabrica Account Here
Final Thoughts
Creative fabrica is an awesome resource for crafters, designers, and low content book publishers. I have been using their all-access subscription for the last 15 months and I didn't face any problem with them whatsoever.
So, my answer to the question is creative fabrica worth it? is a definite YES!
In this post, I have also discussed some frequently asked questions about creative fabrica and I hope you have found this post helpful. If you have still question about creative fabrica you can drop them in the comments section below.
What Next?
❤ Subscribe to My Youtube Channel To Learn More About Low Content Books:
https://www.youtube.com/channel/UCHTJzdE7bzvL8cU0ES6X7mw?sub_confirmation=1
❤ Check out my resource page for tools and resources I personally use to scale my Low Content Publishing Business.
❤ Share this post on your favorite social media site. Thanks!
Subha Malik