To be successful with amazon kdp in 2022 and beyond, you need to learn and master the 4 most important aspects of this business. Without mastering these things, you can't expect a decent monthly income from this low and no content publishing thing.
Below in this blog post, I will discuss these things in detail. These are the sort of fundamentals that you need to learn and with practice you will become good at them.
Amazon Kdp 2022 – Four Important Aspects To Learn!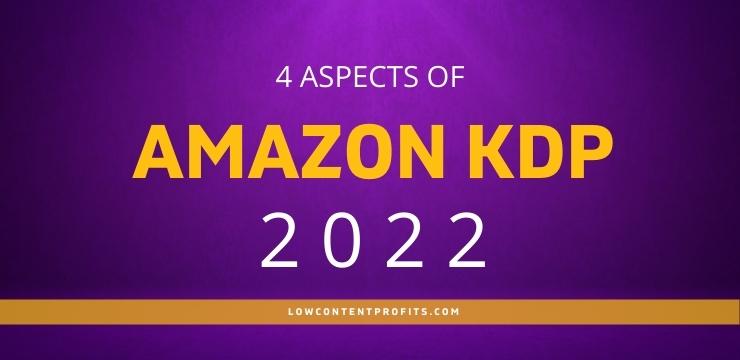 Below I will be quickly reviewing these 4 important aspects of the kdp business that will help you to generate passive income online with amazon kdp in 2022 and beyond!
#1 – KDP Research
This is the very first and perhaps the most important part of the kdp low content publishing business. You need to allocate sufficient time to learn this research part as it decides the success of your books down the line. 
When it comes to amazon kdp, you need to learn two types of research:
Niche research includes finding and deciding on the type of books you are going to create. A niche is basically a group of people who share a common interest, need, problem, career, or hobby.
For example, the niche "Budget Planner" represents a group of people interested in budgeting and they are actively looking for a daily or monthly budget planner. So, searching for these common interests, needs, problems, jobs, and hobbies is known as Kdp Niche Research. 
On my youtube channel, I have a couple of useful videos about kdp niche research and you can check these out here;
How To Find PROFITABLE Niche KDP Low Content Book Publishing!
To be successful with kdp low content books, you need to find out niches that have a decent demand and the competition is still low!
The 2nd part of the kdp research phase includes finding low competition keywords. Once you are done with your niche research, your next step would be to find as many relevant keywords as many you can. Here, the idea is to have a list of relevant keywords, and later on, you will be testing these keywords for competition and demand. 
For details about how to find low competition keywords, you can watch the following video on my youtube channel;
Watch Video: Kdp Keyword Research Step By Step!
#2 – KDP Interior + Cover Creation
Once you are done with your kdp niche and keyword research, you should be creating the interiors of your kdp books. When it comes to creating kdp interiors, you have three options;
Outsource your kdp interiors
Get kdp interior template from sites like Creative Fabrica and Vexels
Create your kdp interior yourself
Creating your kdp interiors yourself is the option, as it gives control over what you actually want to create. To do that you need to learn using tools like Canva or you can use Bookbolt's Interior Designer to create kdp interiors.
On the other hand, if you have money to invest, then you can outsource all your kdp interiors from Upwork. I have recently outsourced a few kdp interiors from Upwork for my coloring books.
The third option is taking interiors from sites like Creative Fabrica, Vexels, and Bookbolt. Or you can subscribe to Tangent Templates and get your hands on a lot of useful kdp templates.
Relevant Post: Book Bolt Vs Tangent Templates
For book cover creation you can use Canva, which is the best option for people with no design skills. On the other hand, If you know more complex tools like adobe illustrator or photoshop then you have an advantage over your competitors. 
And if you want to outsource your book cover then Fiverr is the best option for you, where you can get your book made for as low as $5.
#3 – KDP Upload Process
After creating your book interior and book cover, you need to set up your book title, subtitle, book description, and backend keywords. All these things are collectively known as the book metadata. 
To generate more sales with amazon kdp while abiding by their terms of service, you need to learn the skill of book metadata. Here, I will give you a quick overview of the best practices you can adopt while uploading your book to amazon kdp.
a. Book Title
Your book should sound natural and should be free from any spelling and grammar mistakes. Ideally, you should include a low competition keyword into your book title as it will increase the discoverability of your book.
Your book title should not include:
Unauthorized reference to other titles or authors
Unauthorized reference to a trademarked term
Reference to sales rank (e.g., "bestselling")
Reference to advertisements or promotions (e.g., "free")
Only Punctuation (e.g. "!!!!!!!!")
Using only "unknown", "n/a", "na", "blank", "none", "null", "not applicable"
b. Book Sub-Title
Kdp allows you to include a sub-title for your book and the prime purpose of the sub-tile is to give extra information about your book. In other words, your subtle describes your book and contains additional information that your customer may find helpful to make a purchase decision. 
Therefore, pay close attention to what you are entering into the kdp sub-title field. Try to fit a long-tail keyword into your book sub-title (only if it feels natural). And don't repeat the keyword you have already entered into the title field.
c. Book Description
Your book description should be free from grammatical and spelling errors. Don't overpromise and under-deliver as it will result in bad reviews. Always try to present the actual facts about your book. 
A good book description includes:
A headline to catch the customer's attention
A short paragraph to build interest
A bullet section for book features and benefits
A call to action towards the end.
d. Author Name & Book Categories
You need to enter an author name to publish your book on kdp. While choosing an author name, make sure you are not using any trademarked word or phrase. Also, don't use someone else's name or brand name.
When it comes to book categories, always use relevant categories as using irrelevant book categories is a violation of kdp's terms of service. 
Related Post: Book Bolt Category Finder
d. Kdp Backend Keywords
Kdp also gives you 7 keyword slots that you can use to enter the 7 most relevant keywords to boost the discoverability of your book. There are many ways to fill in the kdp backend keywords, however, using the most relevant low competition keywords is the best way.
Check Out the KDP Tools & Resources I Use!
I have written a detailed post about kdp backend keywords, you can read it below
Related Post: Filling Kpd Backend Keywords Slots
#4 – Book Promotion (Amazon Ads)
Prompting your kdp books via amazon ads is one of the best ways to boost your kdp sales. In my opinion amazon ads are becoming necessary for kdp low content books, especially for very competitive niches like Coloring Books, Activity Books, Letter Tracing Books, etc. 
I have a couple of videos about amazon ads, you can watch the playlist below:
Watch Playlist: Amazon Ads
Let's Summarize It
As we are entering into the new year 2022, I have shared with you the 4 most important aspects of the kdp low content publishing business. Especially, if you are new to this kdp thing then you should learn and master all these things to generate a decent income with amazon kdp.
Thanks for reading this post till the very end, and if you like it, then do share it with your friends.
What Next?
❤ Subscribe To My Youtube Channel To Learn More About Low Content Books:
https://www.youtube.com/channel/UCHTJzdE7bzvL8cU0ES6X7mw?sub_confirmation=1
❤ Check out my resource page for tools and resources I personally use to scale my Low Content Publishing Business.
❤ Share this post on your favorite social media site. Thanks!
Subha Malik