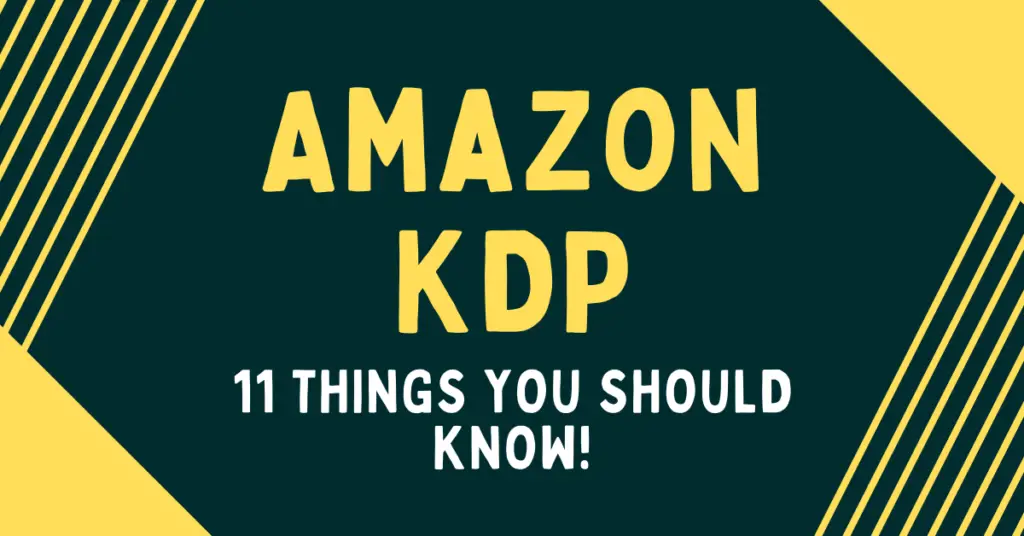 Welcome to my blog! In this post, I will be discussing some interesting things that you should know about Amazon KDP.
If you have been following along with me on my YouTube channel that you may already know that I publish low and no-content books through kdp. And I have created this blog to share what I have learned after publishing over one thousand low and no content books on amazon kdp.
Especially, if you are new to kdp publishing then, you may have certain questions in your head about kdp. So, I have crafted this post to combine those questions or facts in one place, so that you don't need to Google them again and again!
Related posts;
How to Pick Categories for Low Content Books
Amazon Kdp: 11 Things You Should Know
Low Content Book Templates Free Plus Paid
Things You Should Know Amazon Kdp
Below are some facts or things about Amazon Kdp that you may not know. You can also take these facts as frequently asked questions about kdp. So, let's dive in…
Is Kindle Direct Publishing Really Free?
The short answer to this question is Yes! Kdp publishing is totally free as they don't charge you any monthly or yearly fee to list your ebooks and paperback books on their platform for sale. You can sign up for a free kdp account and start publishing your low and no content books without any upfront cost.
If you are interested in low and no content book publishing then you can start for free. You can either create your book interiors yourself or get them for free from a site like book bolt.
On the other hand, if you want to outsource your work like book covers or even book interiors then you will need to have some investment money to start with your kdp publishing business. Ideally, you should start with the free option, and once you start earning royalties, then you can re-invest that money back your kdp publishing business.
Is kdp Amazon Legit?
This answer to this question is a BIG Yes, at least from my own experience. If Amazon is legit then so is the kdp, because kdp is owned by Amazon itself and books are one of their main products. So, if you think Jeff Bezos is legit, then rest assured, kdp is legit too!!
I have been publishing amazon kdp since 2017 and til date didn't come across something that would cause me to think that the guys are not legit.
Do I Need to Copyright My Book Before Publishing on Amazon?
No, you don't need to copyright or register your book with the US Copyright Office before publishing it on amazon kdp. All you need is to confirm that you have publishing rights to publishing a particular book through amazon kindle direct publishing.
When you start publishing your book, on the very first page (Paperback Details) you will see a section "Publishing Rights" and you need to check that box before you move to the Paperback Content page.

Moreover, on intellectual property rights faqs page, there is a frequently asked question:
"Should I include a copyright page in my book(s)?"
And the answer to that question from kdp is;
"Amazon does not require you to include a copyright page. If you would like your book to have a copyright page, you must incorporate it into your content file."

So, It's the prime responsibility of the publisher to make sure that he/she owns the publishing rights before publishing a book or ebook on kdp.
How Much Does It Cost to Publish a Book On Amazon Kdp?
As I mentioned earlier, you don't need any upfront cost to publish a book on amazon kdp as far as you manage everything on your own. For instance, you create and edit your book yourself and make a cover using a free tool called Canva then you don't need any money to publish a book on kdp. This only applies if you have enough time to manage every aspect of the publishing process!
On the other hand, if you don't have time and want to outsource everything then you will need approximately $100-$120 for a book interior and $5 to $25 for a book cover if you get it done from Fiverr. This applies to low content books only.
And if you are interested in high content books non-fiction books, you need to spare approximately $500 to $1500 for it, depending upon the length of the book.
Does Amazon Kdp Own My Book?
No! Amazon Kdp don't own your book your, it's the publisher of the book (you) who owns it. Amazon Kdp only lists your book for sale on their platform and manages other aspects like printing, shipping, (if it's a paperback), refunding, customer service, etc.
As a publisher, you control things like updating your book cover or interior, book description, or even you can unpublish your book from Amazon. What Amazon actually controls is, they can pull your book off from the platform, if there are enough complaints about your book (spelling, grammar, content quality, etc.)
Is It Easy to Publish a Book on Amazon Kindle?
Based on my own experience I would say yes it's easy to publish a book on Amazon kindle. The cool thing is that the learning curve is small and if you manage to understand their basic formatting requirements then it is like 1,2,3.
In fact, you can find very helpful resources for preparing your book on kdp itself. Visit here; https://kdp.amazon.com/en_US/help/topic/G201723070.
If want to publish an ebook then you can create a word file following the formatting guidelines on https://kdp.amazon.com/en_US/help/topic/G200645680.
On the other hand, if you want to publish a paperback, then all you need is to keep in mind the trim sizes and cover dimensions. The most popular trim size for a kdp paperback is 6 x 9 inches. When it comes to cover creation, you can get a cover template from https://kdp.amazon.com/cover-templates.
By the way, I have many videos on my youtube channel, most of them are focused on kdp paperback. The below video will guide you on how to create a simple cover for kdp paperback book.
Check Out the KDP Tools & Resources I Use!
Why Is My Kdp Cover Blurry?
Your kdp cover becomes blurry if you are using a low-resolution image (less than 300 dpi) on your cover. This mostly happens when you have a small raster image (Jpeg, Giff, BMP, Tiff, and Png) and you expand it to fill over the cover, it becomes pixelated. In such case, the individual pixels become visible to the naked eye, and the cover looks blurry or blocky.
To avoid this, you should use vector images like svgs. These images are highly scalable and don't become blurry when you extend or shrink them. Or if you don't have any other option than raster images, then make sure the image is large enough so that you don't need to enlarge it.
Check out Creative Fabrica for amazon graphics and fonts (25% Off Coupon "SUB25")!
How Can I Promote My Book for Free on Amazon?
You can promote your eBook version of your paperback for free on Amazon by enrolling in KDP Select program. By enrolling into kdp select you make your book exclusive to kdp for the next 90 days and in return you can run a 5 days Free Book Promotion every 90 period.
So, the question is why to offer my book for free? Well, offering your ebook for free via kdp select program is essentially helpful in getting your book in front of a large audience. It not only helps you in getting organic reviews but it also improves your book's ranking on Amazon.
What that means is, after the 5 days free promotion ends, your ebook keeps getting sales (not as much as free ones) which improve the BSR (Best Seller Rank) of your ebook.
Note: Free Book Promotion applies to eBooks only, and you can't promote your paperback for free!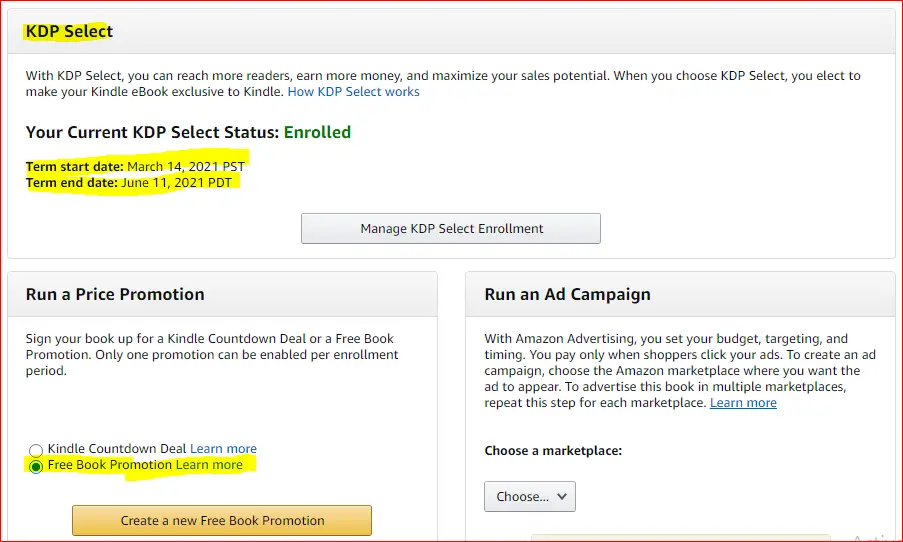 How Do I Delete a Book From Amazon Kdp?
Actually, you can't delete a book from kdp once it is published. Especially, you can not delete a paperback that has been assigned an ISBN. You can only delete an ebook that is in draft mode and you haven't published it. However, you can unpublish a book or ebook to make it unavailable for purchase.
To unpublish a book, just go to the bookshelf, and then in front of your book or ebook click on the ellipsis (three dots). This opens a pop-up window, and you need to click on the unpublish. This will make your book unavailable for purchase until you re-publish.
As a side Note,
When you un-publish an ebook, it becomes unavailable to buy and unsearchable on Amazon until you republish it.
When you un-publish a paperback book,  customers won't be able to buy new copies through KDP. Third parties may still sell used copies of your paperback on Amazon. That means your paperback's detail page will stay live on the website. 

How Much Can I Earn from Amazon Self Publishing?
If you have a kdp paperback book (120 pages) and price it at $6.99, you will be making $1.90 per sale in the US marketplace. And rest is the simple math! If your book makes 5 sales a day and 150 sales a month you will be making $9.50 per day and $285 per month from one particular book.
It all depends upon your niche selection, the quality of your book, and the attractiveness of your book cover. There are kdp publishers who are making thousands of dollars from one book. On the other hand, there are many low content publishers, who don't even make $500 per month after publishing hundreds of low and no content books.
However, if you manage to publish 5-10 good quality books in relatively low competition niches, you can expect a couple thousand per month.
How Do I Get Paid from Amazon Kdp?
Based on your location, there are three different payment methods you can choose to get paid from kdp. And these payment methods include Direct Deposit, Wire Transfer, and Check. Direct deposit or ETF is the best method to get paid from kdp as it involves the direct transfer of funds from kdp to your bank account. So, if you have a US bank account, then ETF is perfect for you!
If you are outside the US, you can sign up for Payoneer (signup and get $25 once your receive your first $100). It provides you with a virtual US, UK, and German bank account which you can use to get paid from kdp.
The other two methods include;
Wire transfer
A wire transfer is a transfer of funds done electronically across a network of banks or transfer agencies around the world. Kdp pays for the transaction at the remitting bank and provides the recipient's name, bank account number, and the amount transferred.
Note: Wire transfer method at kdp may involve minimum payment thresholds, fees associated with receiving wire payments, and/or foreign exchange rates.
Check
If you opt for Check as payment method at kdp, you will receive a paper check via surface mail at the address you've provided at the  Author/Publisher Information section of your account.
Note: Kdp offers check payment only when an electronic payment method is not available.
Final Thoughts
In this post, I have covered things that you may not know about kdp or things that you should know about it. These are basically the frequently asked questions that most newbie publishers ask about kdp self-publishing. And, I have tried my best to answer those questions.
I am sure you will love this post! Thanks for reading!
What Next?
❤ Subscribe to My Youtube Channel To Learn More About Low Content Books:
https://www.youtube.com/channel/UCHTJzdE7bzvL8cU0ES6X7mw?sub_confirmation=1
❤ Check out my resource page for tools and resources I personally use to scale my Low Content Publishing Business.
❤ Share this post on your favorite social media site. Thanks!
Subha Malik