Whatsup, low content publisher? Today, we will be looking at some very good ways to determine a niche for low content books.
When is it comes to niche selection for low content books, many newbie publishers tend to overthink it. Actually, niche selection isn't as hard as it seems to be. It is because niches are everywhere.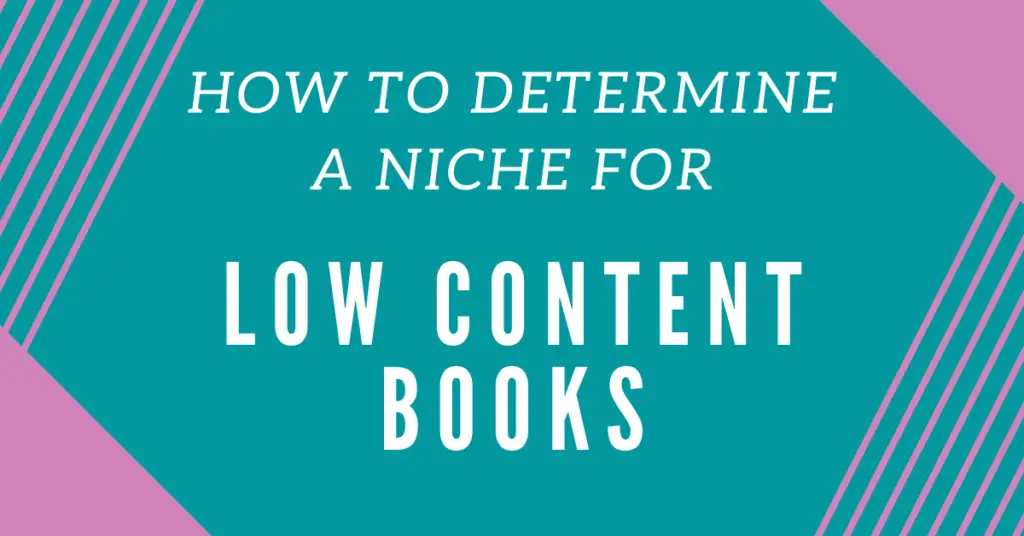 How to determine a niche for low content books?
The best way to determine a niche for low content books is by doing a search at amazon's search bar itself. Just type your main keyword followed by some sort of modifier life notebook, journal, coloring book, logbook, and wait for amazon's autocomplete feature. 
For instance, if we type unicorn coloring book  in the amazon search bar following keywords show up:
Unicorn coloring book for kids ages 4-8
Unicorn coloring book for girls 8-12
Unicorn coloring book for kids ages 2-5
Unicorn coloring book for adults
Unicorn coloring book for girls
Unicorn coloring book for kids
Unicorn coloring book for kids ages 4-8 beautiful unicorn
Unicorn coloring book for girls ages 4-8
Unicorn coloring book party favor
As you can see, we have quickly found 9 book ideas just by doing a simple search on amazon. These all low coloring book ideas are closely related to the main topic or niche and that is unicorn coloring books.
Related Posts
Low Content Book Templates Free Plus Paid
KDP Income Report February 2021
Now let's dive deep into niche selection for low content books. 
What is a niche?
In a nutshell, the niche is a collection of closely related keywords. For instance, if you want to make a coloring book then the closely related keywords would be coloring books for kids, coloring books for adults, coloring books for men, coloring books for women.
A niche can be a common interest, hobby, profession, job title, health-related issue, and a common problem in the community! 
There are so many ways to find niches and the same applies low content books as well. In this post, we will be looking at some of the most common and useful ways to find a niche for low content books!
Before looking at ways to find a niche for your low content books, you need to keep in mind some rules for niche selection.
Looking At Demand
Below creating a low content book, you need to determine the demand for your book/niche. You need to make sure that a handful of people are actively searching for that particular book on amazon. Don't worry, it's really easy.
Just type your book title or main keyword in the amazon search bar and hit enter. Next, open the first 5 to 6 six books excluding the sponsored ones in new tabs, and scroll down to the book details section.
As you can see in the screenshot below, there is a Best Seller Rank # 305 in Books. What that means is, this specific book is ranking at #305 in amazon's book store. Obviously, the book ranked at no. 1 is the best-selling book in the overall book store. 
So, doing niche research for your low content books, all the first 5 to 6 or even 10 books should have a BSR (Best Seller Ranks) under 300k. If your niche meets this first criterion, which is establishing a demand for your low content book, then move on to the next step and that is accessing the competition for a niche.
Accessing Competition
This is the 2nd and the most crucial step for doing niche selection for low or no content books to publish on amazon kdp. You need to look at the competition before creating your book. So, how to do that competition analysis?
It's quite simple, just by looking at the total no. of search results for a particular search term or keyword. This no tells us the amount of other competing products. And you should aim for a number less than 1000.
Let's suppose if you search for "Unicorn coloring Book" in the amazon search bar, you will notice no of search results for your keywords. As you can see in the below screenshot it says "over 3,000 results for unicorn coloring book".

As this keyword has over 3000 search results, this is very competitive as per our niche research criteria. So, you need to skip this and search for some other Long Tail Keyword like "unicorn coloring book for kids ages 4-8". Or you can skip this niche if all the keywords have more than 1000 search results.
Note: Don't ever publish a book having any kind of copyrighted word in its title, subtitle, or cover. Otherwise, your kdp account will be banned due to copyright infringement.
Ways To Determine a Niche for Low Content Books
As I have shown earlier, you can do niche research on amazon itself and find really low competition niches. Or you can start your niche research out of amazon and then test those niches on amazon to establish both demand and competition.
You may like this video, where I have shown how to find niches on Etsy and Pinterest.
Check Out the KDP Tools & Resources I Use!
So, where to do niche research outside of amazon?
1. POD Sites
You can do niche research for low content books on other POD (print-on-demand sites) like Redbubble, Teepublic, Teespring, and Etsy as well.
For the sake of this post, I will show how to find niches on Redbubble.
Just head on to redbubbled.com and then click on Clothing.
On the next screen click on "Men Clothing"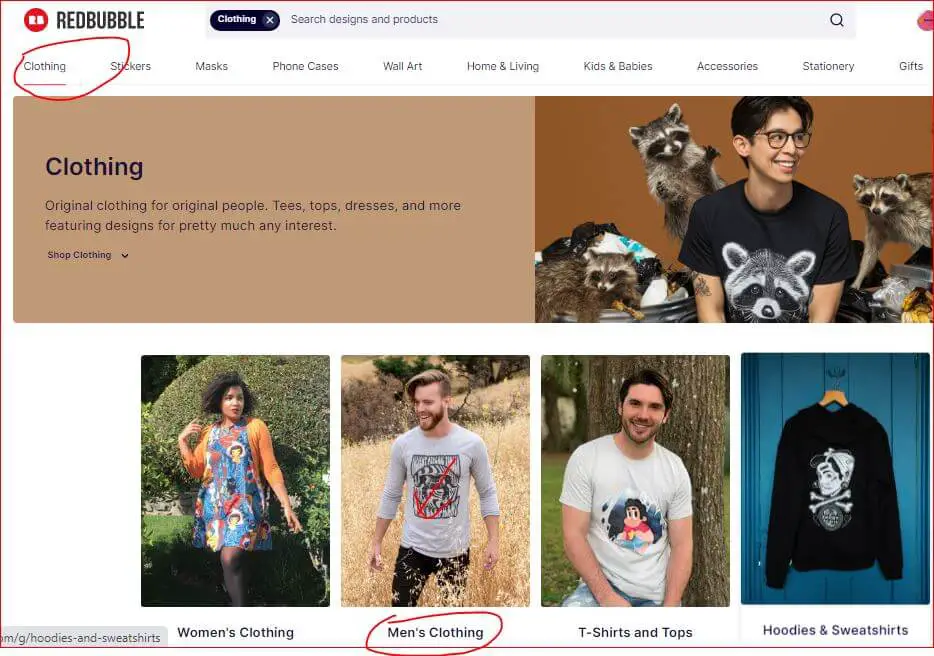 3. On the next screen you will see search results for men's clothing, just change the search filter to best selling or trending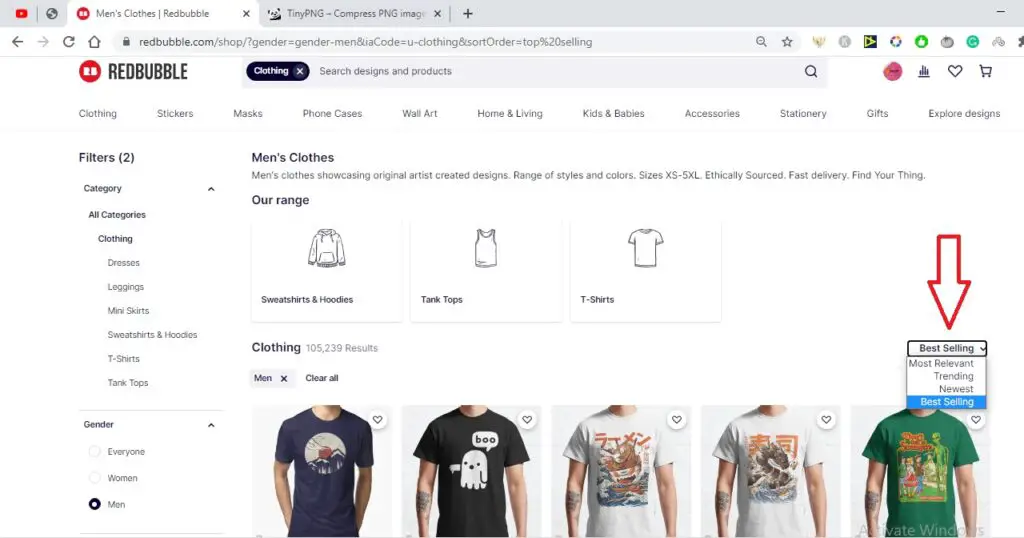 4. Look at the T-shirts and note down the niche or topic of the T-shirt
As I have noted the following niche ideas from this process;
Sushi dragon
Street cats
Space travel
Great ramen
Space turtle
You can repeat the same process on other pod sites like TeePublic, Teespring, and Zazzle and come up with dozens of low and no-content book niches.
2. Creative Fabrica
This is the best way to find low content book niches. Just visit creativefabrica.com and click on the Graphics >>KDP Interiors, as shown below.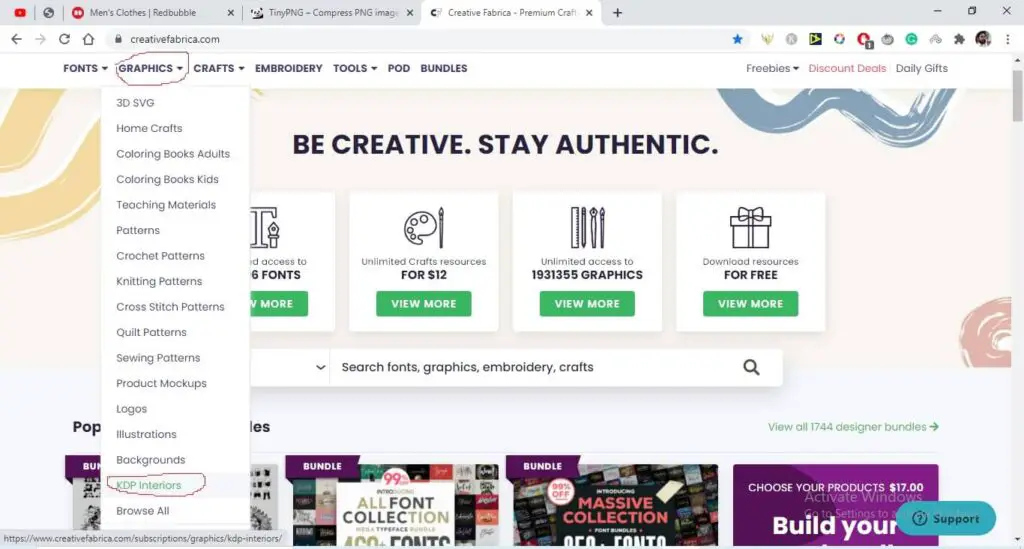 On the next screen, you will be present will over 6700 kdp interiors. These results are sorted by popularity by default, and you can sort them by Latest as well.
Next, look at the kdp interiors and start jotting down niche ideas. In this, you will have a long list of niches for your low content publishing business. For instance, I have come up with these niches with this method:
Hard Sudoku Puzzles
Adult maze puzzles
Boat Log Book
Ocean Animals Coloring Book
Cycling Log Book
Medication Log Book
Kakuro Puzzles
Coin Inventory Log Book
Security Log Book
Handwriting Activity Book
3. List of Hobbies
You can do a google search for the most common hobbies or visit a site called notsoboringlife.com and note down hobbies. These hobbies are niches for your low and no content books that you can publish on kdp.
Final Thoughts
Thanks for reading this post till the end. I hope this post will help you in understanding how to determine a niche for low content books. Actually, niches are all around you, all you need to do is pay a little attention and jot them down with a pen or paper. Or you can have an excel sheet.
Firstly, make a list of 10-20 niches and then test them on amazon to establish demand and profitability for those niches. Once you have a handful of profitable low competition niches, publish 5-10 books per niche and see what sells the most.
What Next?
 ❤ Subscribe to My Youtube Channel To Learn More About Low Content Books:
https://www.youtube.com/channel/UCHTJzdE7bzvL8cU0ES6X7mw?sub_confirmation=1
❤ Check out my resource page for tools and resources I personally use to scale my Low Content Publishing Business.
❤ Share this post on your favorite social media site. Thanks!
Subha Malik