As we are already into quarter 2 of 2022, therefore, It would be a great idea to have a bunch of the best kdp niches for the year 2022. Keeping this in mind, I have made a list of profitable kdp niches for kdp low content and no content books. 
I think this is the right time to pace up and start creating good quality kdp books so that you can make more sales during Q3 and Q4 in particular. The niche ideas or book ideas I am going to share with you have a fairly good demand and a decent amount of competition!
So without further ado, let's get started…
Before moving towards a list of top kdp niches in 2022, you may want to have a look at 9 profitable kdp niches for the year 2021. Most of these kdp book ideas are evergreen and they still work in 2022!
List of Best Kdp Niches 2022 and Beyond!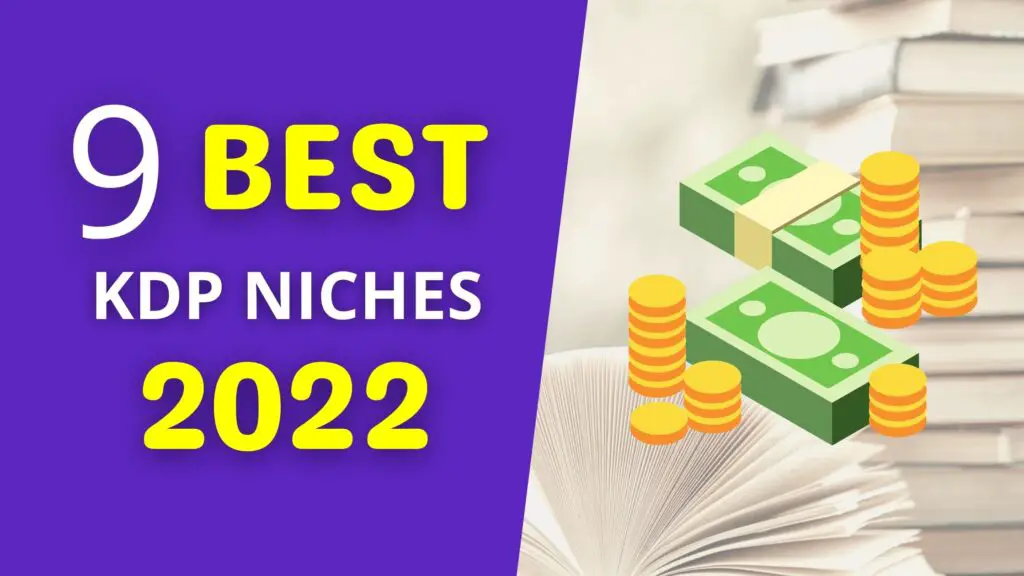 I have done a lot of research and made a list of the best kdp niches for you! You can take this as a token of appreciation for being my regular reader or paying the first visit to my blog!
# 1 – Educational Workbooks for Kids
Educational workbooks are one of the best-selling books on Amazon and you can too enter into this niche and earn some real passive income. This is a huge niche with a ton of sub-niches and your success lies in your ability to find those under-served sub-niches. 

To help you get started I have made a list of sub-niche under the educational workbooks niche:
Learn to write Letters books
Learn to write numbers books
Preschool math activity books
Sight word books for kids
Pencil control books for toddlers
Pre-handwriting workbooks
My first 100 words books
Awesome facts books for kids
Human body activity book for kids
✨ Want to create a coloring book in Canva? I have also written a blog post on How to Use Canva for Kdp Low Content Books, in which I have shown a step-by-step process to create a simple coloring book for free!
# 2 – Activity Books For Kids
This is another very huge and popular low content book niche for amazon kdp. The activity books are especially popular among parents who know the benefits of these type of books. 
Tough these surface-level niches seem to be very competitive, however, niching down can be really helpful for you to generate some decent sales. Below are some of the sub-niche under this main activity book niche.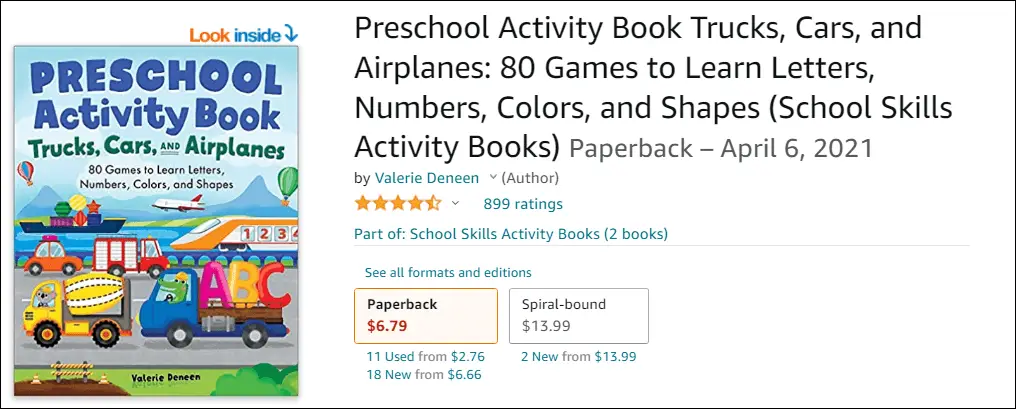 Sub-Niches for Activity Books for Kids
Dot markers for toddlers activity book
Cut and paste workbooks for kids ages 4-8
Preschool activity book trucks cars and airplanes
Brain games sticker by number for kids
1-year-old activity books for boys
Dot to dot book for 5-year-old
Color by numbers for kids ages 4-8 girls
Spot the difference for kids 8-10
Maze puzzle book for kids ages 8-12 years
# 3 – Puzzle Books For Kids
Puzzle books are also very popular on amazon kdp and many publishers are making a whole lot of money with them. You can too publish some decent quality books and make passive income online.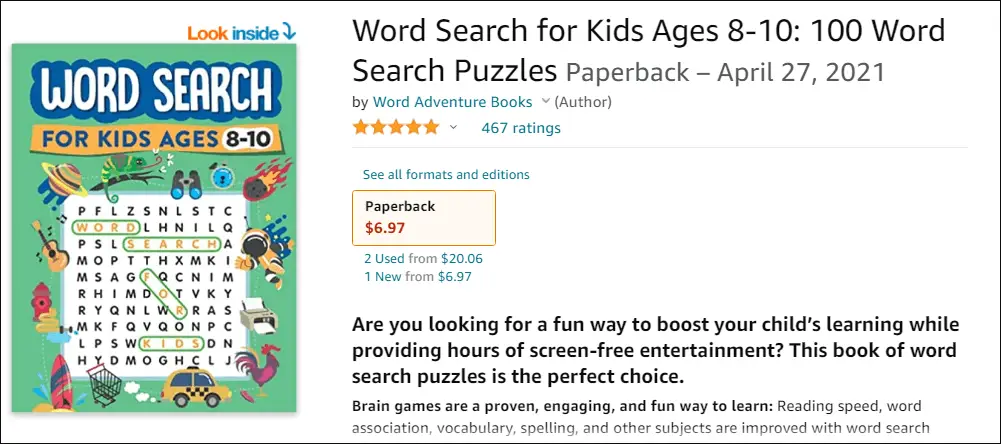 Just like the activity book niche, puzzle books also have a lot of sub-niches and some may be very less competitive as well. To give you an idea of what kind of books you can create, here are some sub-niches under this main puzzle book niche:
Sub-Niches for Puzzle Books for Kids
To find sub-niches with low competition you can think of a theme like space, school, sports, etc. 
Crossword puzzles for kids ages 12 and up
Kids crossword puzzles ages 8-10 space
Word search puzzle book for kids ages 10-12 dinosaur
Zoo animal word search puzzle book for kids
Sudoku puzzles for kids 9×9
Sudoku puzzles for kids 6×6
I spy book for kids ages 8-10
Sticker puzzles kids activity book
I spy with my little eye construction vehicles
👉 You may like to chekout my blog post about Powerpoint Puzzle Generator, that an extremely helpful tool for creating puzzles within Powerpoint within minutes!
# 4 – Anxiety Relief Coloring Books
It's kind of cliche to say that coloring books are extremely popular on Amazon. And we all know when something is more popular, it attracts a whole lot of competition as well, the same is true for kdp coloring books! 
Though the coloring book niche is very competitive, there are still some sub-niches where you can get decent sales. Just like I have recently found this "Anxiety Relief Coloring Book" niche, it has very less competition, and the books on the first page have excellent Best Seller Ranks. 

The exact keywords, anxiety relief coloring book has just over 2000 competing products on amazon which means the competition is still very low! So, you can create a better-looking book with a better interior and can potentially make a decent income in this kdp coloring book niche!
Some related keywords and phrases are:
Anxiety relief coloring book for adults
Anxiety relief coloring book for teens
Anxiety relief coloring book for women
Anxiety relief coloring book for kids
Anxiety relief coloring book large print
Anxiety relief coloring book for adults mindfulness
Anxiety relief coloring book for adults to relax
# 5 – Large Print Books for Seniors
Large print is a print option by amazon kdp which applies to books with a font size of 16 points or higher. Large print books are helpful for elderly people with low vision and can be a great niche for amazon kdp books.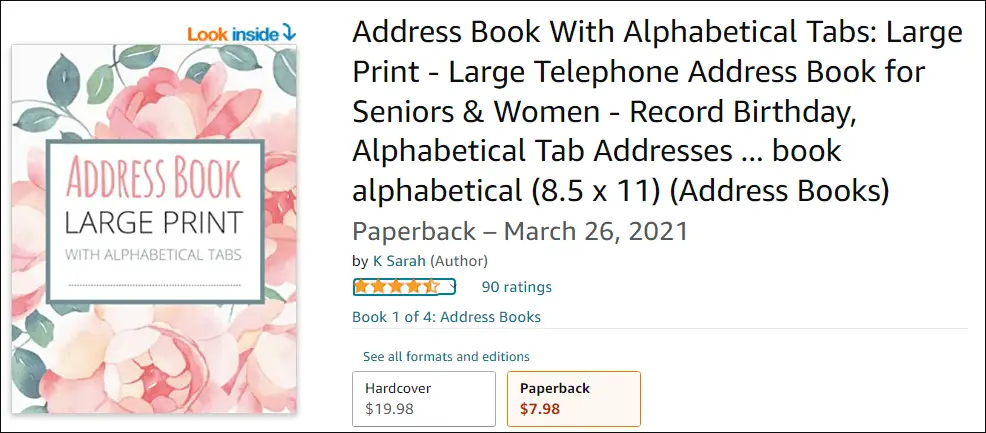 Large print as being a surface-level niche is a huge niche with a lot of sub-niches. Like you can turn any normal book into a large print book by increasing the font size to 16 points or above. Below I have listed some of the best-selling large print niches for amazon kdp.
Sub-Niches for Large Print Books
Large print puzzle books for seniors
Large print word search puzzles
Large print coloring book
Bold and easy large print coloring book
Large print address book for seniors
Large print password log book
Large print cookbooks
Large print crossword puzzles
All you need is to set the font size to 16+ and tick the large print option while uploading your book to amazon kdp. 
# 6 – Log Books / Trackers
Log books are extremely popular on amazon and tend to sell all year round. So if you want to create evergreen books then you should focus on the log books niche. There are a ton of sub-niches under this surface level niche and you can find these sub-niches easily using free tools like Ultimate Amazon Search Suggestion Expander.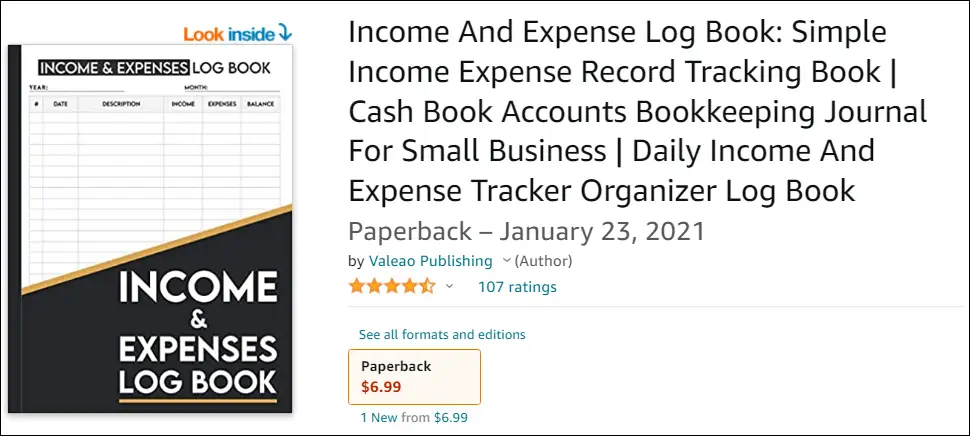 I personally love to create and publish log books on amazon kdp. During 2020 I published a handful of log books and one of them really took off. So, you can expect a really good income with log books or trackers. 
Sub-Niches for Log Books Niche
Though the log book niche is a huge area, however, I am listing a few of them to give you an idea of the niche.
Nutrition log book
Homeschool log book
Blood pressure log book
Weather log book
Inventory log book
Maintenance log book
Sales log book
Baby log book / Nanny log book
Temperature log book
Pregnancy log book
Medication log book
Transaction log book
Workout log book
Fishing log book
Medical log book
Watch my video tutorial about how to create a password log book inside PowerPoint.
# 7 – Short Story Books for Kids
Story books for kids are extremely popular on amazon and can be really profitable as well. Most of the time these story books have a short story for kids to teach them something in a fun way. 
For instance,  if you want to teach kids letters of the alphabet then you can create a short story about an animal or boy who learns the letters of the alphabet in a fun way.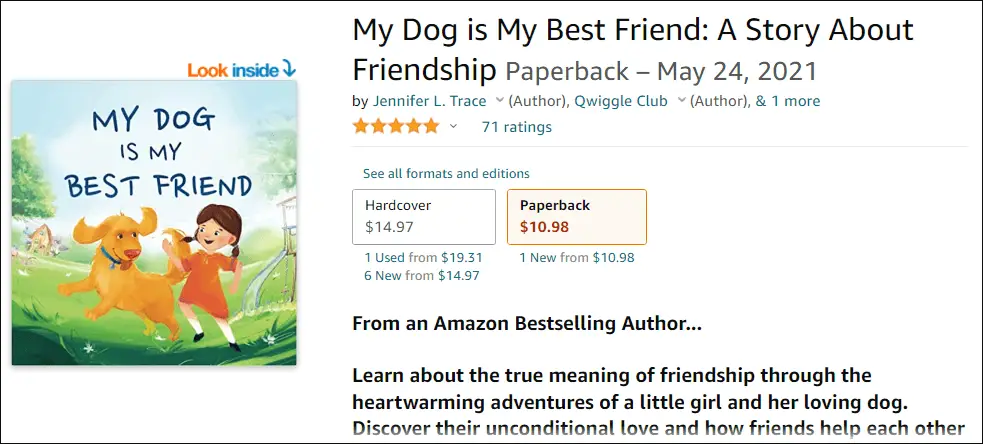 The beauty of the children's story book is you don't need to write a 200-page story, rather, you only need 500 to 1000 words to create a 25-40 page book. I have published a kids' story book with 500 words only and it has 24 pages.
The story books are full-colored books and come with relevant illustrations or pictures to support the story in a fun way. You can get these illustrations from sites like Creative Fabrica and publish your first story book for kids.
Topics / Ideas for Kids Story Books
Below are some of the topics or ideas for creating short story books for kids.
Learning colors of the rainbow
Learning letters for the alphabet
Teaching kids the habit of sharing
Teaching kids the benefits of truthfulness
Teaching kids love and compassion
Teaching kids health habits
Teaching kids table manners
Teaching kids the importance of cleanliness
Teaching kids anger management
Teaching kids time management
# 8 – Learning to Write Foreign Language Books
Most people need to learn a second language therefore they also need to practice writing that language as well. For example, if you want to learn Japanese, then you would also need to practice writing Japanese letters as well.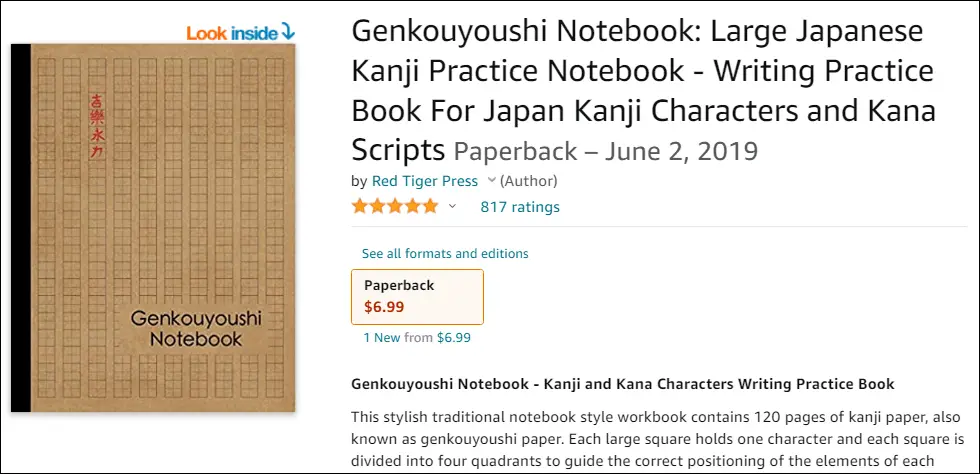 This creates a demand for writing practice books for different languages, like Japanese practice notebooks, Chinese practice notebooks, etc. 
Check Out the KDP Tools & Resources I Use!
These books are basically blank books with letter and character tracing pages. Below are some examples of these writing practice notebooks.
Genkouyoushi Notebook / Kanji Practice Notebook
Chinese Practice Notebook
Korean Practice Notebook
German Writing Practice Notebook
Mandarin Writing Practice Book
Spanish Writing Workbook For Adults
French Practice Writing Book
Arabic Writing Practice Book
Hindi Writing Practice Book
# 9 – Coloring Books for Toddlers
Coloring books for toddlers are selling like a hot cake on amazon and I personally saw many newly published books generating a lot of sales. These coloring books are easy to create using tools like Canva.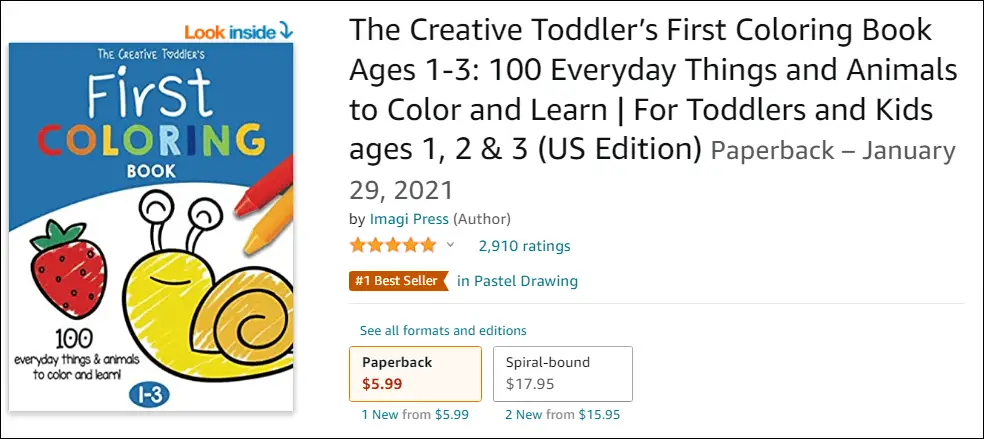 All you need is to think of is a common theme, collect or create 50 to 100 colorable graphics, import them to canva or Powerpoint, add some text, and export them as a pdf file. Some examples of coloring books for toddlers include:
My first toddlers coloring book vehicles
My first toddlers coloring book construction vehicles
My first toddlers coloring book of things that go
My first toddlers coloring book shapes, numbers, and animals
Coloring books vehicles for kids
My first coloring books for toddlers
I have written a detailed post about How to Create Coloring Books for Amazon Kdp the Right Way! You may find it useful too!
My Verdict
In this post, I have shared with you some really profitable kdp niches to publish low content books in 2022 and beyond. I have not only shared the surface-level niches but also given you a handful of sub-niches as well. Now it's your turn to pick up the best sub-niches for you and start creating good quality books.
Thanks for reading this post till the very end! If you've found this helpful then do share it with your friends, just click on one of the social sharing buttons below this post!
What Next?
❤ Subscribe To My Youtube Channel To Learn More About Low Content Books:
https://www.youtube.com/channel/UCHTJzdE7bzvL8cU0ES6X7mw?sub_confirmation=1
❤ Check out my resource page for tools and resources I personally use to scale my Low Content Publishing Business.
❤ Share this post on your favorite social media site. Thanks!
Subha Malik