In this blog post, I am going to review Instant Puzzle Generator, a piece of software that allows you to create stunning word search puzzle books in a few clicks. You can publish these word search books on amazon kdp or sell them as digital downloads on sites like Etsy and Teachers Pay Teachers.
I purchased the instant puzzle generator in 2021, created a couple of word search books, and published them on amazon kdp. One of those word search books generated organic sales too. 
I found the instant puzzle generator very helpful as it creates stunning word search puzzles in a few clicks. Therefore, I am going to share this software with you as well. The cool thing is it's a one-off payment and you can use it forever.
👍 If you don't have it yet, you can get Instant Puzzle Generator here to create word search puzzle books like a breeze! This includes my bonus with 10 Low Competition Word Search Niches that you can publish books in right away (You will also get 180 Word Search Keywords!).
Next, I will be showing the IPG (Instant Puzzle Generator) in action. The software is extremely easy to use and it creates stunning word searches in a matter of minutes. 
✨I have also written a whole blog post about creating Math Workbooks for Amazon KDP, you can read my review of Math Worksheets Generator here.
Creating Word Search Puzzles With Instant Puzzle Generator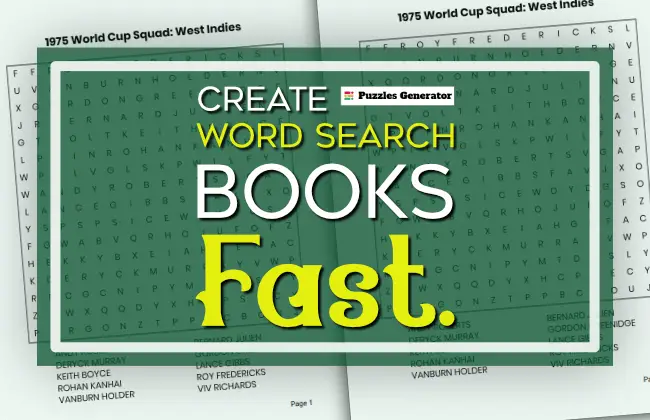 Creating word search puzzles inside IPG is essentially a 4 step process that you can follow along with me in this blog post. So let's just dive in…
Before creating any word search puzzle book you need to look for a word search niche with decent demand and low competition. For your ease, I have included word search puzzle book niches that you can get as a bonus if you purchase IPG through my link.
# Step 1 – Creating Word Lists
This is the very first step of creating a word search puzzle book inside the instant puzzle generator. For the sake of this blog post, I am creating a Cricket Worch Search Puzzle Book. To create this book I have made a list of relevant words and saved them as a text file.
Basically, I have created a word list constant of word cup team squads starting from the very first cricket work that was played in 1975. Hence my cricket word search list consists of the players' names for all teams participating in various cricket world cups played between 1975 and 2019.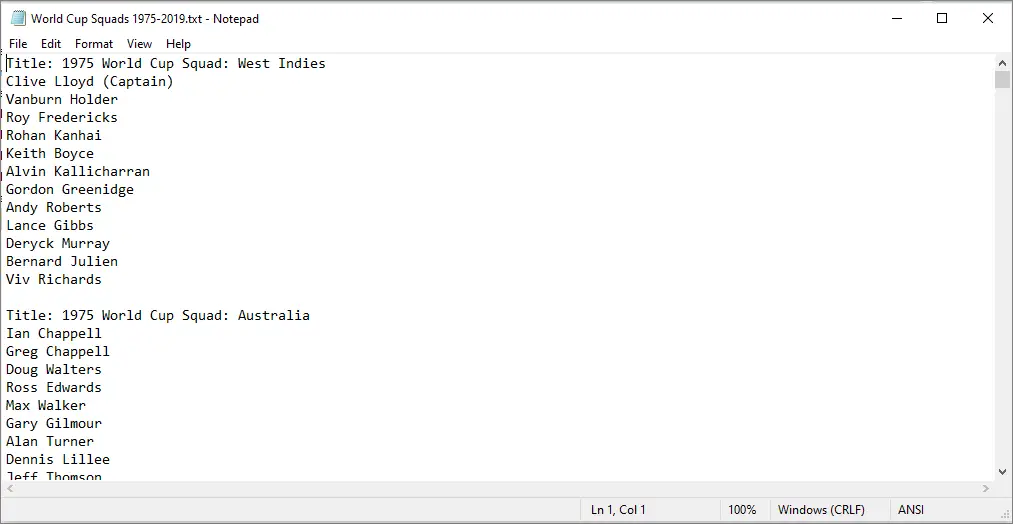 Now I have a word list ready to upload, I can move on to the next which is uploading the word list into instant puzzle generator software.
One thing more, you need to add a space/line break while creating your word list to separate one puzzle page from the other, like we add a page break while typing. 
Also, you can add a custom title inside your word list that will work as the word search title. As you can see in the screenshot below I have written "Title: 1975 World Cup Squad: West Indies".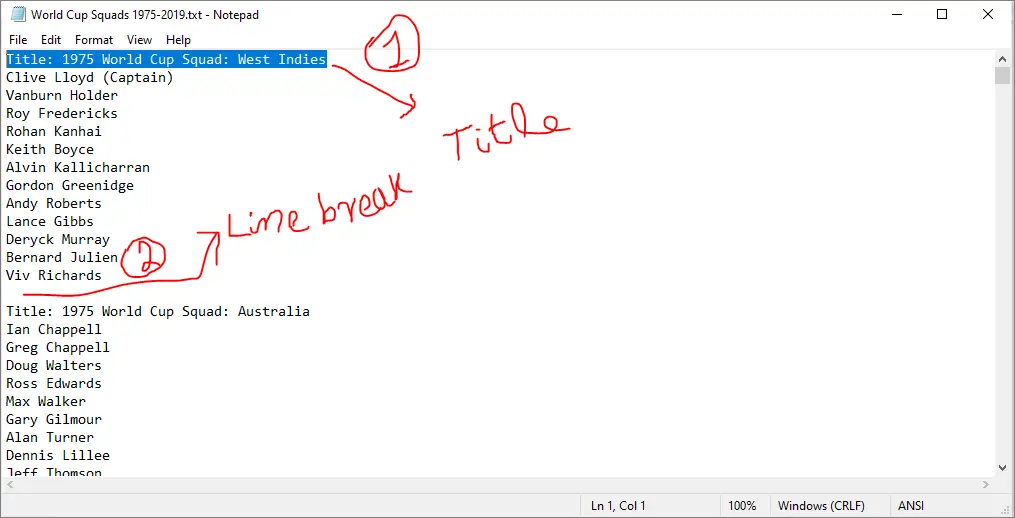 As you can see, the first line of a section of the word list acts as the puzzle title, and the line break creates a new page. 
# Sep 2 – Uploading The Word List To IPG
In this next step of creating a word search puzzle book, you will upload your word list saved as ".txt". To do that visit access the puzzle generator app and click on the Access Now button in front of the word search.
On the next screen just click on the Create a Puzzle(s) button as shown in the screenshot below.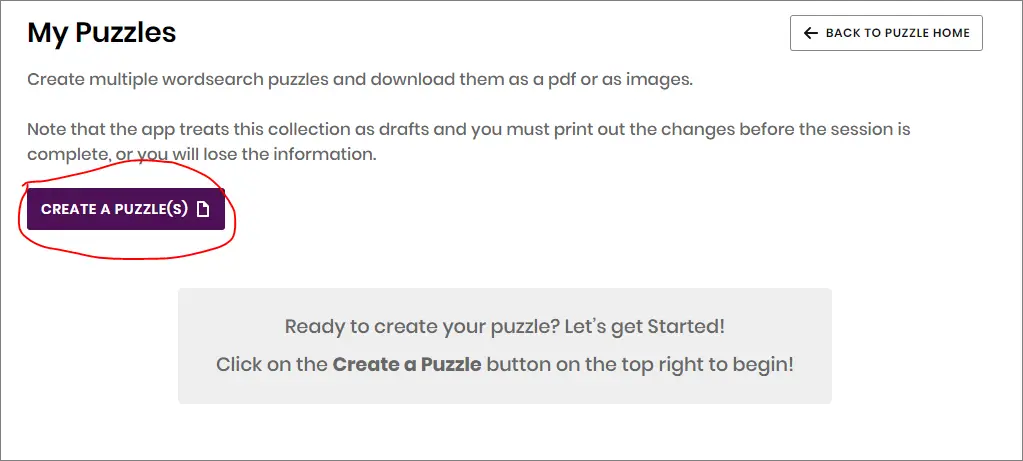 When you click on the create a puzzle button, a pop window will open asking you to enter a name from your word search puzzle book. I entered mine as Cricket Word Search Puzzles and clicked on the create button.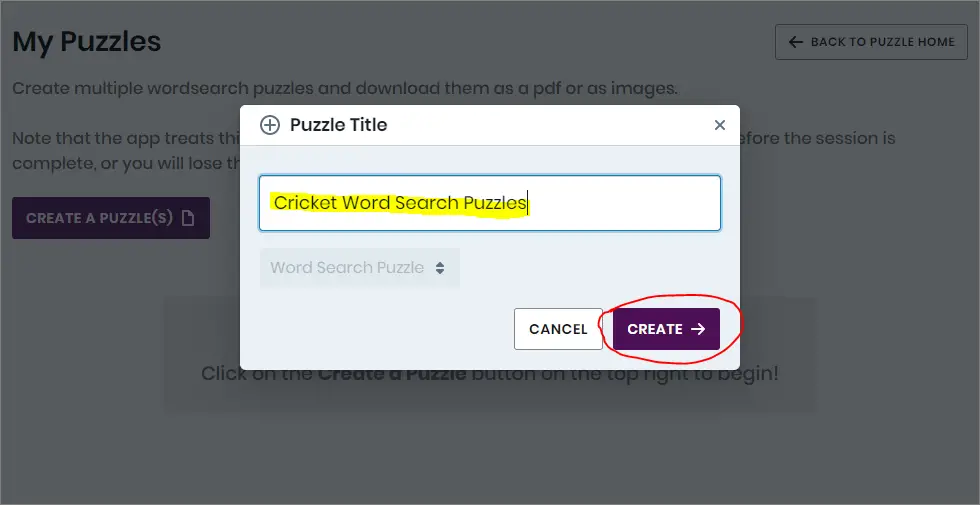 When you click on the create button, a new screen appears where you can click on the View button, and on the next screen, you will see an option to upload your word list.

Next, you can upload your word list saved as a .txt file. To do that, just click on the UPLOAD WORDS button and locate the word list on your local hard drive.

Once the file is successfully loaded, the instant puzzle generator creates beautiful-looking word search puzzles in a matter of seconds. You can also generate solutions for these puzzles by clicking on the pen button towards the right side. 
Struggling to find profitable niches for kdp? Check out the blog post where I showed How I Found 7 Profitable Kdp Niches Under 12 Minutes!
# Sep 3 – Cumtomzing Word Search Puzzles
Instant puzzles generator gives a lot of customization options that you can use to create unique word search puzzles for your kdp books. To access the customization options, you need to click on the global settings button.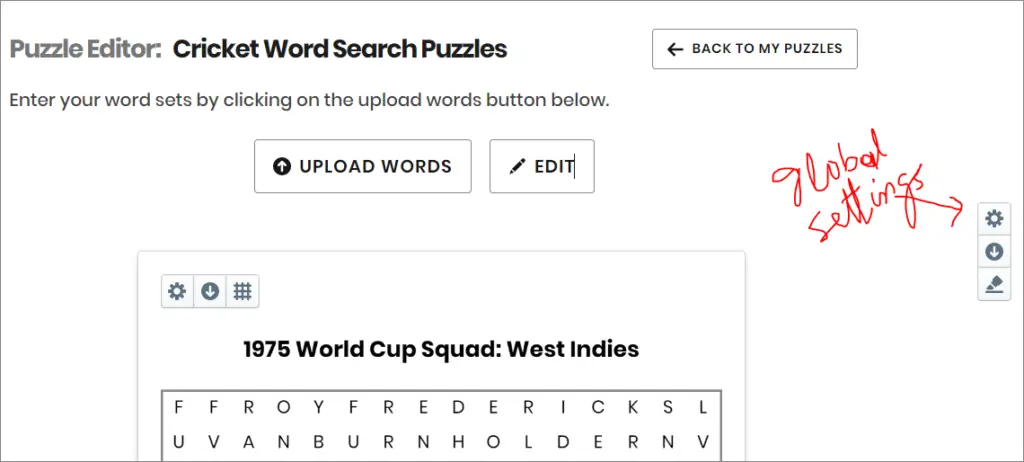 When you click on the gear icon (global settings) a new popup window will open on the right-hand side of the puzzles that show you the options to customize your word search puzzles.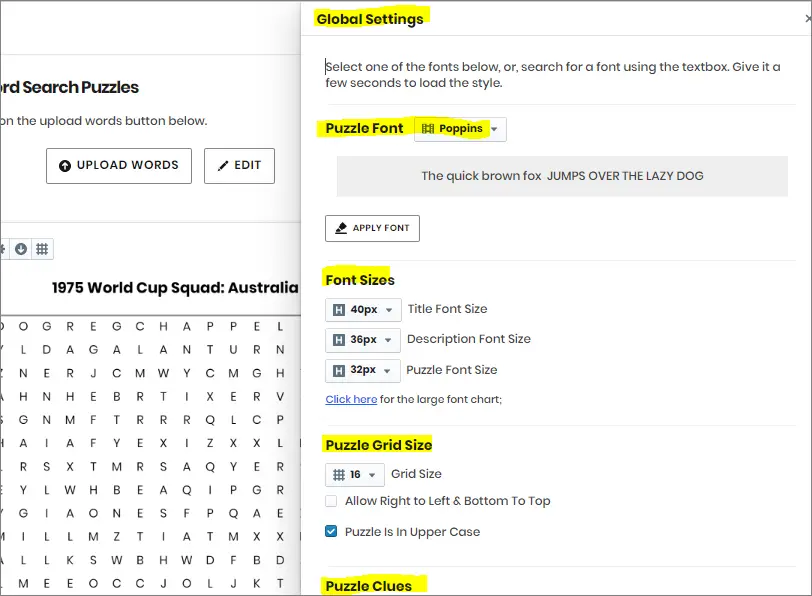 As you can see in the screenshot above, you can change things like;
Puzzle Font
Font Size
Puzzle Grid Size
Puzzle Clues Location
Puzzle Borders
Puzzle & Solution Colors
In this way, you can make your puzzle unique to you to have an edge over your competition. The color settings are especially useful while creating colorful word search puzzles for younger kids. 
You can sell these word search puzzles on educational sites like Teacher Pay Teachers. When you are satisfied with your puzzles' look and feel, you can go ahead and download your puzzles as png, jpg, or pdf.
Side Note: Some solutions pages make look weird, to correct that you can click on the regenerate puzzle on that specific puzzle page. This will regenerate that single puzzle page and the solution page will auto-adjust.
Checkout Intant Puzzle Generator (If you decide to purchase, you will receive my Bonus of 10 low competition word search kdp niches + 180 word search keywords!)
👉 Want to create puzzle books for kids and adults? Do check my post on Quickly Create Puzzles for KDP Low Content Books!
# Sep 4 – Downloading Word Search Puzzles
To download your word search puzzles, you need to click on the global download button from the right-hand side menu. Have a look at the screenshot below;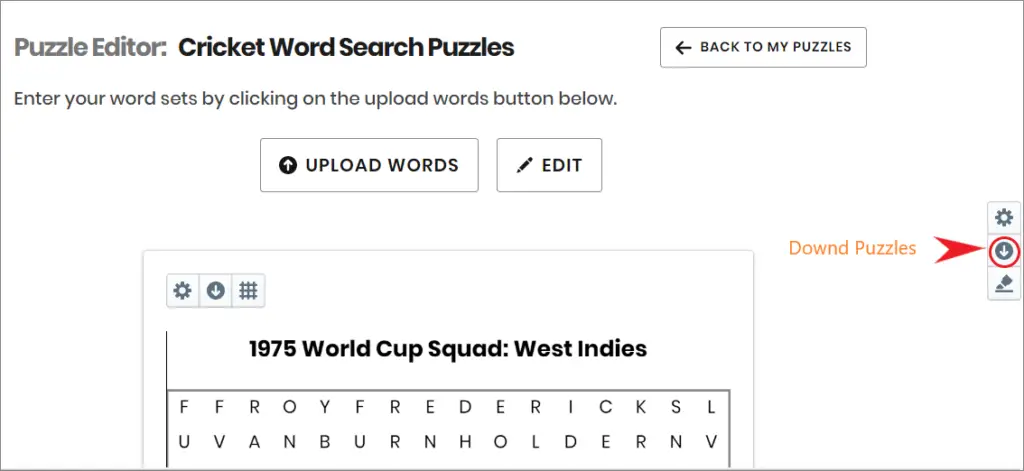 As you can see the download popup window gives a few options like the download file type, trim size, page number format, number of solutions per page, and start page numbering as. Then you can click on the download button to save your word search puzzles as a pdf file or any format you want to save your puzzles in.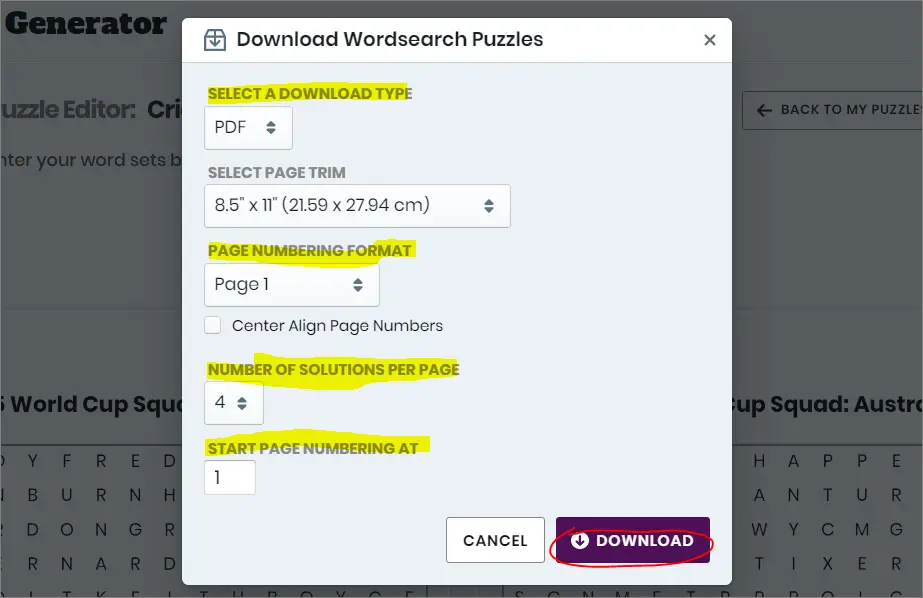 The software will take some time to download your puzzles, mine has taken a few minutes to download. The download time may vary depending on the number of pages you are downloading. Here is a page from my cricket word search puzzle book;
Check Out the KDP Tools & Resources I Use!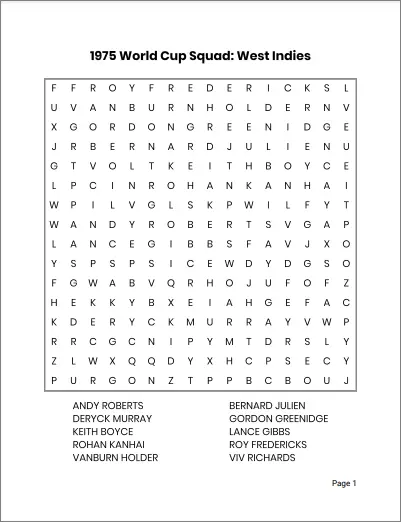 That's it! This is how you can create stunning word search puzzles inside instant puzzle generator. The software is extremely useful as it saves a lot of your precious time and gives professional-looking word search puzzles in four simple steps. 
One thing I want to mention about IPG is, it doesn't save your work for future use, therefore, you will have to download your word search puzzles before closing or refreshing the page.
Also Read, How to Create a Coloring Book from Scratch, where I have written step by step process to create coloring books for amazon kdp using free resources!
My Verdict
Word search puzzle books are popular on amazon and you can make some very good sales by entering into this evergreen low-content book niche. Especially with help of the instant puzzle generator, you can create word search puzzle books with great ease. I have personally used this software and found it useful therefore I am sharing it here. 
The thing I like the most about IPG is it gives lifetime access for a one-time payment of $47. That is a bargain in my opinion considering the amount of book potential books you can make with this software. 
👍 If you don't have it yet, you can get Instant Puzzle Generator here to create word search puzzle books like a breeze! This includes my bonus of 10 Low Competition Word Search Niches that you can publish books in right away! (You will also get 180 Word Search Keywords!)
Thanks,
Subha