Welcome to my blog! My name is Subha and I have got some fantastic news for you! If you have been thinking about getting a creative fabrica subscription then now is the right time as creative fabrica has announced new lower and simplified subscription pricing.
Starting from Feb 9, creative fabrica has launched their All Access Subscription plans with permanently low prices! Now you can get unlimited access to millions of products for the price of a Frappuccino!
Below is the newly released simplified pricing of creative fabrica.
👉 Are planning to publish a coloring book on Amazon? Do check out How To Publish a Coloring Book on Amazon KDP Step By Step!
# 1 – Creative Fabrica FREE Subscription
With creative fabrica's free subscription, you can get access to 187,816 high-quality files in their library for free! All you need is to sign up for a free account and browse the Freebies section.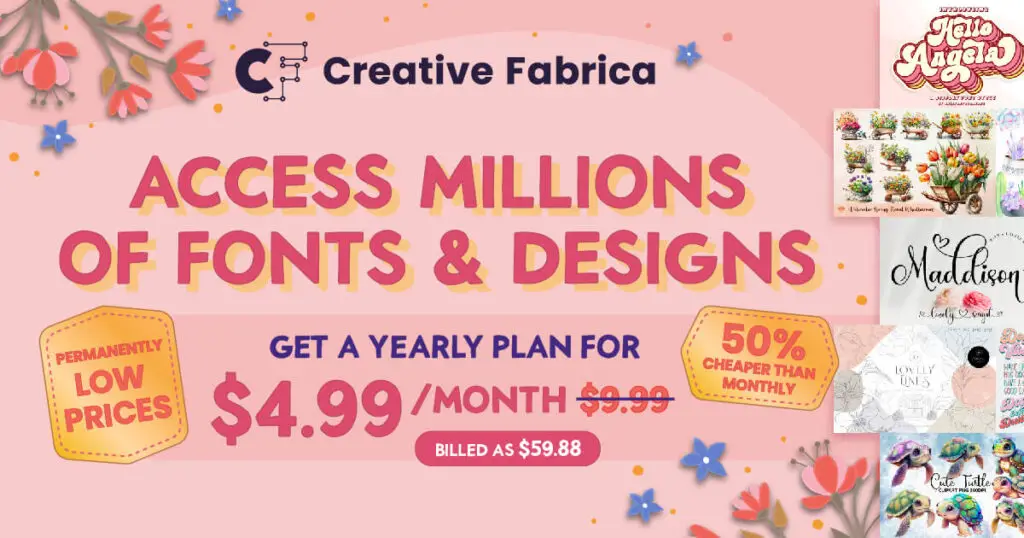 This is the most popular subscription plan on creative fabrica and with the launch of new lower and simplified pricing, you can get it for as low as $4.99 / Month billed annually as $59.88/Year.
With the all-access subscription, you can get unlimited access to all 6,614,666 assets including graphics, fonts, crafts, and much more for a one fixed annual or monthly price. And the best part? You'll receive a Basic POD license for free, giving you even more value for your money. 
The basic POD license allows you to "download fonts and designs from Creative Fabrica and use these to create brand-new designs to sell via POD sites. With the Basic POD license, the design you create needs to be vastly different from the original, meaning that it needs to have unique distinctive elements that are added by you."
If you want this subscription on a monthly basis you will have to pay $9.99/month, and you can cancel at any time.
✨Check out All-Access Subscription!
👉 I have written a detailed blog post mentioning the top reasons why you should switch from low-content books to medium-content books you can read it here.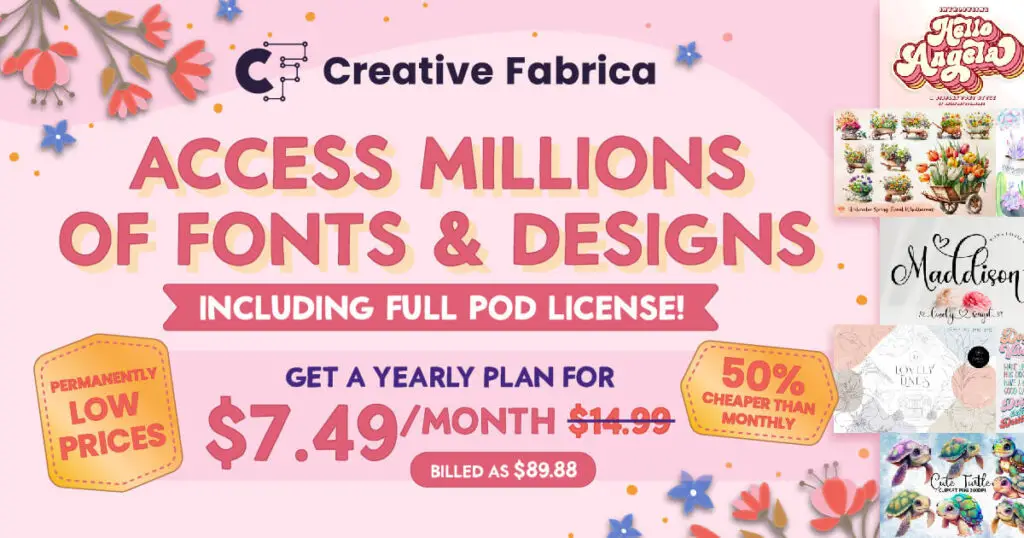 The third and final subscription plan comes with a full POD license which essentially means that you can use the graphics, designs, fonts, and other resources with modifications.
It allows you to create physical products like t-shirts, books, mugs, and other products using the designs as is, which I don't recommend you to do. 
Especially with merch by amazon and KDP, you need to modify the graphics and resources in a way that the end product looks vastly different from the original design. 
When it comes to pricing, the all-access full POD subscription is priced at $7.49/month billed annually as $89.88. And if you want a monthly plan, then it would cost you $14.99/month billed monthly. 
✨Check out All-Access Full POD Subscription!
I have written a detailed post about How to Create Coloring Books for Amazon Kdp the Right Way! You may find it useful too!
Below is a full comparison of all three subscriptions.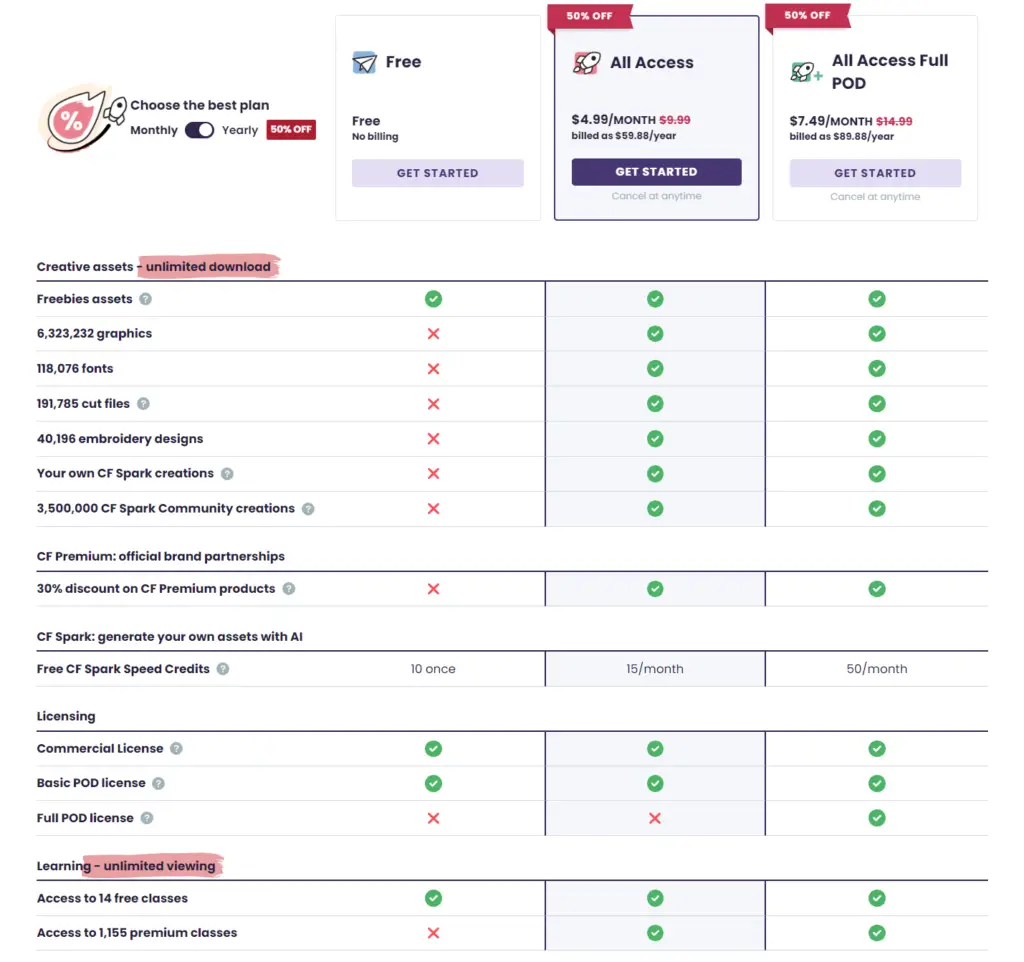 What Subscription is Best for Amazon KDP
In my opinion, you don't need the full POD subscription for amazon kdp the reason is you need to modify the designs before uploading them to amazon kdp. Hence, a plan with Basic POD is all you need to create low and medium-content books. 
So, you can subscribe to all access subscription for $4.99/mo (billed annually) or opt for a monthly plan @ $9.99/month. With this subscription, you will have access to kdp interiors, covers, and a lot of other resources including premium fonts. 
I highly recommend you modify any resource taken from CF before uploading to amazon kdp otherwise you may be risking your account due to content duplication issues.
✨ Want to create a coloring book in Canva? I have also written a blog post on How to Use Canva for Kdp Low Content Books, in which I have shown a step-by-step process to create a simple coloring book for free!
Final Thoughts
In conclusion, if you're looking for high-quality resources to help you in your creative projects, then Creative Fabrica is a great option. With its newly released simplified pricing, it's easier than ever to find the perfect plan for your needs. 
The All Access Subscription is the most popular plan, and with its permanently low prices, you can access millions of products for just a fraction of the cost. And if you're looking to create physical products, the All Access Full POD Subscription is perfect for you. So what are you waiting for? Check out Creative Fabrica today and get started on your next creative project!