Hi, welcome to my blog! My name is Subha and in this blog post, I will teach how to create stunning math worksheets online using Canva worksheets maker. So, stick around and read this blog post till the very end…
If you are new to canva worksheets maker, it's a great tool by canva that allows you to create a wide range of educational worksheets, however, today my main focus is on math worksheets. As you may already know math worksheets and workbooks are very popular among teachers and parents and they need them for their students and kids.
You can create these worksheets for your personal use or you can sell them on amazon kdp as math workbooks. Also, you can sell these math worksheets on teachers and pay teachers as a digital download.
Without further ado let's get started…
✨I have also written a whole blog post about creating Math Workbooks for Amazon KDP, you can read my review of Math Worksheets Generator here.
Creating Math Worksheets with Canva Worksheet Maker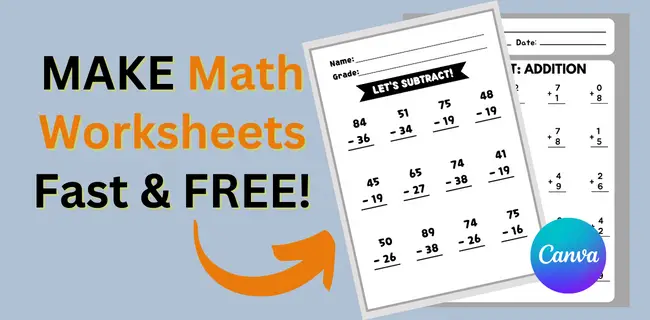 First of all, you need to sign up for a free account on canva.com. To do that you can signup using your email or you can log in with your Facebook or Google account. Once are logged in, you need to click on "Create a design".

Then click on the custom design option as shown below, as you need to create a custom page layout for your math worksheet.

From the next pop-up window, you need to change the size units from px to inches, and enter the page width and size as shown below. As you are creating a math worksheet, the most popular size for that is 8.5 x 11 inches. Now click on the create a new design button.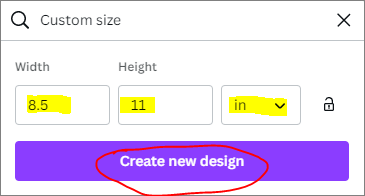 This will lead you to a black document, where you can add a title for it and add text, images, shapes, and much more from the left side menu. For now, you just need to focus on the Degin Tab.

✨ Want to create a coloring book in Canva? I have also written a blog post on How to Use Canva for Kdp Low Content Books, in which I have shown a step-by-step process to create a simple coloring book for free!
Creating Basic Addition Worksheets In Canva
From the very top left, the Design tab is selected by default, and you can see a search as well. Here you can type something relevant to the type of worksheet you want to create and canva will present you with the available design templates. 
Like I have typed, worksheet addition, and I can see a handful of addition worksheet templates that I can customize to my liking. I have clicked on a template Math Drill: Addition Worksheet and now I have a beautiful look addition worksheet on the canvas.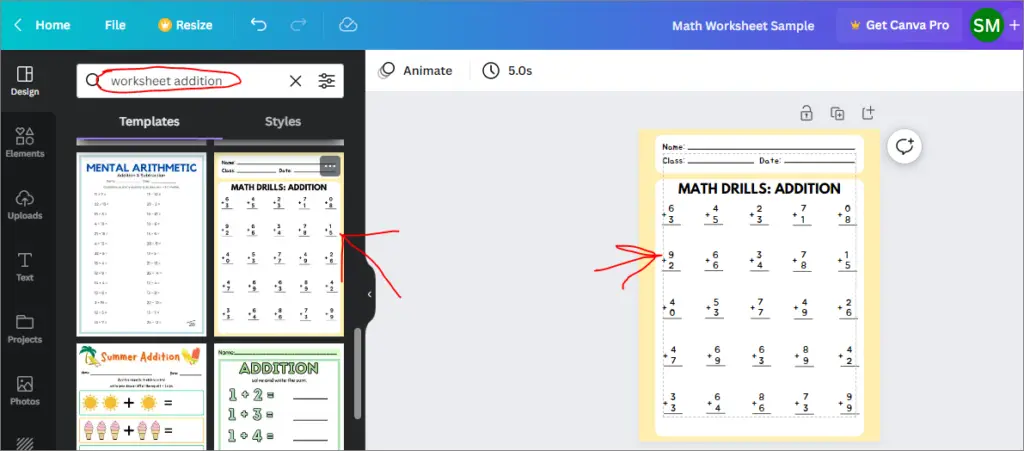 Canva allows you to customize this worksheet and make it unique to you. Like you can add different title, change the font size and font style, add and delete rows, and so on.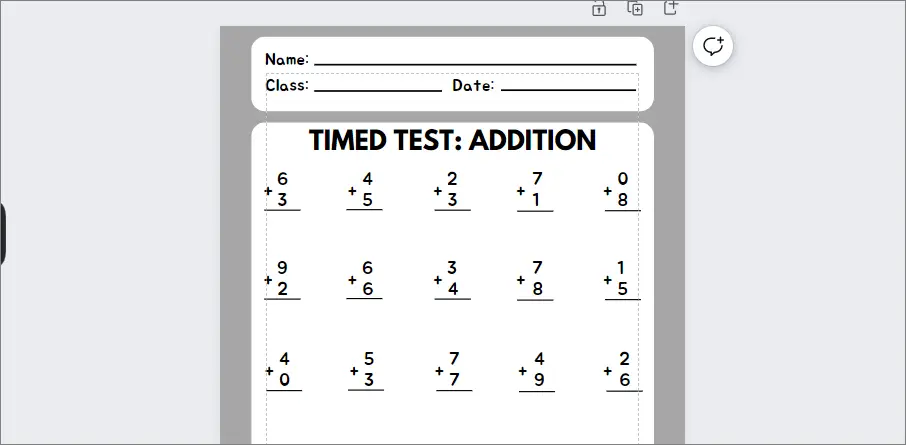 Once you are satisfied with the look and feel of the addition worksheet, you can duplicate this page and change the equations on the second page. In this way can create as many addition worksheets as many you want, all you have to do is duplicate the page and change the data on that page.
By the way, if you want a faster way to create math worksheets, you can check out the math worksheets generator, which allows doing hours of work in minutes. 
Alternate Way To Create Worksheets in Canva
There is another way to worksheets inside canva which directly takes you to the Worksheet Maker. However, you won't be able to change the template size of individual worksheets unless you have a pro subscription of Canva. 
To directly access worksheet maker, you can go to canva.com and type "worksheet" in the search bar, and hit enter from the keyboard. This takes you to worksheet templates as shown below.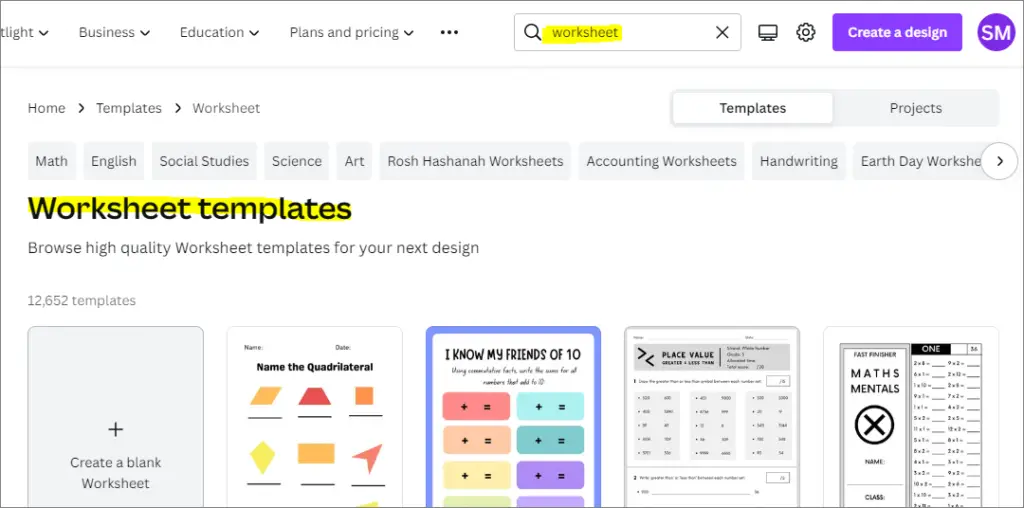 As you can see, you can either start with a blank worksheet or use one of the premade templates to create math worksheets. If you want a specific math template, then you can search for that as well. Like I have searched "subtraction worksheet" and now I have a collection of subtraction worksheets. 
Next, you click on any template to see the details and use it for creating subtraction worksheets. Just click on Customize this template…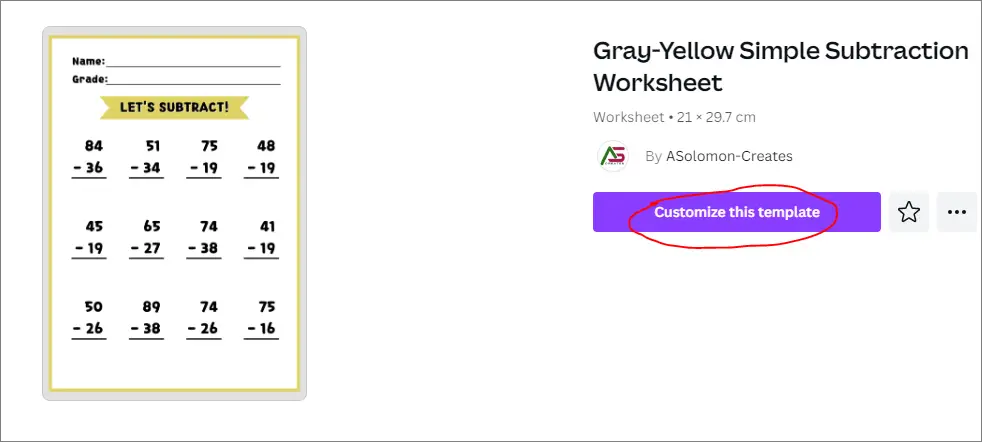 Next, you can change colors, font type, font size, and the subtraction problems on the worksheet. You can also add different elements like shapes to make it unique to you!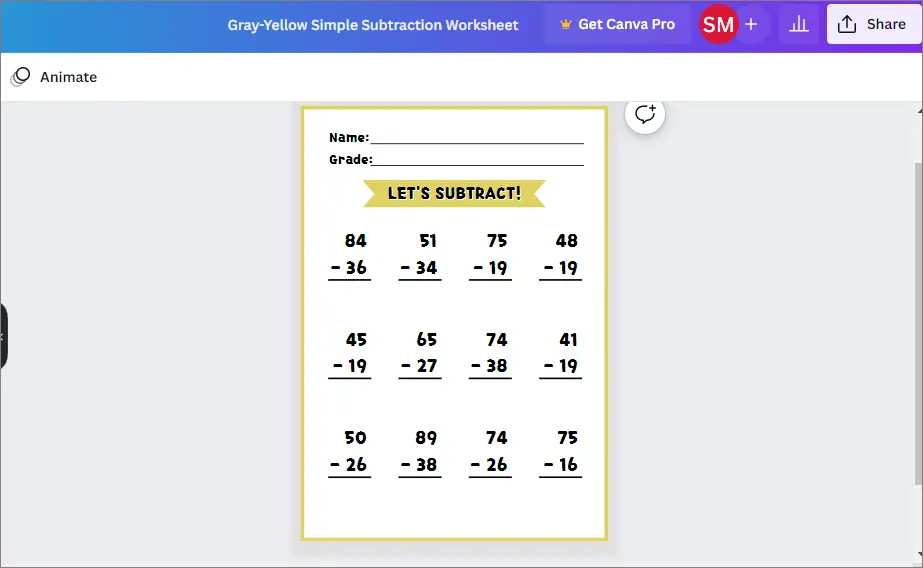 Once you are satisfied with the look and feel of the worksheet you can duplicate it to create more pages, all you need is to change the subtraction problems on all pages.
Check Out the KDP Tools & Resources I Use!
Need a much quicker way to create math worksheets? Check out the math worksheets generator here.
👉 I have written a detailed blog post mentioning the top reasons why you should switch from low-content books to medium-content books you can read it here.
Conclusion!
In this blog post, I have shared the step-by-step process to create math worksheets using canva worksheet maker. It is a free tool that you can use to create educational worksheets and workbooks for your personal use or you can publish them on sites like Amazon KDP and TPT.
If you have found this info helpful then do share it with your friends! Just click on one of the social icons below!
Thanks for reading and sharing!