This is perhaps the most common question that everybody asks or thinks about at least once while starting a new business or opportunity. Is this (kind of business) still profitable? And KDP (Kindle Direct Publishing) is no different.
Based on my own experience, my answer to the question "Is Kdp Still Profitable?" is a definite Yes!
Kindle direct publishing is still profitable in 2023 and it will always be for the people who are good at finding under-served niches and topics and producing quality books about those topics or niches.
The only thing that has changed is, the quality of the books that get sales! Gone are the days, when people used to slap crappy books and ebooks on kdp and still made a ton of money!
As the number of people or call them self publishers is increasing every single day, it's becoming harder and harder for spammers to make money from their crappy books.
So, the fact of the matter is if you really want to make money from Kindle publishing, then you should be more than willing to only produce books that provide value to the end-user.
👉 I have also reviewed 5 Best Kdp Courses to start and scale low content and medium content publishing business, you can read the blog post here.
5 Reasons Why Kdp Is Still Profitable in 2023!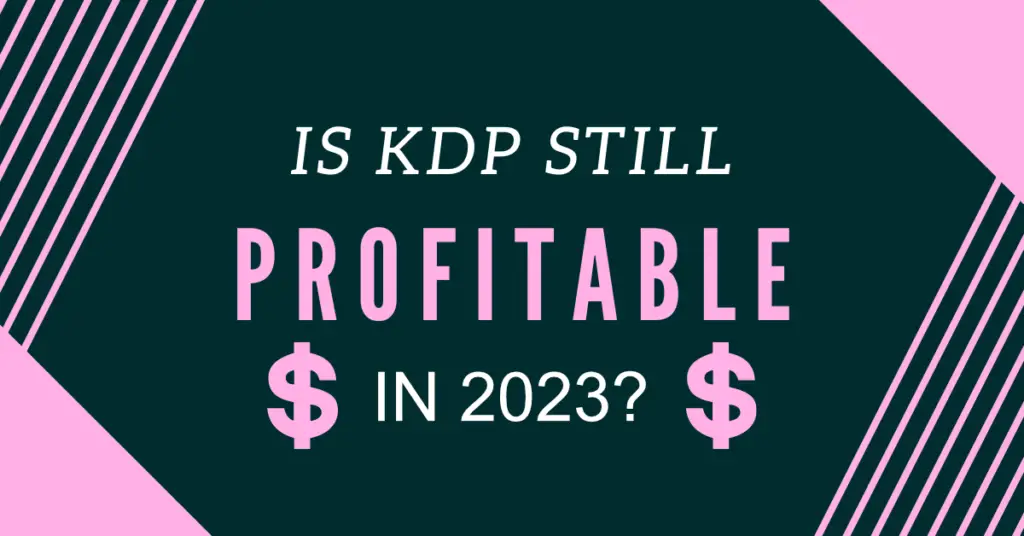 There are many reasons behind Kindle publishing is still profitable, a few are listed below:
Low Upfront Cost
When you compare Kindle direct publishing with traditional publishing, the upfront cost of publishing your books through kdp is very low.
You don't need a huge budget to get started with Kindle publishing. In fact, you can start for free, if you have time to manage every aspect of your publishing business like writing, editing, cover creation, and marketing!
On the other hand, if you decide to outsource all or some of your publishing business, still it won't cost you a lot! You can get written a ten thousand word book for $100-$150 bucks and another $50-$100 for proofreading and cover creation!
So, overall a kdp book can cost you around $150-$250 which isn't a huge amount when compared with traditional publishing.
Note: Longer books (20,000-30,000) can cost you between $500-$1500 per book!
👉 Want to create kdp low content books fast? I have shared a step-by-step process of creating and publishing a kdp journal in under 60 minutes, you can read it here.
No Physical Inventory
As Kindle publishing is a POD (Print On Demand) business, when it comes to paperback publishing, you don't need to carry any inventory at all. As the FBA sellers do have to ship their physical inventory to Amazon's warehouse and also have to pay the storage!
This is not the case with kdp publishing. This is because it involves;
Ebooks – These are essentially digital downloadable files
Paperback Books – Amazon only prints your books when there is an order for them!
Runs from Anywhere
The awesome thing about kdp publishing is, it only requires you to have a laptop or PC and an internet connection! What this means is, that you can do this from anywhere.
You don't need to pay physical visits to your publisher, as kdp has removed the barriers and made it easy for everyone self self-publish a book on their own.
Pays Higher Royalties
With Kindle direct publishing, you can earn up to 70% ebook royalties, which is much more than the amount you earn with a traditional publisher. So, when you self-publish your book through kdp, you keep more money, hence you make more money. That's another reason, why kdp is still profitable even in 2023.
The royalties are different for different types of books you publish through kdp. For instance, if you publish an ebook and price it between $0.99 – $1.99, you will be earning 35% of the royalties for each sale.
On the other hand, if you price the same ebook at $2.99 and higher, you will earn a whopping 70% royalties share.
When it comes to paperback books, the royalties are low as they involve printing and shipping costs. On average, a paperback book that is 120 pages long and priced at $6.99, will earn $1.90 for each sale.
That's still a very healthy amount to make, considering the fact that you don't even need to touch your product!
👉 If you want to learn how to use ChapGPT for your low-content books, you can check out my blog post where I have shared 5 creative ways to use chatgpt for kdp low content books. You can read the blog post here
It's Quick
Publishing a book through kdp is a really quick process, and you can have your book up and live for sale in a matter of days or weeks. You don't need to wait for months to launch your book, as is the case with traditional publishing.
Once, you are done with the creation process of your book or ebook (writing, formatting, proofreading, and cover creation), all you need is to publish your book on kdp and wait for a couple of days. Normally, it takes 24-72 hours to get your book live on Amazon!
What this means is, you can publish more books and make more money in less time!
✨I have also written a whole blog post about creating Math Workbooks for Amazon KDP, you can read my review of Math Worksheets Generator here.
Final Thought!
kdp is still profitable in 2023 and it will remain profitable for people who really understand their target audience and manage to produce valuable books.
Check Out the KDP Tools & Resources I Use!
In this post, I have discussed the 5 main reasons why Kindle publishing is profitable to give you an idea of the business model.
I hope, you loved reading this and found it helpful!
What Next?
❤ Subscribe To My Youtube Channel To Learn More About Low Content Books:
https://www.youtube.com/channel/UCHTJzdE7bzvL8cU0ES6X7mw?sub_confirmation=1
❤ Check out my resource page for tools and resources I personally use to scale my Low Content Publishing Business.
❤ Share this post on your favorite social media site. Thanks!
Subha Malik