There could be dozen of reasons you need to contact amazon kdp, for example, you need to add browse paths to your already published book, or you want to correct a misspelled word into your book's title or subtitle. One most undesirable case scenario maybe you want to reactivate your suspended kdp account.
I have contacted kdp several times to add more browse paths to my books and in a few instances, I have contacted them to correct a misspelled word into my books' subtitle. 
The best way to contact amazon kdp is to log in to your kdp account and click on the little Contact Us button in the footer menu. This will take you to the new page where you can select a category relevant to the query or issue you are facing and leave your message for the kdp team.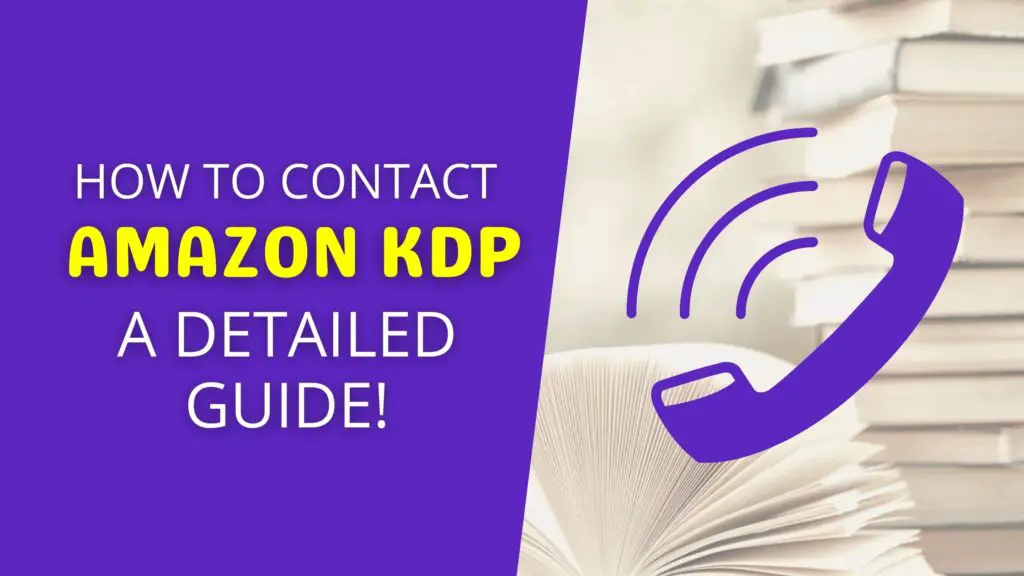 Are you new to kindle direct publishing? If yes, then you may like my blog post on How Kdp Works and How You Can Publish Your Very First Books On Kdp!
For instance, if you want to update categories for one of your books or multiple books, then you need to click on the Contact Us button from the footer menu as shown below:

A new page will open where you can select the main category and then a sub-category relevant to your query or issue. For instance, if you want to update categories for your book then you can click on "Amazon Store & Product Detail Page."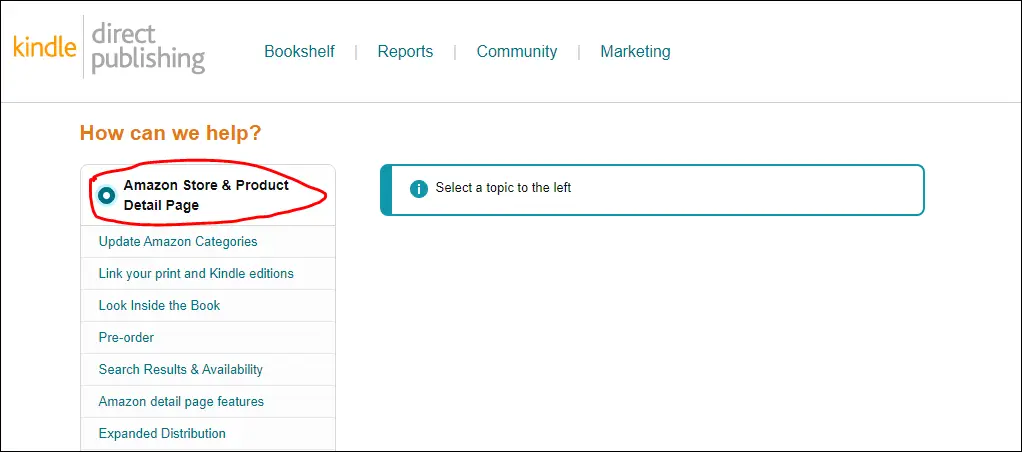 When you click on this a sub-menu will open where you will need to click on the very first option that says, "Update Amazon Categories";

Once you click on the "Update Amazon Categories" link a message box will open with the guidelines relevant to your query. Here you can add the ASIN number of your book, the marketplace (Amazon.com or Amazon.ca) and the browse paths or categories to be added or categories to be removed.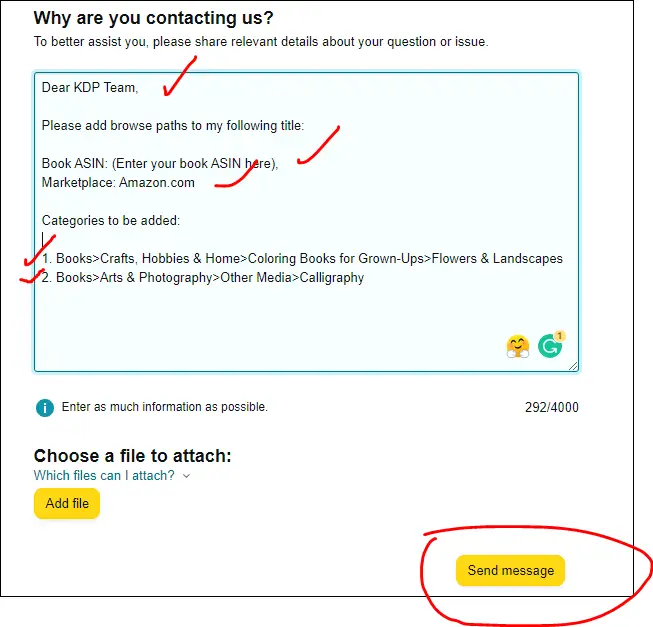 If you want to learn more about kdp categories, I have written a detailed post on How to Choose Categories for Your Kdp Books! Do check this out!
How Do I Speak to Someone at Kdp?
As per my findings kdp does not has any direct number listed to speak to someone at kdp. However, I have found a way to call kdp via phone, and below I will show you the steps you can follow to do the same.
You can speak to a kdp team member through their contact us page, as kdp shows an option to call them or do a live chat for some queries or issues! For example, if you want to update your account and banking information, you can do a live chat with the kdp team or call them by selecting the relevant option.
As you can see below I have selected the query section "Account, taxes and getting started" and then I clicked on the very first option which is "Account and banking information". 
By doing so, kdp shows me multiply options to contact them like Email, Phone, and Live Chat. However, to get someone on live chat or phone, you can only speak to them on Thursday during the business hours Thu 4:00 AM – 8:00 PM PT.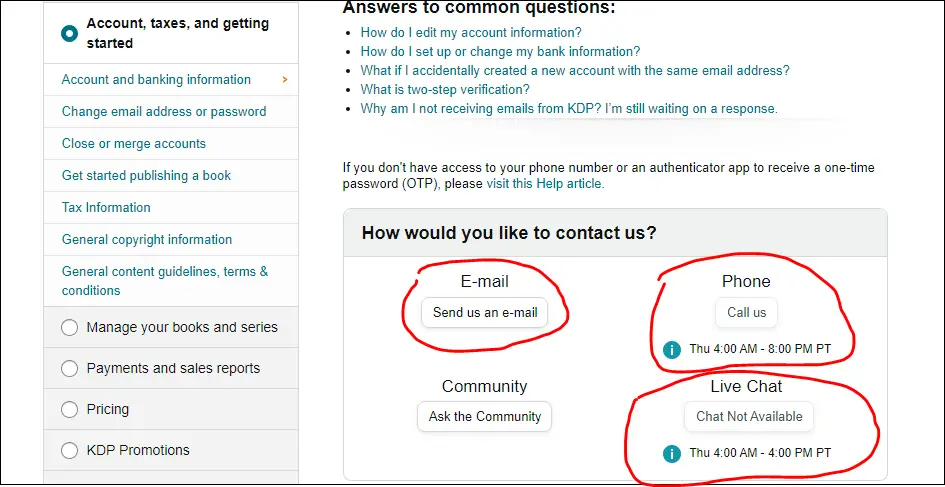 Not interested in Creative Fabrica? I have also written a blog post on How to Use Canva for Kdp Low Content Books, in which I have shown a step-by-step process to create a simple coloring book for free!
How Do I Email a Kindle Direct Publishing?
Though kdp does not reveal any direct email id to contact them via email, however, I have found two indirect ways to email them.
You can email kindle direct publishing (kdp) through their contact us page or by replying directly to one of their emails you have recently received regarding any issue with your kdp account or kdp books.
The first way to email kdp is very simple and is available to almost everyone. You need to click on the contact button from your kdp dashboard and then select any relevant query section. In this way, kdp will show you an option to send them an email.

The second way will not be available to everyone and that is to reply back to one of the emails you have received from kdp itself. In case, you have received an email from amazon kdp regarding any issue with one of your books or kdp account you can directly reply to them.
Last year my kdp account was suspended temporarily, which I got back on the same day! Check out detailed info about the 5 Most Common Mistaked That Can Lead to KDP Ban!
How Do I Contact Kindle by Phone?
Getting someone from kdp on the phone is one of the options that kdp shows on their help and support page. As I mentioned earlier, there is no phone number listed on the kdp website to call them, however, you can contact them via their help or contact us page.
You can contact kdp every Thursday between 4:00 AM to 8:00 PM PT by visiting their contact us page and selecting the relevant query section. Some support topics only show the Email option, while others do show a live chat and call option!
Like if you want to update categories for your book, kdp will show you the message or email option only, however, if you want to know about the kdp account, taxes, or getting paid then you will have more options to contact the kdp team. 
And getting on the phone is one of the options you use to contact kdp for certain queries! 
Want to learn about finding profitable keywords for kdp? Do check out, Kdp Keyword Research Trick to Find Low Competition Keywords!
My Verdict
There are multiple ways you can contact amazon kdp including sending them an email, calling them via phone, or having a live chat with one of the kdp team members. In this post, I have elaborated all the possible ways you can get in touch with amazon kdp. 
Thanks for reading this post till the very end and if you found this helpful then do share it with others on social media. Just click on one of the social buttons below this post!
What Next?
❤ Subscribe To My Youtube Channel To Learn More About Low Content Books:
https://www.youtube.com/channel/UCHTJzdE7bzvL8cU0ES6X7mw?sub_confirmation=1
❤ Check out my resource page for tools and resources I personally use to scale my Low Content Publishing Business.
❤ Share this post on your favorite social media site. Thanks!
Subha Malik