Welcome to my blog, I am Subha Malik and today I will be sharing my KDP Income Report for the month of November 2021. The purpose of sharing this report is to be transparent with my audience and show them my results for motivation.
November turned out to be a very good month for me in terms of total units sold and total royalties earned. Though my numbers are not staggering, however, they do give me motivation for 2022. 
In this post, I will share with you the daily units sold, total units sold during November, and total royalties earned during the month of November 2021. I will also show you my amazon ads cost in the USA, UK, and Canada marketplace.
So, let's get started…
My Kdp Income Reports November 2021 (Selling No Content & Low Content Books)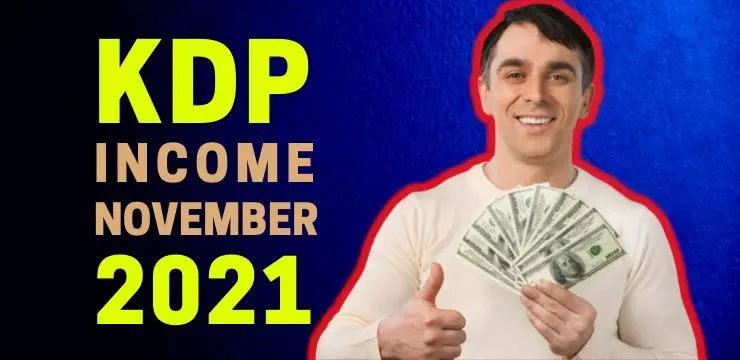 First of all, I am going to show you the daily units sold per day. The below screenshot from my kdp sales dashboard shows you the number of daily units sold between November 01, 2021, to November 30, 2021.
You can also watch income report video here: https://youtu.be/pb7IfeLSGBQ

As you can see in the screenshot above, I have been selling 20 units per day on average. I had some very good days when I sold over 30 units of paperback books per day. Similarly, I have some low days in terms of sales like on November 25, I sold 6 units only.
KDP Paperback Units Sold During November 2021
Here is the screenshot showing the total number of units sold from November 1, 2021, to November 30, 2021.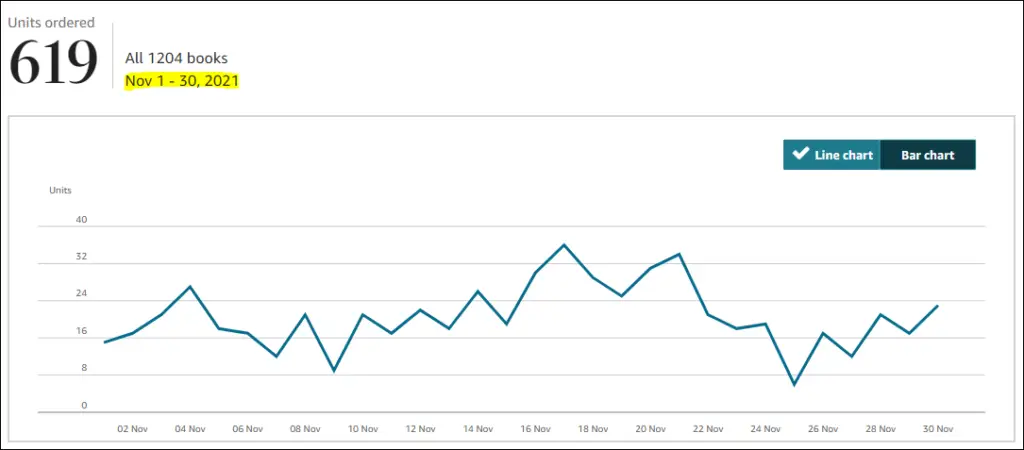 So, overall I have sold 619 units of no and low content books during the month of November 2021.
KDP Earnings For The Month Of November 2021
Finally, it's time to have a look at the total royalties earned from November 1 to November 30, 2021, from my no-content and low-content books.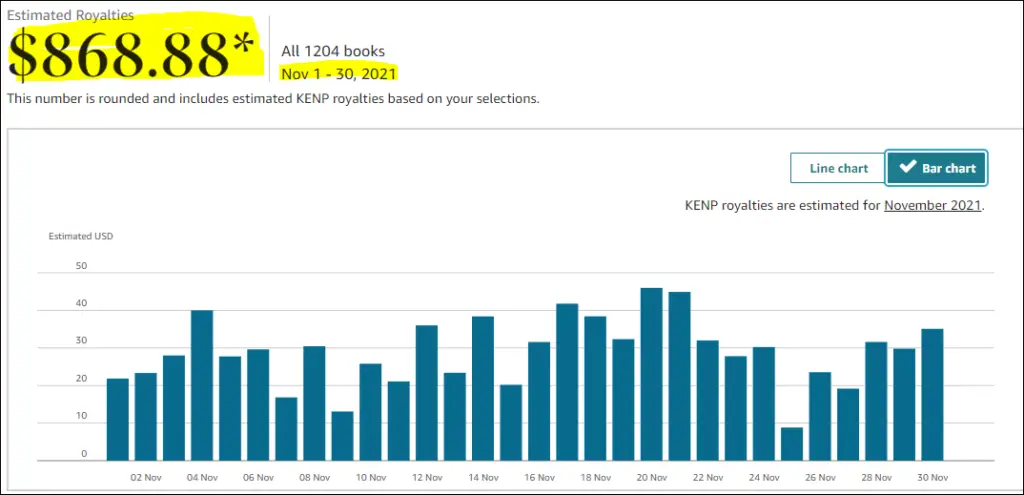 As per the screenshot above, I have made $868.88 during the month of November 2021. This number represents my total kdp income for November before expenses. You can say this is the gross income, below I will list my expenses to generate this income.
Related posts;
Kdp Trademark Checker: Guide to Safeguard Your KDP Account!
BookBolt Category Finder – Quickly Find Categories For KDP Low Content Books
Amazon KDP: Finding Profitable Niches with Low Competition
KDP COSTS/EXPENSES NOVEMBER 2021
As I mentioned earlier, I do spend money on my kdp business to keep generating sales. There are two types of expenses;
Subscription costs which mostly includes the Creative Fabrica & Canva
Amazon Ads cost from 3 marketplaces – Amazon US, UK, and Canada
The Creative Fabrica subscription cost remains the same each month which is $9 / Month and the Canva subscription is around $6.50 (I got a discount). While the Amazon Advertising costs do change every month. Below I will be sharing the screenshots from my Amazon Ads accounts to have a better understanding of total ads costs.
AMAZON ADS SPEND US MARKETPLACE
Below is the screenshot from my Amazon US ads account which shows that I have spent a total of $140.62 on amazon ads which generated a total sales of $412.13 with an ACOS (Advertising Cost) of 34.12%.

The A-Cost is a bit high that is because I have been running ads for my new books that weren't profitable. As when it comes to ads, I don't always look for profits, rather I try to generate initial sales by losing some money on ads.
AMAZON ADS SPEND UK MARKETPLACE
The below screenshot is from my Amazon UK marketplace. You can see from the screenshot that during the month of November 2021, I have spent a total of £111.01 on ads which brought me total sales of £328.45 with an ACOS of 33.80%.

The A-cost in the UK marketplace is high as well. That is because I have been promoting my highly-rated books (books with 4 and five-star reviews). I was trying to revive my books with good reviews so that they keep generating sales during December too.
AMAZON ADS RESULTS FROM CANADA MARKETPLACE
Lastly, here is a screenshot from my Amazon Canada Ads account which shows you that I have spent $41.78 (Canadian Dollars) on ads. I got total sales of $223.72 with an A-Cost of 18.68% which shows my ads were highly profitable. 

So, overall I am quite happy with my results from the Amazon Canada marketplace. However, I need to optimize my ad sets for the USA and UK marketplaces as well. So far, Amazon Ca is working very well for my books and I am planning to create more ad campaigns and raise my daily budget for existing campaigns.
KDP INCOME REPORT NOVEMBER 2021 – NET INCOME
Below is the overall picture of my kdp income report for the month of November 2021. It shows you expenses, total income, and net income.
| | | | |
| --- | --- | --- | --- |
| Expense Type | Expense Amount ($) | Income Source | Income Amount ($) |
| Subscriptions | 15 | Books | $868.88 |
| AMS US | 140.62 | | |
| AMS UK | 156 | | |
| AMS CA | 32.59 | | |
| Total | $344.21 | Net Income | $524.67 |
LET'S SUMMARIZE IT
As you saw in my kdp income report for November 2021, I have earned an overall amount of $868.88 and my total expenses remained and $344.21
So, my kdp income from no content and low content books after netting expenses is $524.67 which is almost the same as it was during October 2021.
Thanks for reading it till the end!