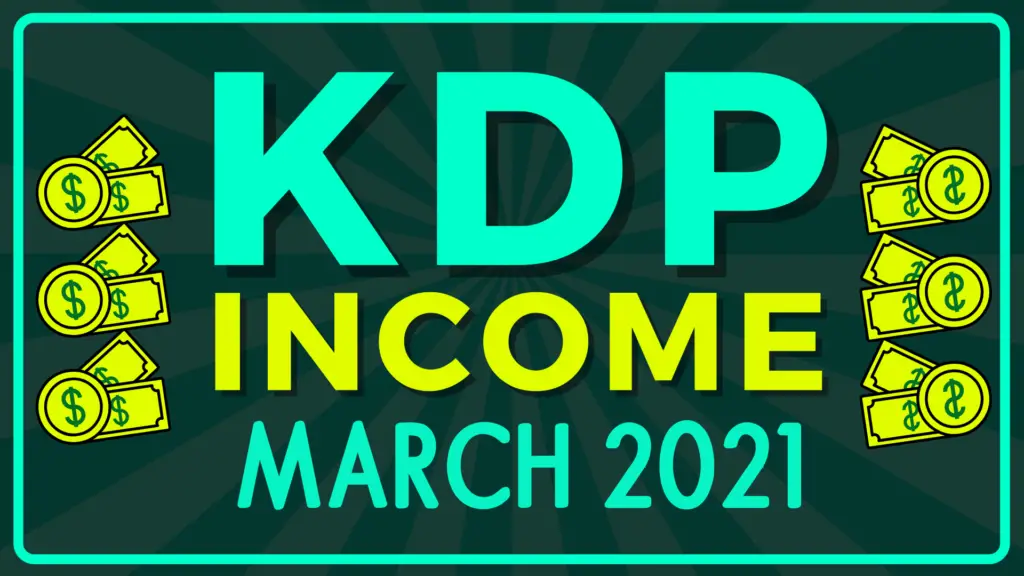 Welcome Guys! my name is Subha Malik and in this blog post, I will be sharing with you my KDP Income Report for the month of March 2021.
In this kdp income report in march 2021, we will be looking at daily units sold, total monthly units sold, total royalties earned from kdp paperbacks, and total expenses including Amazon ads costs plus subscription costs.
If you are new to my blog and YouTube channel then I would like to let you know that I have been earning passive income from selling no-content books and low content books on Amazon KDP since May 2017.
During the last 6 to 7 years I have tried so many things in an effort to build a solid online income stream, I do get some success in some of them but nothing comes close to KDP self-publishing. Especially since last year or so, I have been earning really decent amount from kdp low and no content books alone.
Related posts;
How to Pick Categories for Low Content Books
Amazon Kdp: 11 Things You Should Know
Low Content Book Templates Free Plus Paid
Today we will be having a look into my kdp income report for the month of March 2021. So, let's dive in!
KDP Income Report March 2021 – Low & No Content Books Royalties
By the way, you can also watch a video of my march income below:
Firstly, we will have a look at daily units sold from March 1st to March 31. Below is the screenshot from my kdp reports dashboard:

From the above screenshot, you can see that on average I have been selling 10-13 units per day. I had some very good days in terms of sales on March 4 and March 10 and March 19 when I sold over 15 units of kdp paperback books per day.
Next, Let's have a look at the total no of units ordered during the month of March 2021.
KDP Paperback Units Sold March 2021
Below is a screenshot from KDP Reports Beta which shows you the no. of total units sold between March 1 and March 28, 2021.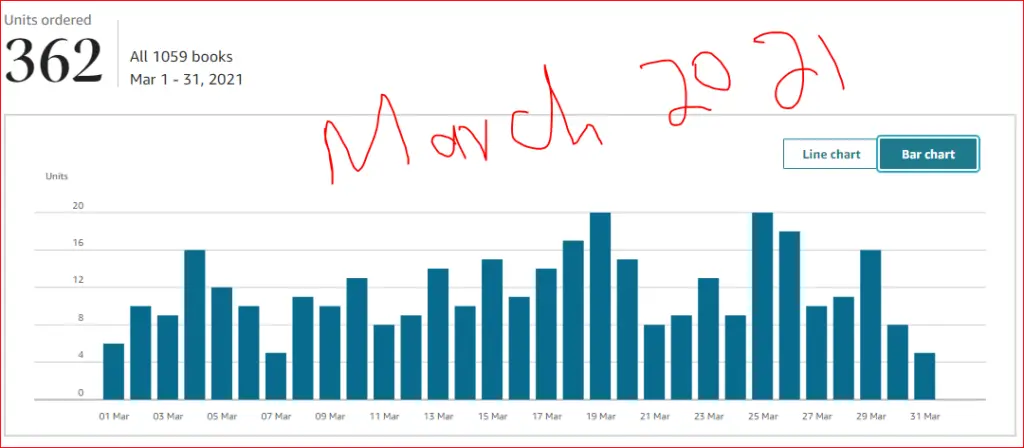 As you can see from the screenshot, during the month of March I have sold 362 units of paperback books. If you have read my income for last month, during Feb 2021 I sold 335 units in total.
KDP Paperback Royalties March 2021
Now, let's have a look at the total royalties I have earned from low and no content books during the month of March 2021.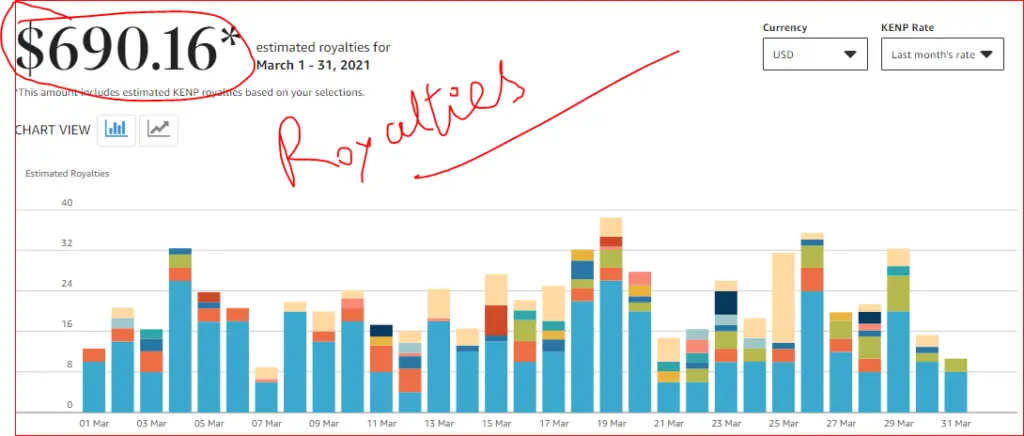 As you can see, I have earned a total of $690.16 during the month of March 2021 from my kdp paperback books, which is almost $20 more than last month (last month I had earned $670).
If we compare the last two months with the royalties of January 2021, we can see a drop in earnings of approximately $300 which is quite expected. As we get most of the sales during the last quarter and the trend prevails to January as well. So, a drop during Feb and March is a usual thing.
KDP Costs/Expenses Feb 2021
Now, let's have a look at the expenses – basically, I have two types of expenses:
Subscription costs which mostly includes the Creative Fabrica
Amazon Ads cost from 3 marketplaces – Amazon US, UK, and Canada
The Creative Fabrica subscription cost remains the same each month which is $9 / Month. While the Amazon Advertising costs do change every month. Below I will be sharing the screenshots from my Amazon Ads accounts to have a better understanding of total ads costs.
Amazon Ads Spend Us Marketplace
Below is the screenshot from my Amazon US ads account which shows that I have spent a total of $83.28 on ads which resulted in total sales of $284.56 with an ACOS (Advertising Cost) of 29.27. The A-Cost is a bit high slightly above the breaking even point.

My ads results from the US marketplace are almost the same as were the last month, last month my ACOS was 29.01%.
Amazon Ads Spend UK Marketplace
The below screenshot is from my Amazon UK marketplace. You can see from the screenshot that during March 2021, I have spent a total of £27.27 on ads which brought me total paperback sales of £49.91 with an ACOS of 54.64%.

As you can see, my ACOS was way too high and I was incurring a loss on my ad campaigns. It happens at times, and you can't expect all your ads to be profitable every month.
Amazon Ads Results Canada Marketplace
Lastly, here is a screenshot from my Amazon Canada Ads account which shows you that I have spent $31.07 (Canadian Dollars) on ads. I got total sales of $124.86 with an A-Cost of 24.88 which is very good. My ads received above 23k impressions and 168 clicks.

So, overall I am quite happy with my results from Amazon US and Amazon Canada marketplace. However, I need to optimize my ad sets for the UK marketplace as well. So far, Amazon Ca is working very well for my books and I am planning to create more ad campaigns and raise my daily budget for existing campaigns.
KDP Income Report March 2021 – Net Income
Below is the overall figure of my kdp income report for the month of March 2021. It shows you expenses, total income, and net income.
| | | | |
| --- | --- | --- | --- |
| Expense Type | Expense Amount ($) | Income Sources | Income Amount |
| Subscriptions | 9 | Books | $690.16 |
| AMS US | 83.28 | | |
| AMS UK | 37.7 | | |
| AMS CA | 28.64 | | |
| Total | 158.62 | Net Income | $531.54 |
Amount in USD
Final Thoughts
As you saw in my kdp income report March 2021, I have earned an overall amount of $690.16 and my total expenses remained and $158.62
So, my kdp income from no content and low content books after netting expenses is $531.54 which is almost the as it was last month.
Check Out the KDP Tools & Resources I Use!
Thanks for Reading!
What Next?
❤ Subscribe To My Youtube Channel To Learn More About Low Content Books:
https://www.youtube.com/channel/UCHTJzdE7bzvL8cU0ES6X7mw?sub_confirmation=1
❤ Check out my resource page for tools and resources I personally use to scale my Low Content Publishing Business.
❤ Share this post on your favorite social media site. Thanks!
Subha Malik