Take Your Kdp Business To Next Level!
Hi Everyone, this is Subha Malik and in this post, I am gonna share with you an amazing kdp resource that can take your kdp business to a new level!
Now you can get access to the best graphic library with thousands of graphics for KDP and self-publishing works.
Vexels have just launched a brand new plan just for KDP users! That includes:
💥 Done for you KDP Covers
💥  Kdp Interiors (Including Coloring Book Bundles)
💥  Scalable Kdp Patterns
💥  And, a special Launch Bundle!
Related posts;
Kdp Trademark Checker: Guide to Safeguard Your KDP Account!
BookBolt Category Finder – Quickly Find Categories For KDP Low Content Books
Amazon Kdp: Finding Profitable Niches with Low Competition
Vexels' Brand New Kdp Plans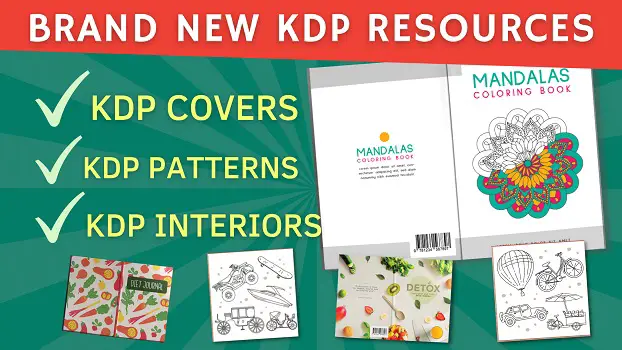 Vexels is offering two plans for kdp publishers and you can avail of 35% Off during the launch period, until September 6!
KDP Regular
This is the first kdp plan that gives access to kdp covers, kdp coloring book bundles, and scalable patterns. Below is the overview of what you will get with the basic plan!
 50 downloads per month
 1 Design Request/mo
 Online T-Shirt Maker
 License is valid for 1000 prints per design
 Monthly – $14 or $126 annually (25% off!)
KDP Plus Plan
The 2nd kdp plan known as KDP Plus Plan gives you a lot more downloads per month and more importantly, it also comes with a special launch bundle. The mentioned kdp bundle is exclusive to kdp plus members only and will be emailed to them!
With your kdp plus plan you will have access to:
 125 downloads per month
 2 Design Request/mo
 Online T-Shirt Maker
 License is valid for 1000 prints per design
 Monthly – $19 or $148 Annually (35% off!) ONLY VALID UNTIL 6th September!
Special Launch Kdp Bundle
Mentioned before, With Your Annual KDP Plus Plan, you will get a Special Kdp Bundle that comes with:
 Halloween graphics for KDP interiors
 Scalable book covers (just like our PSD t-shirts)
 Scalable patterns maker
 Swirls and Frames to decorate KDP interiors
 Low content template interiors
Vexels' Monthly Kdp Plans
In addition to these yearly plans, they also have monthly plans too!
Kdp Monthly Plan gives you access to 50 downloads per month and 1 design request. You can subscribe to the kdp monthly plan for $14/Mo.
On the other hand, the Kdp Plus Monthly plan gives you access to 125 downloads per month including kdp covers, coloring book interiors, and scalable patterns! Kdp Plus Plan costs you $19 per month!
Final Thoughts!
Vexels has launched really amazing kdp plans and they can really helpful for both newbies and experienced kdp publishers! You can also get 35% during the launch period. I am using vexels for a month or so and really liked their graphics and kdp covers. So, I personally recommend investing in it if you have a budget!
What Next?
❤ Subscribe To My Youtube Channel To Learn More About Low Content Books:
https://www.youtube.com/channel/UCHTJzdE7bzvL8cU0ES6X7mw?sub_confirmation=1
❤ Check out my resource page for tools and resources I personally use to scale my Low Content Publishing Business.
❤ Share this post on your favorite social media site. Thanks!
Subha Malik