For a kdp low content book publisher, December is the most important month in terms of earning royalties. For most low content book publishers, a big chunk of their income comes from the Q4, and December sits on top as compared to October and November.  
I personally earn most of my kdp royalties from November through January. So, keeping in view the importance of Q4 and especially the last two months of quarter 4 2021 and the first two months of quarter 1, 2022, I am here with some best kdp niches for q4.
If you are new to my blog, my name is Subha Malik and I am a kdp low content publisher and a Youtuber. And this blog is all about kdp low and no content book publishing where I share tips and tricks to scale your kdp business.
So, without further ado, let's just dive into the list of best kdp niches for quarter 4 and beyond.
Related posts;
Kdp Trademark Checker: Guide to Safeguard Your KDP Account!
BookBolt Category Finder – Quickly Find Categories For KDP Low Content Books
Amazon Kdp: Finding Profitable Niches with Low Competition
5 Best KDP Niches Q4 2021 & Beyond!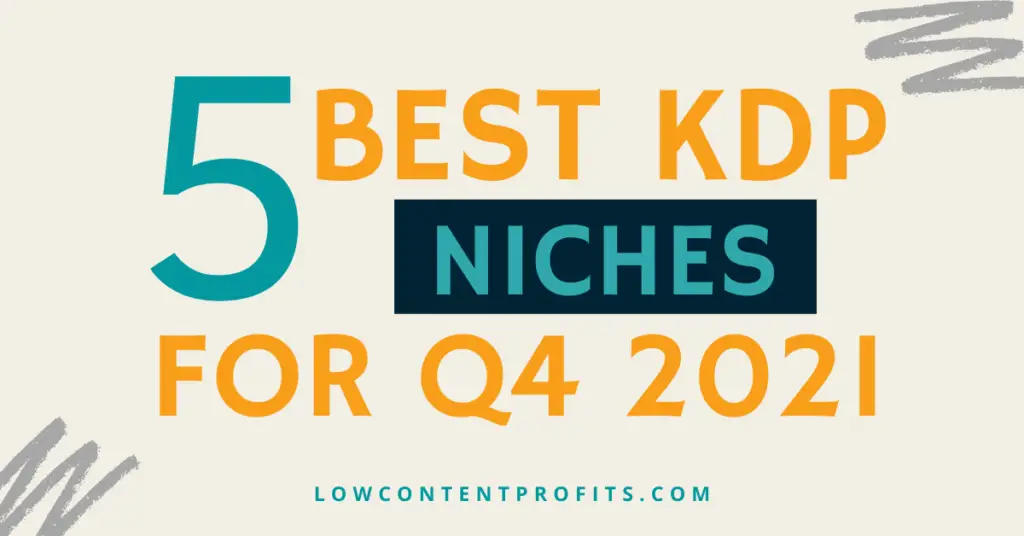 Below I have listed the 5 best kdp niches for quarter 4 2021 and beyond. All the niches are evergreen niches and have the potential to bring royalties through the year. I have found these niches using Book Bolt's Cloud tool, if you are interested you can get book bolt below with a 20% off coupon!
Niche # 1 – Relaxing Flowers Coloring Book
I have come across this niche while doing niche research doing book bolt's cloud tool. The top-ranking coloring book under this niche is ranking at #460, at the time of writing this post. It's an independently published book and was published just a year ago!

Anyway, let's just check out the numbers! The keyword "Relaxing Flowers Coloring Book For Adults" has amazon search results just above 1,924 which is a very good indication of fairly good competition. The flower coloring book niche also has a handful of related keywords like flowering coloring books for kids, flower coloring book for adults, and more. 
So, In my opinion, this can be a great niche for q4 and beyond. It's an evergreen niche and can bring you royalties all year round. Here the key is to create a really good book with original coloring pages. 
Niche # 2 – Mushroom Coloring Book
This is our 2nd kdp niche for q4 and beyond. The keyword "mushroom coloring book" has only 593 amazon search results and 260 searches per month in Google. Moreover, the books on the first page have very good bestseller ranks.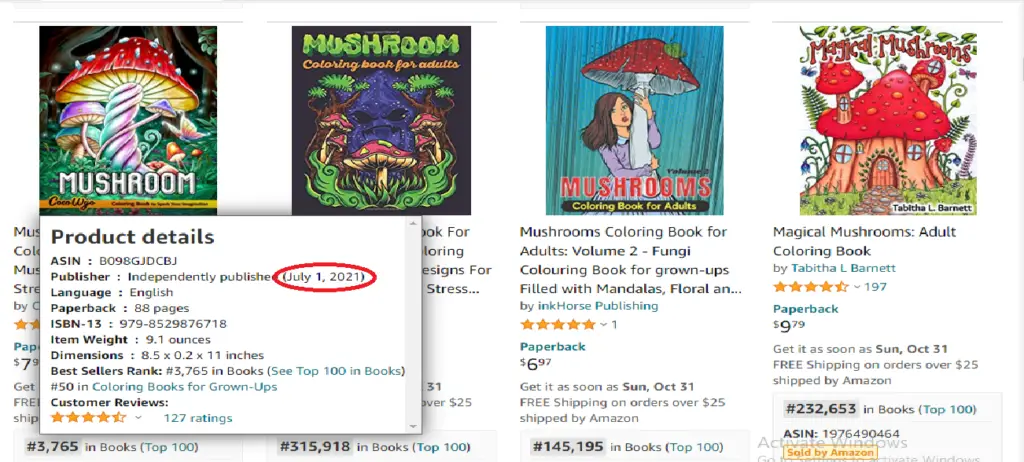 So, based upon this data, I can say this niche has a fairly good demand and low competition. The related keywords include;
Mushroom coloring book for kids
Mushroom coloring book for teens
Mushroom coloring book for adults
As you can see, this niche has traffic going into it (people are actively searching for it) and it has a low number of published books – currently 593 only. Based on these factors, I can safely say, the mushroom coloring book has a decent demand but the competition is still very low!
Niche # 3 – Vehicle Coloring Book
Vehicle Coloring Book is another very gook kdp niche for quarter 4. It has over 1000 search results in the amazon store. And most of the books on the first page have very good BSR (Best Seller Ranks).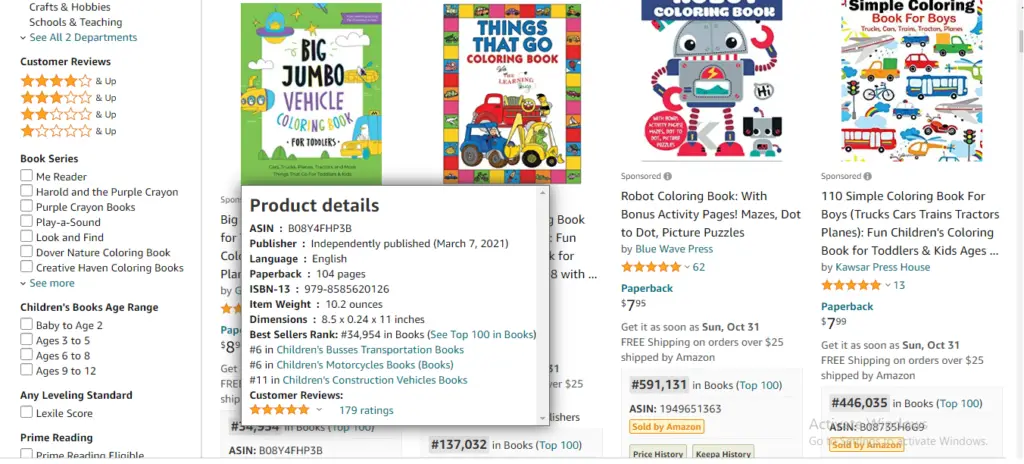 I have recently published a book in this niche and I am planning to do more books too!. Most of the books in this niche are focused on toddlers. So, you can create a Vehicle Coloring Book for Toddlers. These coloring books usually have 50-100 vehicle coloring pages that you can get from sites like Creative Fabrica. 
Related keywords include:
Coloring book vehicles
Vehicle coloring book for toddlers
Vehicle coloring books for kids
Vehicle coloring books for boys
Vehicle coloring books for adults
These keywords can serve as sub-niches and let you create multiple books in this niche. 
Niche # 4 – I Spy Book For Kids
I Spy Books for Kids is a very popular and extremely profitable niche. While doing my research I came to know that the keyword "I spy book for kids ages 2-5" has just over 1000 search results. And when it comes to demand, the books on the first page have very good BSRs.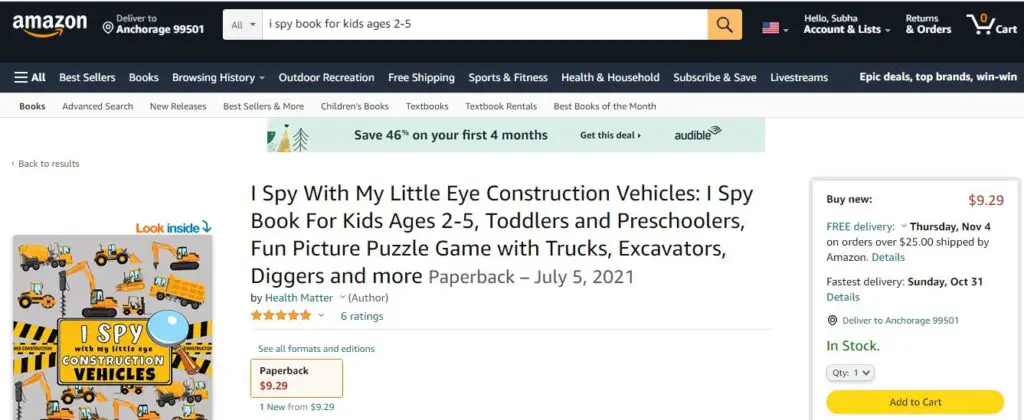 More importantly, I also saw a book published during July 2021 and it has a BSR of just over 16k. This exact book is targeting a sub-niche, "I Spy With My Little Eye Construction Vehicles". What this means is, this niche has a lot of potential for newbie publishers too!
Some related keywords (sub-niches) include:
I spy with my little eyes animals
I spy with my little eyes cars
I spy with my little eyes trucks
I spy with my little eyes vegetables
I spy with my little eyes things that go
As you saw, this I Spy Kdp Niche has a lot of sub-niches and you can make a whole series of activity books under this one niche.
Niche # 5 – Sight Words Word Search Book for Kids
Our fifth and last kdp niche for q4 is a perfect example of Cross Niching. This particular kdp low content book niche combines two very popular and lucrative niches;
Sight words activity books
Word search activity books
Knowing the fact that these two niches have a lot of demand, some smart publishers started combining these two niches to create a unique niche. The keyword, "Sight Words Word Search Book for Kids" has over 2000 search results, however, the books on the first page do have very good BSRs.
In fact, there is a newly published book that is ranking on the first page and has a very good best sellers rank (Just over 60k). Just have a look at the below screenshot: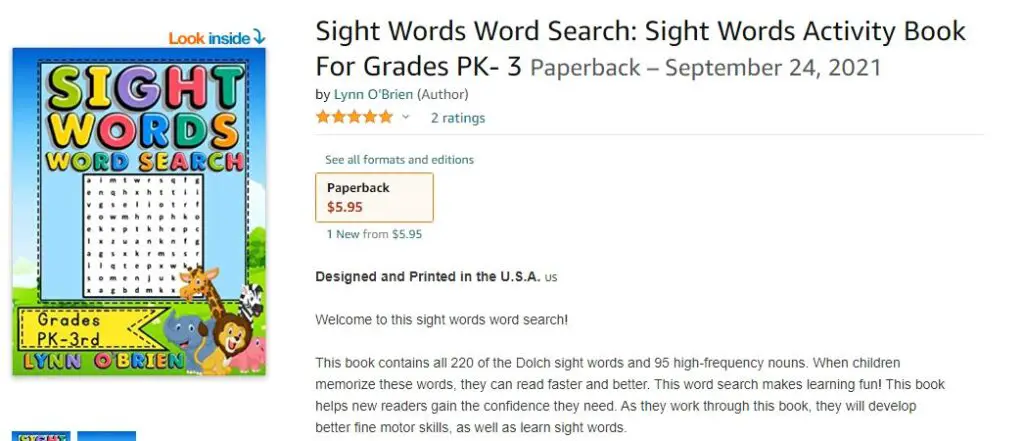 Final Thoughts
In this post, I have shared some of the best kdp niches for q4. All these niches are Evergreen Niches and can bring you royalties, not in q4 but all year round. I have found these niches using Book Bolt's Cloud tool. I hope these niches will help you earn more royalties with your low-content books!
What Next?
❤ Subscribe To My Youtube Channel To Learn More About Low Content Books:
https://www.youtube.com/channel/UCHTJzdE7bzvL8cU0ES6X7mw?sub_confirmation=1
❤ Check out my resource page for tools and resources I personally use to scale my Low Content Publishing Business.
❤ Share this post on your favorite social media site. Thanks!
Subha Malik