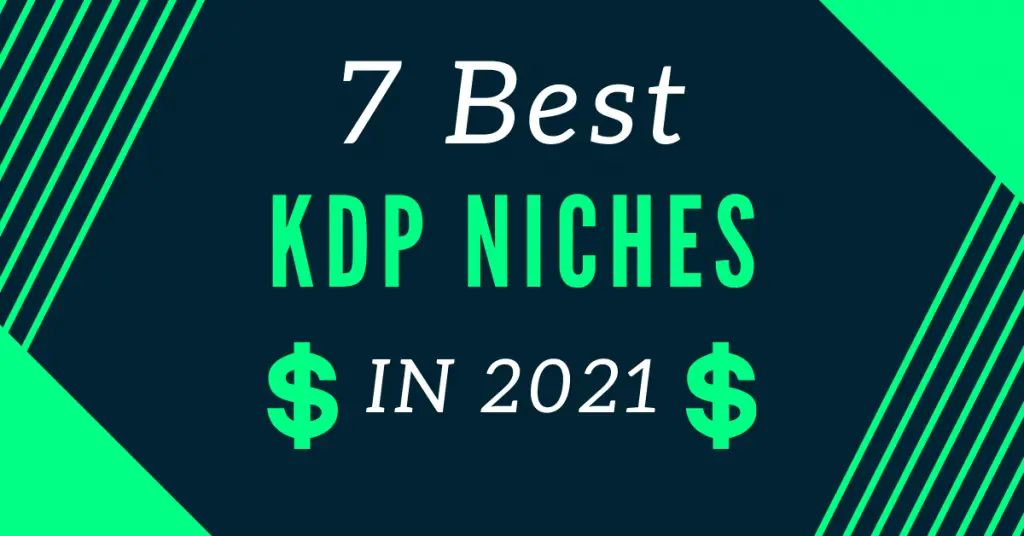 In this blog post, I will share with you the 7 best kdp niches 2021 for low and no content books. You can publish books in these niches and make passive income online via amazon kdp.
How do I find these niches? and how do I know that these are the best niches for amazon kdp 2021? Well, I use certain criteria that work very well for finding low-competition niches. And this involves the following components:
Amazon Search Resuls – Amazon search results are 2500 at max for each kdp niche (most are below 2000)
Average Best Seller Ranks – These niche have an average best seller rank of below 300k
Keyword Niche Score – Each niche has a keyword niche score of appoximately 50 or above
Google Search Volume (Optional) – Most of these niches do have a montly search volue in google as well
Tools I Used to Find These Best Kpd Niches
Basically, I have used three tools to find these low-competition kdp niches;
I am using the free version of helium 10 and it allows me to do 2 searches per month. Under the keyword research tab, there is a tool named Magnet, and it literally works like a magnet. I just added two seed keywords (one per search).
The seed keywords I have used are "Medical Log Books" and "Log Books". Based on these two seed keywords the magnet tool gave me a long list of both closely and loosely related niche ideas.
If you are interested in Helium 10, you get it at a discounted price by using my affiliate link below.
✨Helium 10 (50% off and 10% off Deals): http://bit.ly/Helium10-Discounts
2. Kdp / Amazon BSR and Keywords Research Tool
This tool is a free chrome extension from Self Publishing Titans and makes kdp niche research a lot easier than ever. It gives you a lot of things about the keyword or niche idea. It shows you a Keyword Niche Score which is based on a number of factors including amazon search results, average BSRs, and average reviews.
This is another chrome extension that shows you Google searches per month for any given keyword or niche idea. Though this is not a mandatory metric for niches research, however, it can be beneficial too!
So, let dive in see what are our best kdp niches for the year 2021.
Related posts;
How Do I Make Low Content Books? My 3-Step Process
10 Best KDP Niches 2023 To Make Passive Income Online!
7 Best Kdp Niches 2021 – Both Low & No Content Books
Below are the 7 best kdp niches to earn passive income with amazon kdp.
# 1 – 2022 Planner Weekly and Monthly
Yearly planners are a very popular and profitable niche on amazon. However, you need to create and publish your planners well in time (not later than September). And we are already in July, so this is the right time to publish a 2022 planner.
Let's have a look at the keyword niche score and other metrics to determine the profitability of this niche. Here is the screenshot from Self Publishing Titan's chrome extension for the given niche;

As you can see the keyword niche score is 65 which is excellent. If we look at the other metrics for niche analysis, the average BSR is just above 36k which is excellent again. And if we look at the total competing products (amazon search results) is 2,308 which shows that the niche has healthy competition as well.
The average price is $13.84 and the average reviews are 1,377 (reviews are on the higher side). Overall, 2022 planner weekly and monthly can be a really good niche or keyword to publish your books around.
Check Out 2022 Planner Interiors!
# 2 – Nursing Pocket Notebook
This is another very good no-content book niche and can really be profitable too. It has very little competition at the moment and you expect very good sales if you manage to create the right kind of interior and book cover.
Let's have a look at the niche analysis;

Firstly, if we have a look at the keyword niche score, it is 58. And we know a keyword niche score of 50 or above 50 can really good indication that the niche is profitable and has relatively less competition as well.
No of amazon results is very low (371) which means there are only 371 competing products at the moment. And when it comes to the average BSR is extremely good, it is just below 36k. All these numbers suggest that the nursing pocket notebook very profitable kdp niche.
3. Appointment Planner
This is the third profitable kdp niche I found through my research. Appointment planners are used by professionals, business persons, and individuals to track their day-to-day appointments with clients or customers. This is a kind of logbook and you can create the interiors yourself or get from places like creative fabrica.
Let's analyze the niche…

Here, the keyword niche score is just above fifty, the number of competing products is 2,633 and the average BSR is extremely good and that is above 21k which means the niche has demand.
Overall, the niche research metrics indicate that this can a good niche too. And if we look at the google searches per month, it is 2400/mo which is a healthy number.
Check out Appointment Planner Interiors!
# 4 – Medical School Notebook
This is the fourth kdp niche and it is very profitable as well. This is targeted towards the medical students and the interior may include a simple notebook with a quote or saying about medical school.
Check Out the KDP Tools & Resources I Use!
So, it's time to see the research analysis for this niche;

As we can see in the screenshot above, the keyword niche score is 53 which is a good sign that the niche is profitable. The number of results is 1,295 and the average BSR is over 250k. Overall, this is yet another very good niche to publish books in and earn a passive income.
# 5 – Military Log Book
Military Log Book seems to be another very good niche. I spent a good time seeing the look inside or interior pictures to have an idea about the book interiors for this specific book.
One thing I noticed is, most books have a green cover with ruled pages inside. I urge you to do your research about the type of interiors. You can do a search on Etsy and Redbubble to have an idea of the book interior.
Okay! Let's see the numbers…

Military Log Book has a keyword niche score of 49 which is a good one. The number of competing products is extremely low as we have only 128 search results on Amazon. When it comes to average BSR, it is just over 100k which is a very good sign that the niche is profitable as well.
So, on the whole, the military log book is yet another very good kdp niche for 2021.
Daily Activity Log Book is a very interesting and profitable log book niche. The book interiors are very easy to create and include repetitive pages. It can include 4 columns namely date, time, activity, and initials/notes. You can have an idea of the book interiors by viewing already published books on amazon.
Let's check the profitability and competition for the daily activity log book…

This is perhaps the best of all these 7 kdp niches I am covering in this blog post. If we look at the keyword niche score by Self Publishing Titans, it is 69 which is great. It indicates that the niche is very profitable and your chances of succeeding in this niche are more.
The number of amazon search results is 1,316 and the average BSR is around 225k which indicates good demand for this specific type of book.
Check out Activity Log Book Interiors!
# 7 – Purse Size Address Book
Purse size address book is a very profitable kdp niche for the year 2021. As we look at the keyword it is very specific as the target customer is not only looking for an address book but also interested in a small size that fits well in a purse. This is why you should focus on what people are searching for amazing and this is why keyword research is so important.
I have checked the paperback book size accepted by kdp and the smallest size is 5 x 8 inches and that can fit into a purse as well. So, you can create a 5 x 8-inch size address book and publish it on kdp.
Check out Address Book Interiors!
Let's have a look at niche analysis…

The keyword niche score is 59 which suggests that the niche has demand and has low competition as well. Amazon results are 642 and the average BASR is around 104k. Based on this info we can say that Purse Size Address Book can be a very profitable kdp niche.
Let's Summarize It
In today's blog post I have shared with you the 7 best kdp niches 2021. These all niches have low competition and fairly good demand. So, you can expect some decent sales in these niches provided that you are able to provide the end-users what they are looking for!
I hope, this blog post is helpful for you!
What Next?
❤ Subscribe To My Youtube Channel To Learn More About Low Content Books:
https://www.youtube.com/channel/UCHTJzdE7bzvL8cU0ES6X7mw?sub_confirmation=1
❤ Check out my resource page for tools and resources I personally use to scale my Low Content Publishing Business.
❤ Share this post on your favorite social media site. Thanks!
Subha Malik